Iterate Faster
OKR Coaching Program
The most practical business coaching program for executives
Prepare, Launch & Scale your OKR Program with expert guidance
Who will benefit from the course?
Business executives
Planning to improve execution and achieve stretch goals
HR managers
Looking to Improve engagement and build high-performance teams
Leaders and managers
Who wish to lift their team's performance and improve accountability by implementing OKRs
Individuals
Looking for professional and career development
"Google has grown from 40 employees to more than 200,000 today through the use of OKRs to align their teams and achieve extraordinary goals."
OKR Coaching Program
The OKR coaching program will help you understand the basics of OKRs, methodology to implement OKRs for your team and best practices for a successful OKR adoption. Write great OKRs for your organization.

Prepare
---
OKR fundamentals
Writing great OKRs
Good vs Bad OKRs
Performance management vs OKRs
Exercises

Launch
---
Alignment
OKR levels
KPIs in OKRs
Choosing the right KR type
Grading OKRs
Wrapping up your quarter

Scale
---
OKR calendar
Prioritizing OKRs
Automating check-ins
Visible signs of a successful OKR program
20 red flags
Course Contents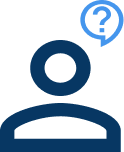 Why OKRs?
There are hundreds of management framework. What is special about OKRs? Why OKRs?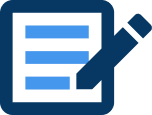 Writing great OKRs
What are the rules for writing great OKRs? We give you tons of exercises to get you comfortable with the art and science of creating great OKRs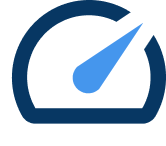 OKRs & Performance management
Should OKRs and performance management be combined? What is the recommended best practice and why?

How to ensure successful adoption of OKRs
How can you prepare to ensure successful adoption of OKRs in your team and organization?

How to get started with OKRs?
Should you "Learn & Launch" or "Launch & learn"?

OKRs levels
What are the levels at which you can set OKRs? Your Organization is structured as a project organization, Will OKRs work?

Alignment
Alignment is the ultimate OKR superpower that energizes your organization, unifying the efforts of department and teams to perform as one giant execution engine.

Choosing the right KR type
Profit.co offers 7 different KR types. Which are the most recommended options and why?

Grading OKRs
What is the sweet spot of my success in the OKR journey?

How to design your OKR calendar?
OKR calendar paves a foundation and structure to execute your objectives, Learn needs to be done and when throughout your OKR quarter.

Prioritizing objectives and key results
How to prioritize your objectives and key results at every level?

How do you institutionalize learning?
A learning organization involves a deliberate effort to incorporate knowledge into the execution framework.

20 red flags that could derail your OKR implementation
Excellence is not an act but a habit. Learn from the best practices to avoid the common pitfalls to make your OKR implementation successful.

Boost employee performance
Hear and be heard! unleash the success mantra to boost employee engagement and drive performance across your employees.
Course Outcome

Appreciate how OKRs enable great business execution

Write great OKRs for the company, departments and teams

Align OKRs to ensure teamwork and accountability

Learn step by step process to run the first OKR quarter

Use OKRs to improve employee engagement

Improve organizational learning using OKRs

Define your own OKR
calendar

Conduct quarter end reflect/reset of OKRs

Get certified as OKR professional
Become a OKR Professional
Profit.co's OKR coaching program is not just a series of modules. We provide an interactive environment with quizzes, exercises and case-studies and equip you to run your OKR program.
Graduates of our 'end of the program' evaluation qualify to run OKR programs and receive a coveted certificate by Profit.co, entitling them as "CERTIFIED OKR PROFESSIONAL". The title is an appreciation of your abilities to:
Guide your team members to define OKRs
Execute enterprise OKR program
Perform the role of OKR champion
Gain access to exclusive Profit.co OKR artifacts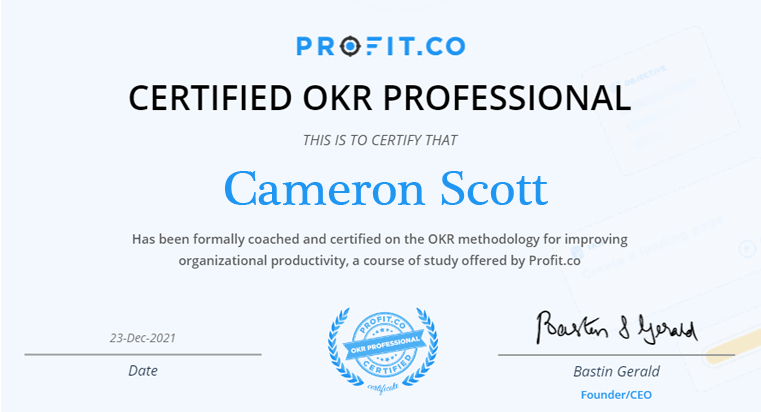 OKRs are like superpowers. The right use of OKRs will help you and your organization reach great heights . Google is of course a living example of this achievement.
ITERATE FASTER DIGITAL BOOK SERIES
Download our Digital Books to supercharge and pivot your business with time tested OKR methodology from Profit.co