OKRs can help you focus on goals that matter
Achieve your Moonshots with Profit.co.
Why is everyone talking about OKRs?
OKRs drive action
Make your teams more agile and ready for change
Empower your employees to adopt and deliver stretch goals
Achieve your corporate goals with cross-functional alignment
Deliver great customer value with improved quality
OKRs are easy to adopt
OKR LifeCycle runs for a quarter and has 4 simple steps: Plan-Execute-Engage-Learn (PEEL)
Plan your OKRs
Execute your OKRs
Engage your employees
Learn from your successes and failures
OKRs drive efficiency
You can track daily management activities with control KPIs requiring daily check-ins Some examples of activities that require daily tracking are:
Make 100 outbound calls
Generate at least 5 Sales demo leads
Test at least 25 samples everyday
Use OKRs for the best outcome
World's biggest companies use the OKR methodology to help them manage their company goals. By being more focused on tasks and goals, they have not only survived, but thrived and moved their company in a unified direction, making them great examples to follow.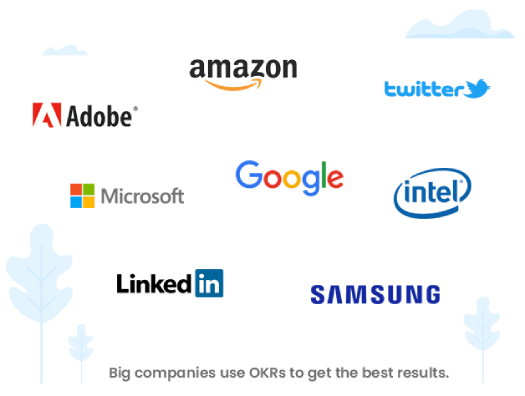 OKR Examples for you to Get Started
To help you easily understand and create OKRs on your own, we have showcased a few OKR examples here. OKRs can defined for various levels- The first one is an example of a corporate level OKR and the next one is at the Department level (in this case for sales Department)
Improve Brand Engagement




Increase number of visitors from 20K to 60K




Increase number of Customer success stories from 0 to 5

27%
Increase Annual Recurring Revenue




Increase Account renewals from 75% to 90%

85%




Increase Lead Conversion from 20% to 40%

85%




Revamp Customer Acquisition Process