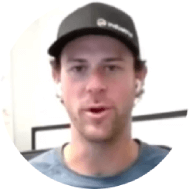 "[Profit.co] is super helpful, especially during Covid, since you're not necessarily with the team, in front of them on a day-to-day basis."
AT Industrial Chooses Profit.co OKR
The OKR framework is the best way to set agile, ambitious goals, and achieve them with alignment and transparency within an organization. This methodology works best with an equally adaptable software, such as Profit.co. Recently, we had the opportunity to have a conversation with Mike Moriarty, Development Associate at AT Industrial, a real estate development company focused in the industrial sector that uses Profit.co to stay aligned and track progress. Mike was able to share some details about AT Industrial's experience with implementing OKRs and Profit.co, and how this software has impacted the company.
What is the background of OKRs at AT Industrial?
When AT Industrials first began their journey with OKRs, they opted not to use a software at first. Instead, Mike was in charge of manually updating a spreadsheet and keeping track of OKRs. "It was time consuming, to say the least," Mike shared.
Having a software transformed AT Industrial's experience with OKRs. "In real estate development, we really are reliant on finding deals," Mike shared. "We have a certain dollar amount we need to hit to stay profitable and successful. OKRs have always been a great tool for us to keep track of those measurements and ensuring we're staying on track."
What drove you to switch over from a spreadsheet to a software?
AT Industrial's start with spreadsheets was not an easy or effective way to track OKR progress. When asked what the largest problem with spreadsheets was, Mike shared that "The issue we kept running into was that [spreadsheets] just weren't dynamic enough." Spreadsheets offered no ease of use or agility that a team needs to track OKRs.
Additionally, there's a lack of transparency with a spreadsheet, and no automation. Mike was updating all numbers manually, in a time-consuming and sometimes frustrating process. "The issue with the spreadsheet was finding the right formula… and if we wanted to use a key result that was not necessarily a flat percentage, if we wanted to use milestones, it was very hard to do so not having a software that was set up for that."
In order to reap the full benefits of the OKR framework, Mike and the team soon realized they would need to find an OKR software that allowed them more agility in their OKR program.
How was the implementation process with Profit.co?
One of the most important parts of any OKR rollout is ensuring that the entire team is on board with the OKR framework, and with the selected software. We wanted to know how AT Industrial felt about the implementation process with Profit.co. Mike was able to speak toward this experience, saying that "The team over at Profit.co was great and very very helpful with learning the software and the beginning tools you would need to implement it into the company."
When implementing a new OKR software, there is at times a learning curve while teams integrate the software into their daily work life. Mike shared that at AT Industrial, the team was able to implement the software, understand it, and adopt it into normal routine by the end of the first quarter with Profit.co.
How was your experience with the Profit.co team?
Profit.co prides itself on ensuring exceptional customer support, and we were eager to find out how AT Industrial and Mike felt about the service from our team. Mike shared that their experience has been great so far, highlighting that the team at AT Industrial felt free to bring feature and functionality ideas to Profit.co.
"There's ideas that we have… and what's great is that I can always reach out to the team at Profit, and besides just listening to the idea, they actually take an active effort to come up with the solution and implement that going forward, which is more than you can ask for."
What impact has Profit had in your business during the pandemic?
No matter the business size or industry, the past year with the pandemic has required companies to be fast-learning and adaptive. Mike shared the Profit.co has been useful during the pandemic. "It's super helpful, especially during Covid, especially since you're not necessarily with the team, in front of them on a day-to-day basis." Profit.co helps teams connect virtually, without the need for additional meetings or messages that overwhelm inboxes and dilute priorities and productivity. Mike shared that, "If there's something that I'm working on and I'm waiting on somebody else to complete one of my KRs, I can simply go on the software and assign a task to them, and it'll ping them next time they open the software."
Features like the action center make Profit.co a functional and impactful addition to any business that's looking to get more out of their working hours and focus their resources on achieving their most important goals. To find out more about Profit.co, visit our product page, or book a free demo with us today!
Execute your strategy with the industry's most preferred and intuitive software