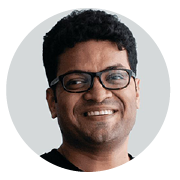 "We looked at a few choices, and while testing, we found Profit.co met all our needs, and the support from Profit.co team made the choice easier"
Deriv chooses Profit.co to implement OKRs
In a competitive business environment, it is crucial to dream big, achieve more, and push the boundaries further. High growth and achievement aren't for companies who want to lead the pack and find success – it's for survival in today's shifting global economies.
Only organizations that remain agile and adapt to changing market conditions survive and stay profitable in the long term. The OKR framework can significantly impact any organization willing to focus efforts on adapting and implementing the framework.
We recently sat down with Rakshit Choudhary, Chief Operating Officer at Deriv headquartered in Malaysia, to talk about his experience with OKRs, Profit.co, and the changes he has seen within his organization since implementing this software! Rakshit started as a quantitative analyst with Deriv and journeyed on as the company grew from 40 to 900 employees worldwide. He describes his journey as fascinating.
About Deriv
Deriv is one of the world's largest online brokers. Pioneers in their field with a single mission to make trading accessible to anyone, anywhere. Deriv has leveraged its business to include CFDs and other derivatives on forex, indices, cryptocurrencies, commodities, and synthetics. In a journey spanning more than 22 years, Deriv has grown to over 2.5 million customers worldwide, but their mission has remained the same.
Deriv before OKRs
When Deriv was a smaller company with fewer employees, Rakshit explained how unstructured processes still worked, and people knew about all the projects and got things done. As Deriv grew and expanded under different projects and teams with other goals, things started to get complex. As Deriv grew bigger, it became more challenging to track teams. Evolving into an OKR process was a natural choice for Deriv.
What was the drive behind adopting OKRs
Rakshit said that as Deriv expanded rapidly, there was an imperative need to align the teams across continents with greater visibility of objectives and goals. Rakshit was convinced that alignment across different departments increased visibility and encouraged accountability. Rakshit was clear that OKRs made the goals more defined as there was a certain expectation from it. Goals linked to key results help us understand how we can achieve these goals. Slogans don't run a business, and we need a road map or a plan for achieving success. Rakshit said that at that point in Deriv's journey, they decided that the OKR process was the answer to solve these challenges.
What made you choose Profit.co
Rakshit was clear that Deriv needed an agile OKR platform to scale up. He said, "We looked at a few choices, and while testing, we found Profit.co met all our needs, and the support from Profit.co team made the choice easier." He also added that a tool like Profit, and a process like OKR is language agnostic and most suitable for a company like Deriv spread across different countries and time zones. "The software is very agile, scalable, and could also be customized, and it met our requirements of alignment, visibility, and accountability and made Profit.co the most suitable for Deriv", said Rakshit.
Transforming to OKRs with Profit.co
Rakshit knew that onboarding to OKRs does not happen overnight, stakeholders must be educated and empowered to make the cultural shift. The team from Profit.co helped set up the entire OKR software at Deriv taking into account all the requirements. The consultancy program provided by Profit.co helped us at Deriv understand the OKR best practices and effectively implement it. The sessions on writing OKRs got the teams going. Initial onboarding and Customer Support from Profit.co were smooth. The initial driving force came from some key people in the senior management in Deriv, who helped and encouraged the teams to educate themselves. Cascading across the company was made easy by people who can influence the thinking within the organization. On the whole, Rakshit said their onboarding to OKRs was a very insightful and smooth journey.
Challenges With OKRs
Rakshit cautions that one should always give room for changing priorities. Cascading this knowledge prepares the team to be flexible for realignment. These changes could be external or internal. While external changes result in unplanned shifts, internal changes should be more controllable as Deriv matures in its OKR journey.
Positive changes in Deriv with Profit.co's OKR software
Deriv's primary requirement for alignment and visibility was solved by Profit.co. The exciting benefits have been how the projects are all driven by metrics, and now teams are measuring different business goals. He also noticed that teams had taken ownership of their goals and constantly updated the progress with the check-in feature of Profit.co. This has increased accountability and freed up time for other pursuits. Deriv has become more structured with seamless teams connected across continents using the alignment and dependencies features in the software.
Rakshit's final words on Profit.co "Great tool, fantastic team, initial training was effective, all questions have been answered and looking forward to continuing with this relationship"
Profit.co provides a comprehensive solution that includes features to accommodate strategy, employee engagement, as well as OKR, performance, and task management. To find out more about Profit.co, visit our product page, or book a free demo with us today!
Execute your strategy with the industry's most preferred and intuitive software