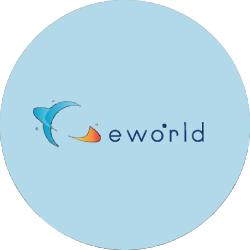 eWorld

"The guys working at Profit.co are really eager to help– it's not just a matter of selling a software and that's all."Liana Azizbekyan Operations Manager, eWorld
EWORLD is an eCommerce company that was founded in 2016. This UK-founded company has local websites in fifteen different countries and offers support in five different languages. Their operations team is based in Armenia, where they help direct the company with its international client base. EWORLD is known for its niche product sales, with products that include boosters that increase mobile signal, covers for automobiles, and products related to chess. Additionally, the company includes a marketing team that provides services for many businesses around the world. EWORLD is also a charitable company that supports educational initiatives for underprivileged children.
EWORLD, with its expansive client base, multiple teams, and many different focuses, utilizes OKRs and Profit.co. We spoke with Liana Azizbekyan, the Operations Manager for EWORLD, about the company's experience so far with OKRs and Profit.co.
Challenges
While EWORLD knew of the OKR framework since their launch in 2016, they did not begin utilizing this methodology for themselves until 2018. The number of countries the company had a presence in was rapidly growing, and their number of associated projects was skyrocketing. In an attempt to manage this growth, EWORLD implemented OKRs using Google Sheets and Excel.
Liana shares that while the EWORLD team found the OKR methodology to be useful, the medium was difficult for them. It was nearly impossible to manage everything on spreadsheets. Most notably, it was easy to lose track of OKR progress and measurement, and projects could quickly fall out of alignment.
With spreadsheets, EWORLD found that the planning process for executing goals was not being done properly. Furthermore, they had a big issue with measurement. Tracking measurement in real time was impossible, and attempting to update values resulted in multiple versions of the same document, creating confusion.
The disorganization that resulted from the use of spreadsheets meant that managers lost the pulse on many projects, and they were missing tasks. EWORLD had implemented OKRs because they were looking for maximum results in minimum working hours– however with spreadsheets, there was little sense of integrity and commitment surrounding OKRs. PPP meetings and check-ins lacked consistency, and were conducted on a monthly basis rather than a weekly basis.
Solutions
Finding Profit.co
In 2020, EWORLD decided it needed a better solution.
This company's office in Armenia is less like a workplace and more like a house. Liana shares that the sense of community is important to company culture, and much research was put into selecting the OKR methodology. With their previous experience with the framework, EWORLD had become more mature in OKRs and were ready to implement it in a more organized manner.
EWORLD decided to implement an OKR management tool to get the OKR methodology they relied so heavily on to work for them. They deliberated between two platforms: Perdoo and Profit.co. Ultimately, they chose Profit.co.
EWORLD found that Profit.co was very user-friendly. Furthermore, they felt that the staff was very attentive and eager to help– they were not just interested in making the sale, but also helping the EWORLD team along their OKR journey. Liana and the EWORLD team especially noticed that Profit.co adjusted features and updates to the customer– and didn't require the customer to make compromises to fit the software. This was incredibly important for EWORLD. They are a very dynamic and agile company, and they needed an OKR tool that matched them both in spirit and versatility. Profit.co's product, combined with the solution-oriented team backing the product, made for an OKR partner that was easy to work with and willing to listen to difficulties. Liana highlighted that EWORLD requested a variety of adjustments and features– and those changes were fulfilled, making the product work even better for them, and making the implementation process easier.
Implementing Profit.co
Liana found that at first, the EWORLD staff was resistant to a new manner of managing OKRs, but became more adaptable as the software was integrated. The company began by using top-down alignment. When they ran into difficulties, they consulted Profit.co. The next quarter, they took a new approach– starting with bottom-up alignment.
Bottom-up alignment worked better for EWORLD because there was more opportunity for departments to specify goals and metrics to their individual teams. For example, Project Managers at EWORLD like using percentages to track their projects, while the marketing team prefers using KPIs. With bottom-up alignment, each team had the autonomy to choose their own key result types.
With Profit.co and OKRs, the company was able to increase its focus and manage the vast scope of the company. Additionally, unnecessary miscommunications were eliminated as tracking key results and inputting exact measurements could be done in the Profit.co software.
Results & Benefits
OKRs are reportedly the baseline of company processes at EWORLD, making their OKR platform a vital component of their business dealings. OKRs are relatively new to the Caucasus region– and when people ask EWORLD what the secret to their success is, they answer that it is OKRs and Profit.co.
When the Covid-19 pandemic hit, EWORLD found that Profit.co enabled transparency throughout the organization, and additionally found that remote work was easier as managers could log onto the platform and have a view of each employee's progress and the problems they were facing. Without tools like Profit.co that connected everyone on the EWORLD team, it would not have been possible to work remotely.
EWORLD uses OKRs and Profit.co to increase their focus, and better track their progress as an organization. EWORLD has a presence in fifteen countries, and it can be difficult to focus on goals. However, the OKR framework with Profit.co forces that focus, institutionalizing close tracking and measuring of key results and eliminating the miscommunication that used to plague the company when they used spreadsheets. EWORLD's company processes are defined using OKRs. The whole operation relies on them.
Now that EWORLD has been using Profit.co for a full year, Liana states that the company on the whole is a "satisfied customer". She's observed that the majority of OKRs they set are put in place to help keep focus in the company, and to locate the weak points in their processes. Liana is able to look back and note that when they first began with OKRs, EWORLD made some errors in the planning processes, but now the company is taking more time to plan so they can execute their strategy smoothly.
EWORLD has plans to begin using the performance management module available in Profit.co, and the team is excited to see how their numbers and progress this year have differed from their past years without it.
Execute your strategy with the industry's most preferred and intuitive software