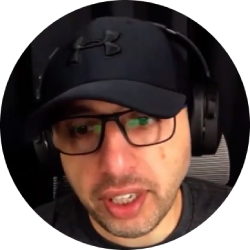 3 Tier Logic

"We were looking out for a software tool that would help us implement OKRs… and what we ended up with is an OKR partner."Hussein Hallak VP of Strategy, 3 Tier Logic
An OKR program is unique to each company that chooses to implement it. The ways in which a company can utilize OKRs and develop their strategies are incredibly diverse– and at Profit.co, we strive to provide a software that makes any method of rolling out an OKR program possible.
Recently, we had the pleasure of virtually meeting with 3 Tier Logic's VP of Products and Strategy Hussein Hallak. 3 Tier Logic is a marketing technology company that helps organizations build relationships with their customer base on the 3 Tier Logic platform. We wanted to know more about 3 Tier Logic's experience with OKRs and Profit.co.
What was the background of OKRs at 3 Tier Logic?
First, we wanted to know a little bit about the background of OKRs in 3 Tier Logic. Hussein shared that when the team began to grow, he was tasked with finding a way to get everyone on a common trajectory. "We need a vision that is articulated, we need something to keep us on track."
What was the drive for OKR adoption at 3 Tier Logic?
3 Tier Logic was looking for a better way to measure their progress and performance as a company. Hussein said that the driving force behind deciding to adopt OKRs was that they "wanted it to be a better year for us… that was the main conversation we were having– how do we know it's a better year?"
Additionally, Hussein shared that the team was taking a hard look at the services and products they provided, but what their future products might look like. Hussein shared that "We were looking at what were the products we wanted to build for the market."
Can you share your experience with OKR Implementation?
While no two implementation strategies are the same when it comes to introducing an OKR program in a company, we were curious to see what had worked for 3 Tier Logic. Hussein shared that "We first started working with a smaller group of employees… and then we started using OKRs [and] socializing the idea with the team through our quarterly meetings."
Hussein and the team opted for a more gradual integration of the methodology into the culture of the company, avoiding strict enforcement and instead letting their company adapt at a pace that felt more natural. Hussein explained this tactic, "Instead of saying we're implementing OKRs… we're saying OKRs is something we want to implement for the company, we're working on it– we took our time, and we didn't put a deadline."
This technique gave employees the benefit of not feeling forced into a new strategy, but also helped them develop familiarity with the methodology. "They're kind of in a sandbox phase where they're playing around with OKRs," said Hussein, who has seen this method of OKR implementation work, as employees are naturally becoming more curious both about their own Objectives and Key Results as well as when they might be added on to the software.
Why did you choose Profit.co?
Hussein reviewed around nine softwares to determine what platform would integrate well with 3 Tier Logic's team and strategy. Ease of use and pricing were important components for his search for the right platform.
Hussein was incredibly thorough in his search "I looked at what [each platform] said they fulfill. Some softwares do offer OKRs as part of what they do– they're [a] performance software with OKRs as an option." This secondary nature didn't appeal to Hussein's purposes. He said of Profit.co, "[it] is built around OKRs. It's not an afterthought in the software."
After researching numerous platforms and completing trial periods with a few softwares, the team at 3 Tier Logic decided that Profit.co best met their criteria and expectations for an OKR software.
How was your experience with the Profit.co team?
While Hussein was able to give us a detailed account of his process in choosing Profit.co, we wanted to know how his experience has been with the Profit.co team. To this question, Hussein shared that "The experience overall was a mixture of attention and responsiveness."
3 Tier Logic opted for training sessions with the Profit.co software. Hussein shared his team's experience with these as well, sharing that the Profit.co team was accommodating when scheduling these sessions. He found the sessions very helpful in familiarizing the team with the software. "[The] training sessions gave our team a chance to test and play around with the software… everybody had a chance to ask what they needed to ask."
Hussein also emphasized the knowledge that the Profit.co team had of the software, as well as OKRs themselves. "We were looking out for a software tool that would help us implement OKRs and make it easier to manage across the company," Hussein said, "and what we ended up with is an OKR partner."
Did Profit.co help work during Covid?
Finally, we were curious to know how the pandemic and the consequential switch to remote work had affected work at 3 Tier Logic, and how using OKRs and Profit.co during this time had assisted productivity.
Hussein shared that "having a tool that is as powerful and capable as Profit.co has generally helped us a lot in making [focusing while remote] more possible." Additionally, the software "helps remote teams stay connected with what the company stands for… and that gives some sort of stability and confidence among the team."
The software was actually able to help augment an important component of 3 Tier Logic's core philosophy. Hussein explained that "we have a principle of radical transparency in our company… we made all the OKRs of everyone in every department visible for everyone". Especially with remote work, and there being no common space to come together in person, Hussein shared that the transparency and connectedness they had decided to implement during this time "wouldn't be possible without Profit".
Execute your strategy with the industry's most preferred and intuitive software