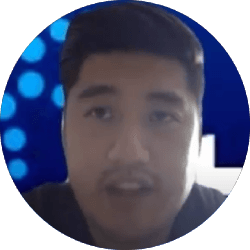 GTA Teleguam

"Not just using OKRs, but specifically using Profit.co has really helped us manage our time better… communication is a lot clearer, and there's better transparency."
The benefits of the OKR framework can be summed up with the acronym F.A.C.T.S..
Teams that use OKRs can expect an increase in focus, alignment, commitment, tracking, and the use of stretch goals. All of these benefits are available when you use this powerful methodology correctly.
When the OKR framework is managed on spreadsheets, however, many of these benefits don't become a reality.
GTA Teleguam, a telecommunications company in Guam, aimed to use OKRs to help guide some of their larger initiatives. Recently, we had the opportunity to sit down with Tommy Blas, the Manager of Strategic Business Delivery at GTA, and discuss the company's history with OKRs, spreadsheets, and Profit.co.
What was the history/background of OKRs in GTA?
GTA's journey with Objectives and Key Results began when the company onboarded a new CEO. With this new senior leadership came the realization that the company needed to learn to prioritize better. Key projects and big initiatives were never in short supply thanks to the motivated team at GTA, but it was easy for everyone to get lost in all the projects they wanted to complete.
When the organization began using OKRs, Tommy shared that they were truly in the infancy stage. They didn't know exactly how to begin– so they copied the experts and Google and mimicked their program as best they could.
The team was managing OKRs on Excel. Managing the OKR framework on a spreadsheet proved difficult for the company, and Tommy shared that "It was pretty painful for the first year, if you can imagine."
About fifty-two people were involved in the OKR program at that time, and that caused a lot of confusion. While the team wanted to keep using OKRs, they felt that spreadsheets weren't helping with their original goal of prioritizing their key projects. Tommy said that "We started really large, and we had to figure out how to scale down."
What issues or goals drove you to adopt OKRs?
In addition to wanting to better prioritize GTA's goals, Tommy shared that the drive to adopt OKRs in the organization was about working to their full potential. Everybody on the team wanted to be more efficient, productive, get more done, and contribute more value to the company's goals.
At the start of GTA's OKR program, Objectives and Key Results came from senior leadership and aligned top-down. However, these goals missed key development projects that were relevant for the whole organization.
Tommy noticed that any project that involved more than two departments was confronted with a lot of issues. "We saw that there were communication gaps, conflict on priorities, conflict on resources and just a lack of transparency and alignment on what is important for the organization and what the order is."
So, while OKRs were a framework they wanted to pursue, the team decided it was time to take the methodology onto a more agile and flexible platform than spreadsheets.
Why did you choose Profit.co?
Tommy shared that the company took about a year to narrow down which software they were going to use to manage their OKRs. The company evaluated two other softwares besides Profit.co, and ultimately decided to go with Profit because it was simple to use and easy to pick up.
Transitioning from Excel to Profit.co was not only easy, but it was also enlightening for the team. Tommy named the templates, pre-existing OKRs, and step-by-step creation wizard as just a few of the features that were incredibly helpful for GTA.
Tommy shared that this software beat out using spreadsheets for multiple reasons, not the least of which was how it helps you write better OKRs. "In the world of Excel, there's no structure. You can write anything you want as an OKR or as a key measure, or as an initiative and place it however you want." This led to an overload of OKRs, and no way to execute them or prioritize. Tommy continued, sharing that, "When we started to trial with Profit, that opened up my eyes [to the fact that] we were writing these wrong, these aren't really initiatives, they're more like tasks."
Moving to Profit.co helped GTA realize they needed to rewrite, restructure, and realign their initiatives and OKRs.
What were your main issues regarding spreadsheets?
GTA began their OKR journey around the end of 2019 and the beginning of 2020 with spreadsheets. They structured their OKR program so that the team could share what they wanted to do.
This exercise stirred great purpose within the organization, and there was an outpouring of ideas and motivation from the team. Managers and directors shared what they wanted to do, but that inspiration soon created a laundry list of nearly 500 things that the organization collectively wanted to achieve. All of these different ideas were listed on a spreadsheet.
While Tommy and the leadership team at GTA didn't want to devalue any of that work and initiative, they definitely needed to make decisions in order to better focus. The company only had so much time and so many resources. They started to sort out these ideas into priorities and things they needed to put a pin in. However, Excel didn't have the structure they needed to help define those priorities. This was the main issue that the organization faced, and the main reason that they decided to switch to software.
How was the OKR implementation process?
Next, we wanted to ask how the OKR implementation process was for the team at GTA. Their employee base is around 450 people. Tommy shared that getting the framework out to the entire team presented a little bit of a struggle. For GTA, it was all about face-to-face time– long conversations and taking the time to ensure that every employee truly understood the framework.
The team did a great job and were motivated to learn the framework because there were many things the team wanted to do. Once they switched their OKR program over to Profit.co and abandoned spreadsheets, the process only got easier.
The senior leadership team loved that Profit.co was a web-based portal that was easy to use, and they could access from everywhere. The team could see the organization-wide alignment that was happening on Profit.co in a way that spreadsheets had never enabled.
At GTA, they run their OKR program a little differently than most. They developed a team called the Strategic Business Delivery team– a three-person team that shepards OKRs in the organization.
Even now, Tommy shared that they haven't extended their OKR program to include specific departments managing their own OKRs. The narrow-then-focus approach requires more guidance from company leaders. Since there's so much to do, and everyone is so passionate about doing everything, GTA has instituted a system to help maintain order.
Tommy shared that every executive, director, and VP have access to view OKRs, however they aren't allowed to touch them. Tommy said that "The only people that can actually either change, update, or even move or add [OKRs] are the people on my team." The three members of Tommy's department have broken the organization into thirds and now manage their business unit as the OKR champion. "If we do need to pivot, it's a change request that comes through us and we go up to leadership."
Tommy shared that that structure has helped things move along a little better. The business unit simply focuses on operating and getting their key results done, meanwhile Tommy's team keeps everything moving forward smoothly. "Once a week we get to align and meet with them, and I thought it was great too because our office acts as the PMO office, so we now get really great insight throughout the whole organization: What's happening? Is there going to be any resource collision? What's the roadmap look like for this quarter and next quarter? What's the pulse and what's the heartbeat of the business?"
While they allow the rest of the company to come up with their own OKRs, they assist by helping to translate what an individual wants to accomplish into a strong, well-written OKR. They help determine the best way to track key results, Tommy shares, and says that "we've been spearheading that as a team to kind of help them take what's in their head and put it to the Profit.co software."
How was your experience with the Profit.co team?
While travelling for work, Tommy had the opportunity to meet a few members of the Profit.co team, the CEO Bastin Gerald, as well as the VP of Sales, Damian Dias. As a big believer in strategic partnerships, Tommy felt that this was a great experience to have.
Face-to-face meetings are important to helping make connections, but he also felt that the virtual support he has been receiving from the Profit.co team has been "amazing".
Tommy found that the support was amazing throughout his entire experience with Profit.co thus far, but especially when they were transitioning from the trial to onboarding.
Now, Tommy finds that he uses the support chat to answer any questions he has regarding the use of the software or OKRs. "The support chat folks are doing a great job," Tommy shares. "I never really have to get on a phone call with them, they can explain things via chat, which is amazing, because that just makes life easier for everybody!"
What business outcomes have you seen since implementing Profit.co?
Finally, we wanted to know what outcomes Tommy has seen in his organization since implementing Profit.co and OKRs. Tommy shared, "Not just using OKRs, but specifically using Profit.co has really helped us manage our time better… communication is a lot clearer, and there's better transparency."
When they were using Excel, they used to have OKR meetings once every other week because of the lack of transparency. It was a long meeting– clocking in around one hour and forty minutes when they first began, and only minimizing to about one hour once they got used to the methodology.
However, on Profit.co, they have been able to optimize their time. With the software, GTA does a once-a-month meeting with the broader group, and a weekly pulse-check-in meeting with Tommy's team alone. This is so his team knows what's happening in the organization before the review, and they can fix problems before they have the chance to spin out of control.
The team has only gotten more efficient with using OKRs under Profit.co. Tommy shared that their end of quarter meeting is usually about one hour and twenty minutes– however, their quarter one 2021 wrap-up meeting, the first end of quarter meeting held since implementing Profit, was only eighteen minutes long.
Tommy was astounded by this. "Nobody had any questions, everyone knew where we were, they were on the same page, and we all hung up… that drives real value, because now we put time back into people's hands, time for them to actually go do something with it and take that time and be actionable with that."
Tommy said that this has helped give time back to their employees and create more efficiency within the organization. Tommy is very pleased with how Profit.co has worked out at GTA, sharing, "Just the alignment and clarity is amazing."
GTA uses Profit.co to help prioritize their goals and keep their team on track. The OKR framework is a powerful methodology that can work for companies of all sizes and in all industries– and the Profit.co OKR management tool can help you optimize your use of this framework, so you can execute your strategy with focus and alignment.
Ready to get started? Try Profit.co completely free for thirty days, or book a demo with us to see what OKRs and our software can do for your company.
Execute your strategy with the industry's most preferred and intuitive software