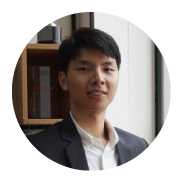 "We wanted OKR and Performance Management tools to be in one environment."
HappyFresh Chooses Profit.co to Implement OKR and PM
The pandemic brought the robust information economy of the world to a grinding halt. We developed methods to cope and carry on. The advancement of technology in the previous decade prevented the economy from collapsing. The online retail business saw a boom during this disruptive period, with virtually everything going online. With the ease of online shopping and changing priorities, the culture of buying everything online is here to stay.
Profit.co has provided an excellent solution to one of Asia's fastest-growing online grocery stores, HappyFresh, based out of Indonesia. We recently had a chat with Adi Prawira S, People Partner and Performance at HappyFresh, Indonesia, to learn how we are helping them in their journey to become the number one online grocery store in Asia.
About HappyFresh
HappyFresh is the first and fastest-growing online grocery platform in Southeast Asia. Founded in 2014, HappyFresh was launched by skilled entrepreneurs to revolutionize the online grocery market in Asia.
Together with an all-star team based in Jakarta, HappyFresh has quickly expanded to Malaysia, Indonesia and Thailand with ambitious growth plans. You can expect to see HappyFresh launching in more Southeast Asian cities in the near future.
HappyFresh and Profit.co's OKR
Adi mentioned that before OKRs, the management team used working sheets to capture the metrics, and there was no regular process and visibility across the organization. So to streamline the business process and formalize everything, we implemented OKR. We are still in the learning phase, trying to bring about change management among the employees by using OKR tools in Profit.co. We are also setting up the correct measurement metrics and how we can move forward with OKR.
The primary motivation behind adopting the Performance Management framework
Adi shared that they had an in-house tool downloaded from third-party vendors for conducting a performance review. He said they used KPI and OKR to measure Performance which translated into a score. However, they faced challenges like stability, shifting frameworks, and lacking deliverables in the in-house model. He added that the process was also time-consuming, and the model was not scalable. He shared that he aimed to close a few gaps in the traditional performance management system.
What made you choose Profit.co
Adi said, "we wanted OKR and performance management tools to be in one environment." He said they initially searched online using websites like Capterra. They analyzed all the players in the market, their features, and the tools offered.
They were also looking for someone closer home for ease of onboarding and communication. They also looked at the information provided by the sales teams. Finally, they benchmarked their requirements with the offering, and Profit.co's performance module facilitated most of their needs.
Onboarding experience with Profit.co
Adi quickly agreed that the onboarding was a seamless and easy process. He did agree that there needs to be some learning from the employees' side as the product and its features are new, but overall he said it had been a very satisfying experience.
Your experience with the Profit.co's team
Adi was delighted with the customer service offered by Profit.co. He was impressed by the speed of response by the customer support team. He said customer support through WhatsApp and support chat was convenient and fast. He was also pleased that the training to onboard many people was pretty satisfying.
HappyFresh after Profit.co
Adi is happy to have Profit.co's OKRs and Agile PMS together in a single platform. He said they have started using the 360-degree performance review feedback facilitated by Profit.co. There were many advantages after starting with Profit.co said, Adi. He explained how automated email reminders had saved time for management. Adi was delighted that the software enhanced communication, increased visibility, and eased the process of setting up meetings. He also added that it reduces the time in follow-up as employees have visibility. Since implementing the performance module, requests for reassessment have been nil. He expressed the convenience of downloadable reports capturing all the data.
What is your overall feedback about Profit.co?
Adi said, "I think out of 10 I would give 8, pretty satisfying, and customer support is great."
Execute your strategy with the industry's most preferred and intuitive software