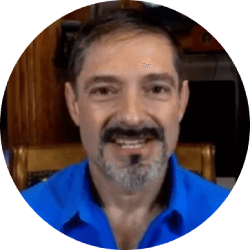 Phillips Home Improvements

"The beautiful thing about Profit.co is it comes right back in once a week at our leadership meeting… [it has] really helped keep us on track so we are achieving more of our objectives."
The OKR framework has the capacity to make significant positive impacts in any organization that's willing to focus efforts on adapting and implementing the framework. We recently sat down to interview Jason Phillips of Phillips Home Improvements about his experience with OKRs, Profit.co, and the changes he has seen within his organization since implementing this software!
What is the history of OKRs at Phillips Home Improvements?
First, we wanted to know a little bit about the background of OKRs at Phillips Home Improvements. Jason was able to share that the company had actually been using OKRs for several years before bringing on Profit.co. "We tried out various online systems that attempted to bring everything together, and we eventually just settled on some good old Google spreadsheets, which served us okay, but didn't really give us the visibility and clarity that we were looking for."
Many companies attempt to track their Objectives and Key Results using spreadsheets, but like Phillips Home Improvements, find themselves too limited by the lack of functionality and scalability. Implementing an OKR software like Profit.co can fix these problems, and optimize the use of OKRs in an organization.
What was the drive behind adopting OKRs?
Different companies have a variety of different reasons for wanting to adopt the OKR framework into their business. Jason was able to share a little bit about why Phillips Home Improvements decided to bring on Objectives and Key Results. "We had been really good at meeting and coming up with good ideas, but the follow-through throughout the quarter would drop off pretty quickly."
It is not uncommon for businesses to struggle to close the gap between their strategy and their execution. Profit.co strives to help businesses do just that, and Phillips Home Improvements wanted to use OKRs so they could stick to their primary objectives with laser-focus.
What made you choose Profit.co?
Jason shared that the main draw for Phillips Home Improvements to choose Profit.co for their OKR software surrounded the available integrations, KPIs, and ease of use. Profit integrated directly with Phillips' CRM, and the ability to pre-engineer KPIs in the software was a major contributor to Jason's decision to use the software.
Additionally, Jason was able to speak towards the way that the business benefits from Profit.co on a daily basis. "My people didn't spend time digging for the right numbers… they could spend more time improving the number rather than trying to calculate the number". Jason has found features that allow a quick look into the progress of OKRs are also useful for productive meetings, "When we have our leadership meeting, everybody has their individual objectives and KPIs," Jason shared. He also utilizes the tags feature, which allows him to filter OKRs by tag so he can take a look at the most important information in seconds.
Jason said that Profit.co has worked better than a spreadsheet for them for many reasons, one of which is the graphing features Profit offers. "I'm not looking for just a snapshot of how we are today, I want to see a snapshot of where we've been, how we've been performing, and where we're expected to perform in the future, because that really helps me and my team determine if we need to put some additional focus, or rethink how we're approaching this KPI, the key result and objective."
How did you ensure a smooth OKR implementation?
Implementing OKRs at a company can be a difficult task depending on your company. Jason approached this process with a strategy in mind. First, he wanted to get his entire team believing in the power of the OKR framework and the effectiveness of the Profit.co software. He decided to start with a small group of employees and run OKRs for a quarter.
Once those employees recognized that both the framework and software were helpful and familiarized themselves with the cadence of OKRs, it was easier to convince the next level of the organization to adopt to Profit.co and believe in the effectiveness of the software.
How was your experience with the Profit.co team?
We also wanted to know how Jason's experience with the Profit.co team has been since coming onto the software. Jason told us, "I was pleasantly surprised by the responsiveness of the support team both in chat, via email, and on the phone."
How has Profit.co impacted work during Covid?
The pandemic has undoubtedly impacted businesses of all sizes and in all industries. We wanted to know if Profit.co had any effect on what it was like working at Phillips Home Improvements during this tumultuous time. Jason shared that the software platform acted as a touchstone that helps align the team and continually get everyone on the same page. "We can use the commenting and chatting feature… it helps us rein it back all together," Jason shared. "The beautiful thing about Profit.co is it comes right back in once a week at our leadership meeting, reins us right back in, keeps the key numbers easy for us to see… [it has] really helped keep us on track so we are achieving more of our objectives." The transparency and visibility that Profit.co offers enables businesses like Phillips Home Improvements to track what matters for business outcomes and bridge the gap between strategy and execution so that you can achieve more, more efficiently.
To learn more about how Profit.co can help you achieve more in your business, don't forget to check out our product page or book a free demo today!
Execute your strategy with the industry's most preferred and intuitive software