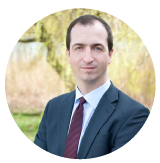 "The products have been reliable, support and services outstanding and well priced. I would recommend Profit.co as a platform for any business to manage the OKRs."
Profit.co drives OKR process at Lead Forensics
The digital marketplace is constantly evolving and adapting every day. Business leaders grapple with ways and means to have an edge over the competition. The true differentiator can only come when businesses make their products and services about their customers.
The company that best understands the behavior of business buyers will have a clear advantage in the marketplace. While B2B business solutions are a dime a dozen, a comprehensive OKR framework for understanding and analyzing the customer market helps businesses transform into powerhouses of productivity. The OKR framework can significantly impact any organization willing to focus efforts on adapting and implementing the framework.
In our endeavor to understand and strengthen customer relationships, we recently had a conversation with Henry Braithwaite, COO and Co-Founder, Lead Forensics, Portsmouth, United Kingdom, one of our customers.
Lead Forensics
Lead Forensics is the world's #1 website visitor identification software. Its mission is to help customers drive more revenue out of their websites. There is untapped value in all website traffic, and Lead Forensics products are built to tap this potential.
Lead Forensics before OKRs
Henry explained that when Lead Forensics had around 150 employees, they had good alignment and visibility, but once they grew past that point, it became unmanageable to do that en masse. Different departments had ways of doing things, making it increasingly tricky at the top level to align with people and their work.
The primary motivation behind adopting the OKR framework
As Lead Forensics grew with many employees, it became increasingly complex to manage the teams. Henry said the management realized there was misalignment, and most meetings were all about reviews and none about their long-term strategy. There was an increasing need for uniformity in processes across departments aligning people with the direction of the business. In one sentence, Henry summed up, "It's about execution." Their chairman suggested they look at the OKR process to manage the shortcomings, which led the top management to look at the OKR methodology to solve their execution, alignment and visibility challenges.
What made you choose Profit.co
Henry said, "Initially, our team tried to put down OKRs in word, moved on to spreadsheets and even considered confluence. All these systems did not give us a comprehensive platform like an OKR tool." Henry shared that they went through the typical buying journey, reading online reviews and scoping the leading players in the market. He explained that they knew the features and functionality available online. So it was easy to whittle down to a short list of providers and schedule a demo. We concluded that Profit.co had scalable features, great pricing, and a good market presence. Profit.co OKR software is designed to deliver our requirements making it an easy choice.
Experiences with Profit.co's OKR implementation
Henry was appreciative of the software and onboarding experience with Profit.co's OKR software. He said, " We found the software very intuitive, so the stakeholders had an excellent grasp within a few weeks. We were happy with the services from the Profit.co team, and we could calibrate all departments, set up the company hierarchy, and train the senior management team."
What was the strategy adopted by the OKR Champion for a smooth adoption?
Henry and Paul, as OKR champions, had a thorough process to ensure smooth adoption. They developed an OKR document/playbook to introduce OKRs within the company. They explained why Profit.co was a suitable OKR Software.
They highlighted the advantage of cascading OKRs through business, aligning OKRs, allocating OKRs to individuals, and sustaining OKRs. Created Initial guidelines to help their employees receive the OKR methodology with some awareness. The next step in the plan was forming three work groups. The first was getting the senior leadership team into Profit.co, and their OKRs live. The next was getting all staff access to OKRs. The third was getting the senior leadership connected with everyone in the organization through the OKRs in Profit.co
Your experience with the Profit.co team
Henry had first-hand experience with the speed and efficiency of the support team of Profit.co that left him so impressed that he has spoken about it to many, including his team at Lead Forensics.
Lead Forensics after Profit.co
The business outcomes or benefits have been qualitative and quantitative. Henry mentioned that now people spend more time working on the things that matter and working more on their priorities, which aligns with the business strategy.
The second benefit Henry observed was after Profit.co life is much easier for management. Earlier they would have multiple meetings and long to-do lists. Now there is a cycle in place, and people know what needs to be done without unnecessary meetings.
The third benefit observed by Henry is Profit.co It has freed up management time and improved employee productivity.
What is your overall feedback about Profit.co?
Henry said, "I think it is an excellent tool and can fit into your business." He added that you could use it for the basics or complicated scaleups like milestones or alignments. His experience with Profit.co has been excellent, and the products have been reliable, support and services outstanding. He added, "I recommend Profit.co as a platform for managing OKRs."
Execute your strategy with the industry's most preferred and intuitive software