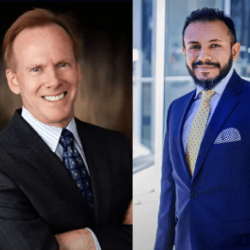 Strategic Ops consulting

"With Profit, it's very clear. The interface is good, it's organized well, it flows well…When our clients say "what do you recommend" we recommend Profit.co's features."
Though it began as the goal-setting framework used by industry-leading technology companies, the OKR framework is now heralded as the agile methodology that companies of all sizes use across many, many verticals.
Objectives and Key Results have helped a number of high-profile companies launch their most important initiatives and close the gap between their strategy and their execution. Two champions of the OKR framework are Nishant Sasidharan and Colin O'Neill, respectively the COO and CEO of Strategic Ops Consulting, as well as the company's co-founders.
Strategic Ops Consulting is all about helping companies connect their strategy to their entire organization, and helping their clients succeed through every stage of business execution. Colin and Nishant expertly use outcomes as a way to tie their clients' organizations together from top to bottom.
Their mission is to help organizations ensure that their business goals are realized. To achieve this mission, Colin and Nishant use OKRs, as well as encourage their clients to use OKRs. The business partners shared that since there is so much activity within a business that doesn't always align with the business goals, OKRs can help articulate and communicate goals to the rest of an organization.
Strategic Ops Consulting uses Profit.co to help manage their OKR framework. Recently, we had the opportunity to sit down with Colin and Nishant and ask them some questions about their journey with OKRs, the Profit.co framework, and how both have affected their organization.
Do you have any favorite features on the Profit.co software?
First, we wanted to know about the features that Nishant and Colin use on the Profit.co software that make them such strong advocates for both the OKR framework and our software.
Colin shared that they had done thorough research on the OKR solutions available in the market today. They looked at between twenty-five and thirty tools to see what would best suit their needs, and narrowed the options down to a shortlist of six solutions. The pair shared that they completed a trial with each of these tools, using their own OKRs with the available alignment and reporting features to determine how it would feel using the software long-term.
"There were so many tools that were clunky and didn't give us the views we needed into our work on a daily basis," Colin shared. The team wanted the ability to continually review and refine their OKRs.
They found that Profit.co allowed them to do this with ease. They also named the Task Management module as a great addition to the Profit.co software, and the ability to associate tasks to key results both from the OKR screen and the Tasks Management screen proved that Profit.co had user agility on the top of mind. "It's just so intuitive and the views that you get with the progress bars are really easy to interpret visually."
They shared that they are very left-brained, hierarchical thinkers– and Profit.co was able to present their OKRs in an easy, simple, and intuitive way. "Me and Colin have tried out other tools," Nishant shared, "but the intuitive nature of Profit.co makes it easy for anyone to use it out of the box."
What made you choose Profit.co for your OKR program?
Next, we wanted to know what made Colin and Nishant choose Profit.co for their OKR program. They reiterated that they tried several tools to manage their strategy and business level OKRs, and found that Profit.co's features were a cut above the rest.
They also added that Profit.co gave them a clear visibility into the entire organization, as well as the opportunity to create OKRs, interpret them at every level, and cascade them throughout their own organization as well as their clients' teams.
"With Profit, it's very clear. The interface is good, it's organized well, it flows well," Colin shared.
How does Profit.co help you achieve your mission statement?
Additionally, we wanted to hear more about Strategic Ops Consulting's mission, and how OKRs and Profit.co help them realize that mission.
Colin and Nishant are dedicated to helping their clients connect their businesses from top to bottom. They shared that Profit.co helps demonstrate how strategy and execution connect and how important it is to visualize their business hierarchy in order to ensure that goals are being met.
With Profit.co, Colin and Nishant can demonstrate to their clients how top-level OKRs should cascade throughout their organization and connect employees in each sector of the business to the central mission, strategy, and the most important goals.
Many times, issues arise in organizations simply because the team isn't sure how to measure a certain goal correctly. OKRs help resolve that problem. Colin shared that "When our clients say what do you recommend? we recommend Profit.co's features."
How was your experience with the Profit.co team?
Profit.co aims to be there for our customers at every step of their OKR program— whether they're new to the framework, or experts like Colin and Nishant. We wanted to know how their experience was with the Profit.co team. Nishant was able to share that customer support was actually one of the things that drew them to the product, and that the Profit.co team was there with any questions they had.
Nishant shared that when reaching out to the Profit.co team, he always received prompt responses that were enthusiastic about helping him succeed. Nishant said that this communication style from Profit.co "showed the amount of respect you have for your customers. It also showed there's a fire there for making the product better and useful, it was the same kind of fire that we have for our clients, and that resonated really well with us."
How has Profit.co helped remote work?
Finally, we wanted to know if Profit.co has helped Strategic Ops Consulting in a business world that now operates remotely, or in a hybrid working model. Both Nishant and Colin seem to agree that remote work has developed from a necessity during the pandemic to an active choice that many companies are making and sticking with.
They agreed that if you have the right tools in place, like Profit.co, remote work can be amazingly successful. "Profit.co is one of those tools where sharing information and making it visible in an easy and intuitive way is extremely helpful."
As a business with team members in different time zones, they use Profit.co to help them gain full visibility and transparency throughout the entire organization. Team members can add content to the platform, check-in key results, and create tasks that Nishant and Colin will see as soon as they log onto work. Profit.co enables them to have 24-hour visibility.
Nishant added that "Our clients have told us they want to stay distributed… [Profit.co] just works really well, and especially for us, a small company with our partners in India, it's just a breeze to work with."
The OKR framework is a powerful methodology that can work for companies of all sizes and in all industries– and the Profit.co OKR management tool can help you optimize your use of this framework, so you see better results even faster.
Ready to get started? Try Profit.co completely free for thirty days, or book a demo with us to see what OKRs and our software can do for your company.
Execute your strategy with the industry's most preferred and intuitive software