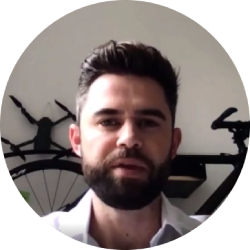 Telmar drives strategy with Profit.co OKRs

"Profit.co has pulled us a little closer together… we're able to remind the team 'what are the bigger tasks?' or 'what are the bigger goals?'"Tommy Bowen Global Director of Business Operations
Regardless of if a company is in its very first quarter or has decades of experience behind it, the OKR methodology can be transformative when it comes to goal-setting and achieving. The well-established Media Planning SaaS company, Telmar, adopted OKRs and the Profit.co software.
We recently had the opportunity to sit down with Tommy Bowen, the Global Director of Business Operations at Telmar, and talk about why the company decided to implement the OKR methodology, and how using Profit.co has impacted them.
What was the background of and drive for OKRs at Telmar?
First, Bowen shared a little bit about the goal-setting history at Telmar. The company had already used KPIs on a yearly basis, but Bowen revealed "We were slightly struggling with shorter-term direction and weren't holding ourselves accountable enough."
Bowen shared that Telmar was seeking to transform their operations and strengthen their market position. They had fifty-two years of productivity and progress behind them– but Bowen described that they needed to evolve more with their technology offerings. "We really wanted to change things, to disrupt it… not only transform the company but try to disrupt the market by adding greater value to our clients".
Certainly, this was an ambitious goal. To achieve this, they needed a clear, actionable plan to move forward. Bowen and the team began to think about "the types of solutions that could help us on a monthly, quarterly, annual basis, to really help align us to our goals that we were looking to achieve for the rest of the year."
Why did you choose Profit.co?
While Bowen was clear on what strategy Telmar planned to use to achieve their goals, they needed a tool that would help organize and measure their goals. Bowen shared that they were seeking out a software "that would be easy to implement, one that we could also help shape to our internal operations and ways of working".
Upon choosing Profit.co to implement Telmar's OKRs, he shared that everyone at Profit.co was "very understanding and very helpful to either coach us or potentially look at further developing Profit.co's capabilities to suit our needs."
The part of Profit.co that seemed to stand out to Bowen, and to set Profit.co apart from other platforms, was the adaptability of the product. He shared that the opportunity for open discussion with the team in terms of new software developments was "something I had not seen from any other providers. Most seem to be very much off the shelf… you plug it in and if it doesn't fit then that's that."
How was the OKR implementation process?
Telmar began the process of implementing OKRs with strong, specific goals in mind. Bowen shared that they hoped to "have a greater alignment with team leaders".
In the Profit.co software, the alignment features allow for vertical and horizontal alignments as well as dependencies, which help teams keep a clear view of who is working towards the same goals. Bowen shared that he and the Telmar team have taken both a "top-down and also a bottom-up approach".
How has Profit.co helped Covid?
As the ability to work in-office practically disappeared overnight with the onset of Covid, Bowen shared that the company's use of OKRs in Profit.co has become helpful in a new way. Bowen has found that the software helps with employee engagement as well as increasing morale now that the team is separated and managing their new work-from-home lifestyle.
With a clear view of company-wide OKRs, Bowen shared that employees can "elevate their thinking" and re-energize, knowing what "bigger goals and tasks are" and how they fit into the flow of the company in spite of the physical isolation they are experiencing.
Execute your strategy with the industry's most preferred and intuitive software