Anyone has the ability to give awards in Profit. To award someone, navigate to your News Feed page. To do so, Go to Home→ News Feed.

In your News Feed, you'll find mentions, check-ins, and other updates from company employees on the right side of the webpage.

You can organize your updates by any of the following three categories: Mentions, Check-ins, and All Other Updates.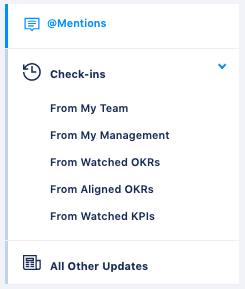 If you organize your feed by mentions, you'll see all of the posts in which you've been mentioned. Organizing by check-ins allows you to see check-ins from the following: your team, your management, your watched OKRs, your aligned OKRs, and watched KPIs. All Other Updates allows you to see any updates that do not consist of mentions or check-ins.
To award someone, navigate to the section of your News Feed that you'd like to use. For example, it might be easiest to use "Check-ins from My Team" if you want to award a fellow team member.
While you can award any key result, it's best to select an award based on progress. Once you've found the KR you want to award, select the "Awards" option at the bottom of the key result.

Once here, you can select the type of award you'd like to give, whether it's Bronze, Silver, Gold, or Platinum. All awards have a corresponding number of points. For whichever award you choose to give, the corresponding points will be subtracted from your peer's monthly point quota.