Check-Ins
Key result check-ins are an opportunity for you to track your KR completion and indicate your confidence level in achieving your key results. How often you check-in on a key result is dependent on the frequency you set for your key results during the creation process.
Many organizations select a frequency of once a week. Whether you've selected once a week or once a month, this will be the day that you check-in on your key results.
To complete a check-in, navigate to your OKRs page and find the key result you'd like to check-in on.
From there, you can move the performance indicator directly to initiate a check-in or navigate to the KR view page.

A check-in window will open where you can complete the three components to a check-in: value, status, and comments.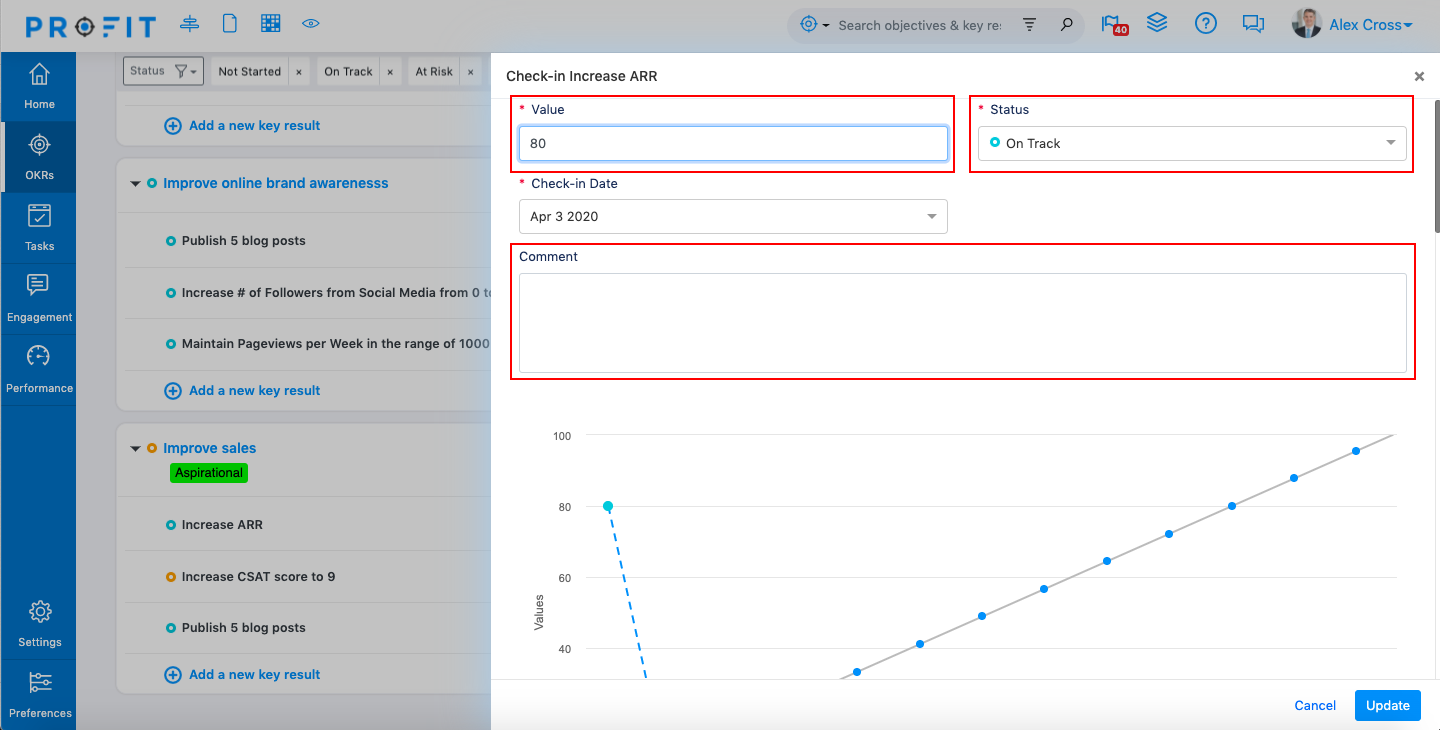 The value is indicative of the progress that you've made in achieving your key result. For example, for percentage tracked key results, the value corresponds with the percentage of your key result that you've completed. You can input the exact value here.

The status is a label that you can attribute to your KR depending on your confidence level in being able to complete it. The status labels are: Not Started, On Track, At Risk, In Trouble, Completed, or Archived.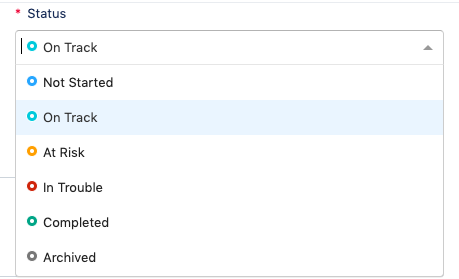 The status level is independent of the key result value. For example, even if your value appears to indicate that your key result is almost complete, your status could be labeled as "At Risk" because you don't know where to go next. Or, in contrast, your value might be low and your status could be "On Track" because you're confident that you'll be able to get it done.
The comments section of your check-ins is a great place to make note of any activity from the check-in period and to provide an explanation for the value and status.

Your check-in history is also visible in this window beneath the projection graph. You can filter check-ins by "On Time", "Missed", or "Late."
A check-in is considered late if it is incomplete any time between your most recent and upcoming check-in date. For example, if your check-in was on Friday, and you check-in on the same day, it's a on-time check-in. From Saturday to next Thursday, it will be considered late check-in. If a check-in is not completed in that window of time, it will be considered missed. If you complete a check-in on the selected frequency date, it will be marked as on time.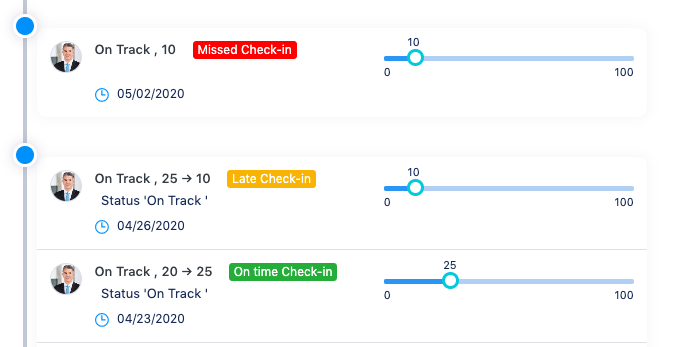 Superusers can enable action center notifications to remind you of check-ins that are due today and check-ins that are overdue.
It's important to note that you can also check-in on objectives on the objective's view page. However, objective check-ins will be overridden by key result check-ins and you will not receive notifications to check-in on your objectives.