Set Great OKRs to Align, Engage & Inspire
OKRs is a time-tested goal setting and execution framework for setting outcome-focused goals implemented and achieved by well aligned, engaged and motivated employees.

Align
Great OKRs enable cascading of objectives or goals throughout the organization.

Engage
Great OKRs are a key driver of employee engagement enabling teams to collaborate.

Inspire
Great OKRs connects employees, engages and inspires them to deliver high performance.
Setting Great OKR is fundamental to the success of any OKR program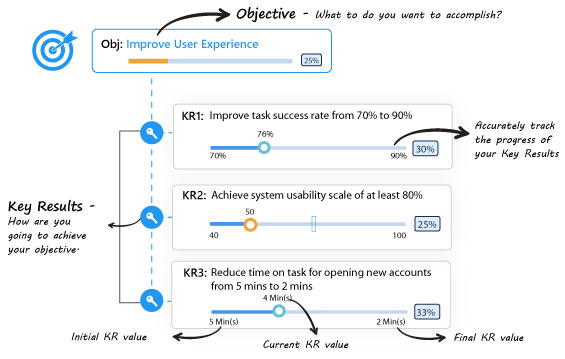 So, what is a good OKR?
Objectives (the O in OKR) are qualitative, inspirational, time-bound (typically in a quarter) goals to be executed by a team (say, Recruitment) or an individual.
Key Results (KR in OKR) quantifies the OKR's objective and breaks it into specific metrics that can be used to measure the achievement of the Objectives.
Grow revenue in America Region
Increase Demo Outreach from 0 to 100

Increase ARR from $2M to $4M

Increase Number of Channel Partners From 10 to 50
OKR Examples
for Sales
Design your Sales Team's OKRs to drive performance by focusing on the revenue goals.
With successful OKR implementation, your sales productivity will pay off in terms of improvement in product sales targets, Unit economics, profitability and conversion rates.
Establish a solid Lead Gen Engine
Increase Advisory Sites from 1 to 3

Launch LinkedIn Ads

Increase the number of Marketplaces from 0 to 5
OKR Examples
for Marketing
Design your Marketing Team's OKRs to provide direction to the team for Improving brand awareness.
With successful OKR implementation, the team's outcomes will lead to generating demand for your service, Providing leads for your sales team and Increasing product visibility.
Create a world Class Employee Onboarding program >
Improve Employee satisfaction after onboarding to 95%

Ensure 90% readiness of employees in 4 weeks

Map 100% of new recruits with mentors
OKR Examples
for HR
Design your HR Team's OKRs to improve performance in all areas related to the management of Human Capital.
With successful OKR implementation, Recruitment, Training, Learning, Performance Management and Compliance will improve considerably.
Increase efficiency of QA process
Maintain no more than 1 critical bug reported

Conduct a security assessment of codebase using automated tools

Reduce target test cycles to 45 min

60 Min(s)

45 Min(s)

55 Min(s)
OKR Examples
for Engineering
Personalise your Engineering Team's OKRs to guide them to design and develop competitive products will exceed customer requirements.
With successful OKR implementation, products are delivered on-time and the team scales up efficiently to offer great performance.
Generate $2M expansion revenue

Decrease churn rate from 15% to 5%

Increase NPS from 6.0 to 9.0
OKR Examples
for Customer Success
Design your team-level OKRs to ensure customers receive the expected value from your product or service.
With successful OKR implementation, the team's outcomes will be delighted customers, reduced churn, expanded revenue and increased referrals.
Enhance security across the enterprise
Reduce MTTD (Mean Time to Detect) to 2 Minutes

6 Min(s)

2 Min(s)

4 Min(s)

Reduce MTTC (Mean Time to Contain) to 5 Minutes

10 Min(s)

5 Min(s)

9 Min(s)

Reduce MTTR (Mean Time to Resolve) to 30 Minutes

50 Min(s)

30 Min(s)

36 Min(s)
OKR examples
for IT
Design your IT Team's OKRs to improve your company's IT infrastructure meeting the demands of internal and external customers in a cost-effective manner.
With successful OKR implementation, your IT team's performance, availability, reliability , scalability will all scale up.
Deliver Amazing Customer Support
Increase customer satisfaction score from 7.0 to 9.0

Decrease average resolution time from 44 to 24 hours

Achieve a minimum first contact resolution rate of 40%
OKR Examples
for Customer Support
Define your Team-level OKRs to improve the effectiveness of your support capabilities and to resolve customer queries efficiently.
With successful OKR implementation, the team's outcomes will lead to an improved reputation of your company with increased customer satisfaction and strong customer relationship.
Achieve Operational Excellence in the Procurement function
Maintain a 95% service level for normal stock items

Maintain a 100% service level for Critical major consumables

Procure at least 90% of the items in every category within the target price range
OKR Examples
for Procurement
Design your Procurement Team's OKRs to guide the team to source the required materials in a cost effective and timely manner.
With successful OKR implementation, the team provides the competitive advantage to your company. It can also become futuristic by making sustainability and substitution of materials as part of their objectives.
Automate Order Management
Redesign order process

Increase automated orders from 4 to 20

Decrease manual order adjustment from 25 to 10
OKR Examples
for Supply Chain
Personalise your Team's OKRs to elevate your company's delivery capabilities to give it that competitive edge.
With successful OKR implementation, the team's outcomes will lead to a product delivery to customers – within the expected time, in the right quantity, at an acceptable delivery cost and also in a sustainable manner.
With our suite of
4 products you can
Give clear direction to every team and individual.
Increase productivity through focus on goals.
Track regular progress towards goals.
Foster a culture of accountability, and transparency.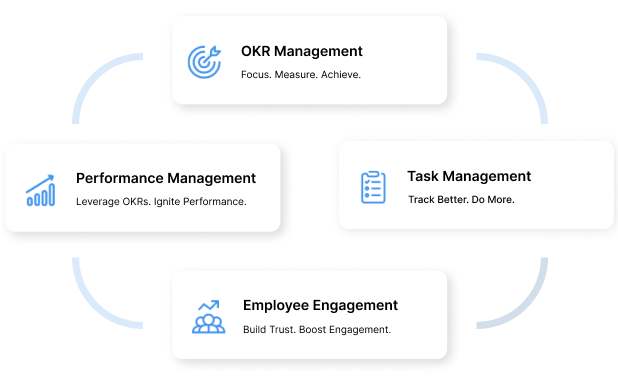 Companies using OKRs
With Profit.co OKR software you can start right away to frame OKRs for your teams!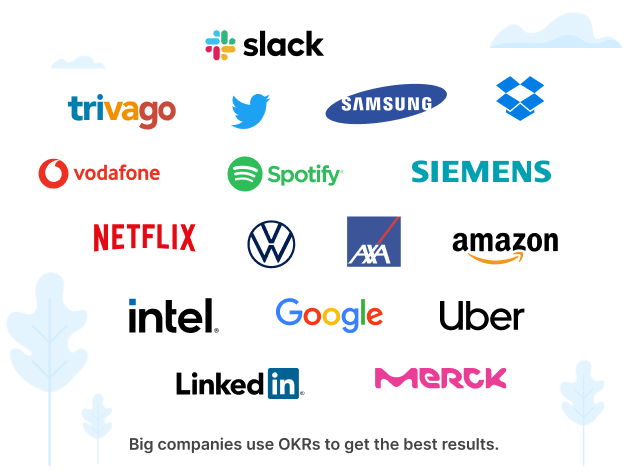 Awards & Recognitions