Join 1000s of brands that trust our OKR Software to achieve their goals

Give your employees a first-class engagement experience!!
Employee engagement is one of the most crucial elements to the success of any company achieving its vision and goals. Often Employees can get jaded or distracted if an organization does not engage their employees effectively and regularly. OKR methodology enables employees to be engaged and measured on their work and give great visibility on each individual's contribution to the organization's long-term goals.
Listen to the pulse of your team with Pulse survey
Gauge the pulse of your organization using a flexible survey builder and administer anonymous surveys to your employees.
Review results using several built in dashboards or export to your favorite tools.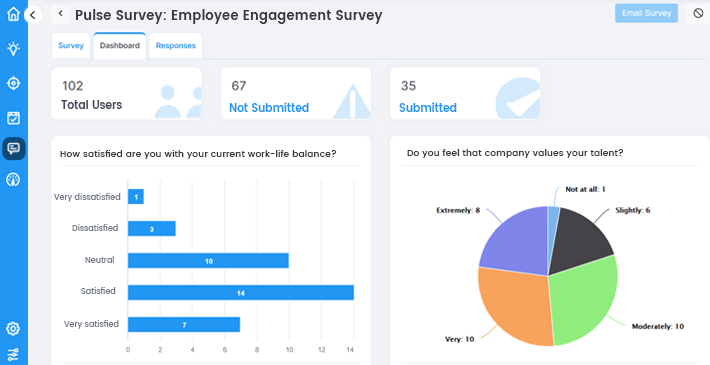 Engage & Inspire your teams with 1:1 Meetings
Engage with your employees by scheduling 1:1 meeting and inspire them to work better with greater experience.
Help your employees to plan their agenda, review work + results and establish a cadence to detect potential roadblocks that can impede progress and course correct.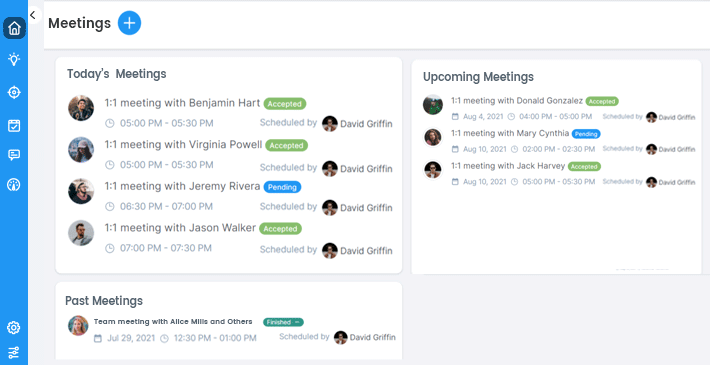 Appreciate talents in your team with Awards
Encourage a positive culture by recognizing accomplishments.
When your employees are awarded in the context of their accomplishments, the positivity becomes contagious.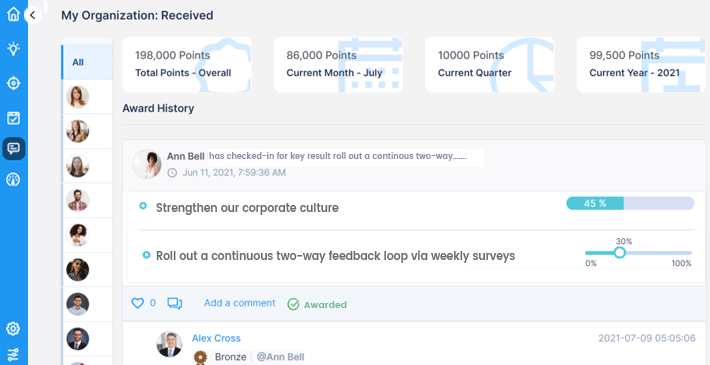 Ignite high performance with Leader Board
Create a transparent culture where everyone knows who is making a difference in their teams.
Appreciate and honor Top performers to ignite the performance of the others.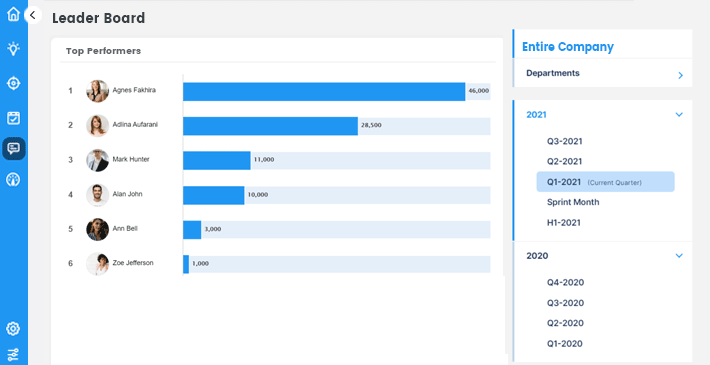 Engage and collaborate with your team
Every employee can tag colleagues with @mentions which encourages more collaboration, and also they can share their learning with #tags.
Managers can reward their team members for the progress through Rewards and points.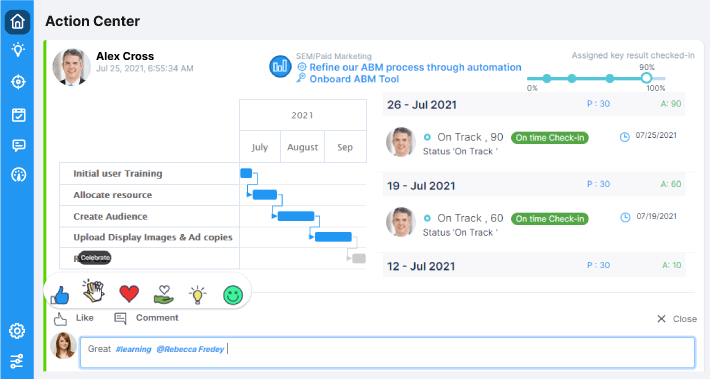 Seamlessly integrate with other & favourite apps and platforms
Start connecting your data with Profit.co.

See What Our Customers Are Saying
We're passionate about our customer's success
"Stop looking as this is the only OKR solution you need."
"Having something like this is huge. We've grown so fast we need a way to see what's happening throughout the organization. It's really going to help us measure and manage our growth."

Robert N

Director of Software Development
Source:

"Great support is what we need"
The platform itself is very easy to maneuver and has many off the shelf templates for the type of key result you choose. There is also a LOT of information regarding OKRs in Profit.co University which I have referred to often. I have also created emails with "how to" links for users to complete upcoming tasks – great resources.
Lastly, I am very pleased with the level of customer service before, during, and after implementation of OKRs.

Noemi O.
Implementation Manager
Source:

"Great software with super responsive support"
"The software is user friendly, easy to set up.and adjust. The team is constantly working on customizing the soft to meet our expectations. The tool seemed very user friendly, the price was affordable, the support very helpful."

Liana A.
Operations Manager
Source:


Demo Booked Successfully
Schedule a Call
A calendar invitation has been sent to your email address.
Please wait while we are processing