Task Management
In most organizations, employees would have numerous tasks on a daily basis. The importance of the tasks may vary high priority to low priority. Employee's often find it difficult to differentiate the tasks which require immediate attention. They end up spending time organizing sticky notes and searching their email for to-do lists.
With OKRs, Profit.co offers a world-class task management system that enables users to get things done easily and quickly. Track project roadmap, communicate and delegate subtasks to teammates, set deadlines. Profit eliminates the need for searching your email, sticky notes and other apps for to-dos, and figuring out your priorities.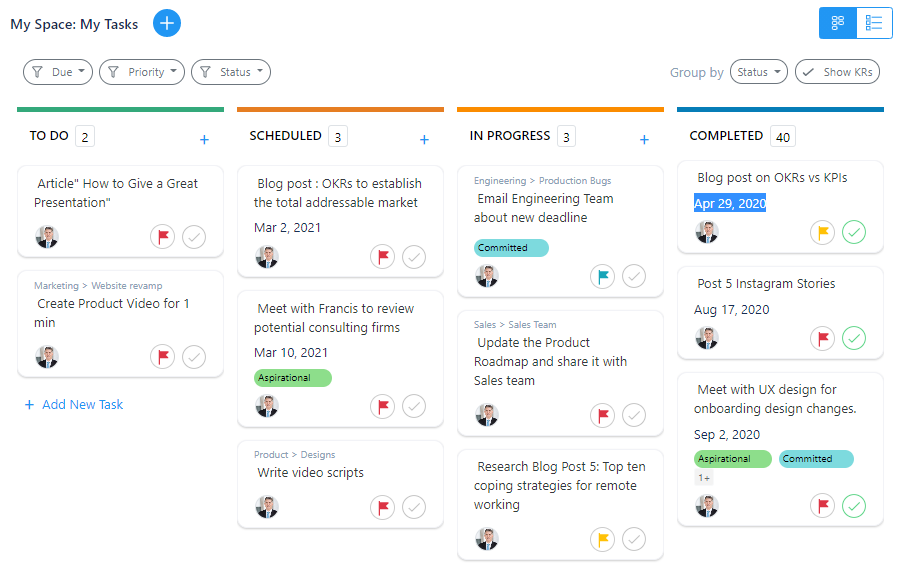 Create and prioritize tasks
Organize and schedule your tasks so you never miss a deadline. Profit allows you to create tasks, set various levels of priority based on importance, and set deadlines to get tasks done.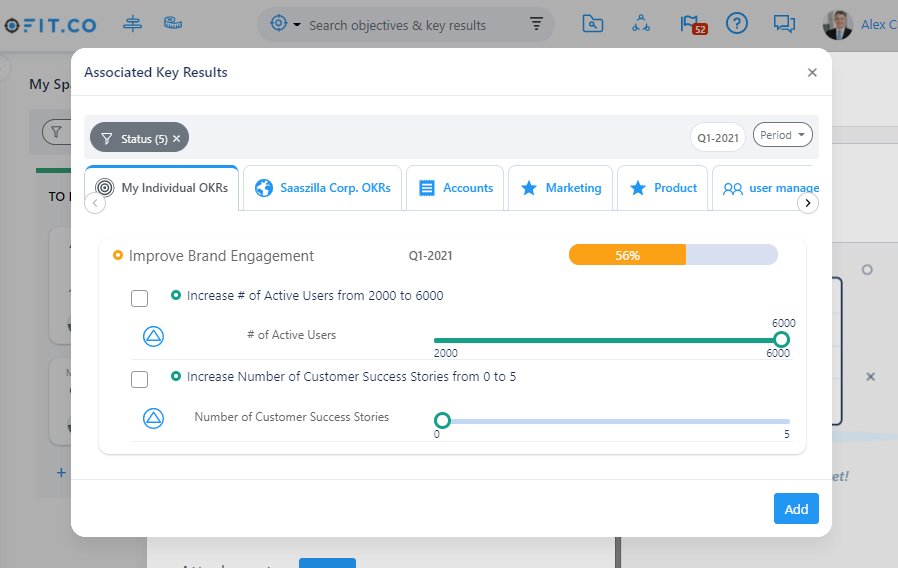 Associate tasks with Key Results
Associate your tasks with your Key Results, which in turn facilitates you to track the progress of the respective Key Results. Basically, tasks are several major and minor steps; completing these tasks would result in the conclusion of your Key Result.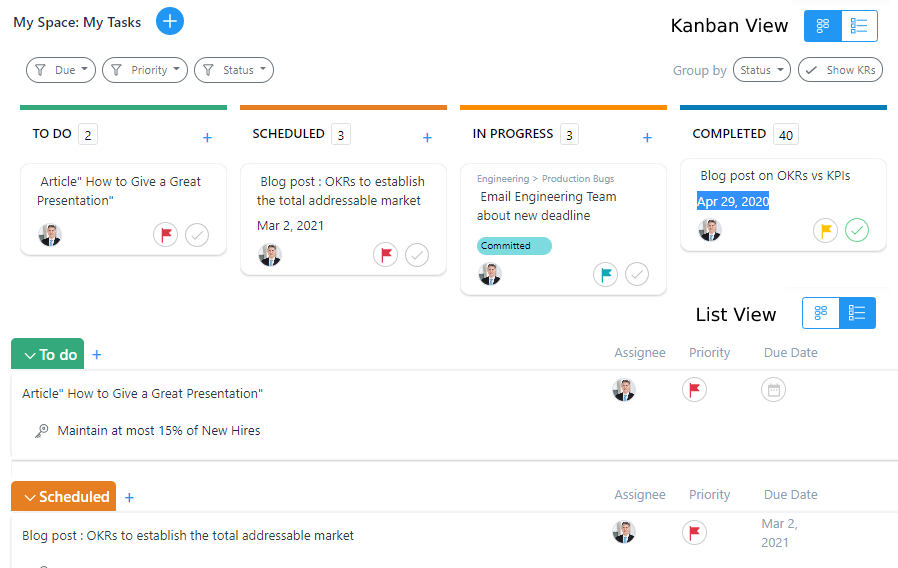 Visualize workflow with Kanban & List views
Kanban view allows you to visualize the tasks in a detailed manner using Kanban boards. You can now view priority, due date, and status of the tasks easily.
List View is the simplified version of the tasks containing two tabs:
Active Tasks – Displays the necessary details such as due date and overdue tasks.
Completed – Lists all the tasks completed by you which have been assigned to you and your team.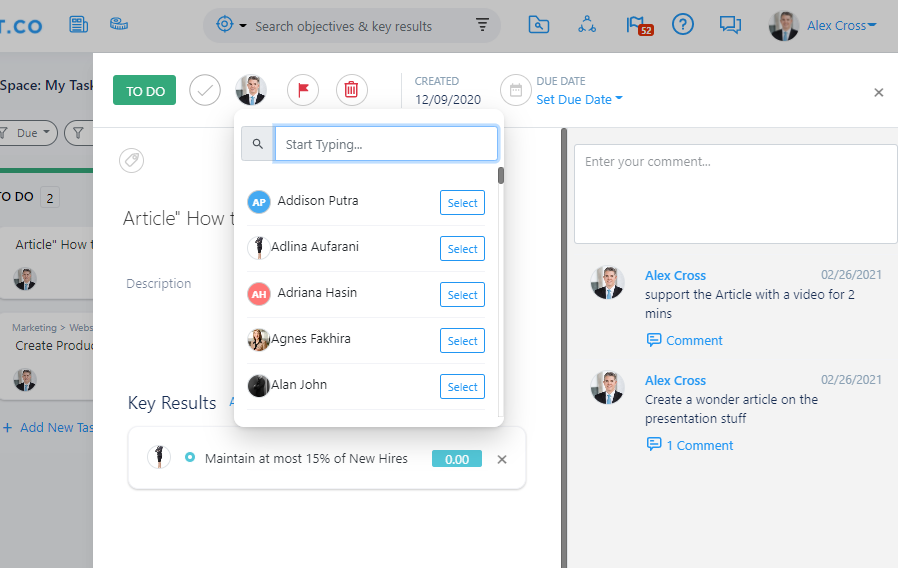 Assign tasks to others
Some crucial Objectives require assistance from other teams. You can now easily assign tasks to colleagues of other teams who would be able to contribute towards achieving your goal.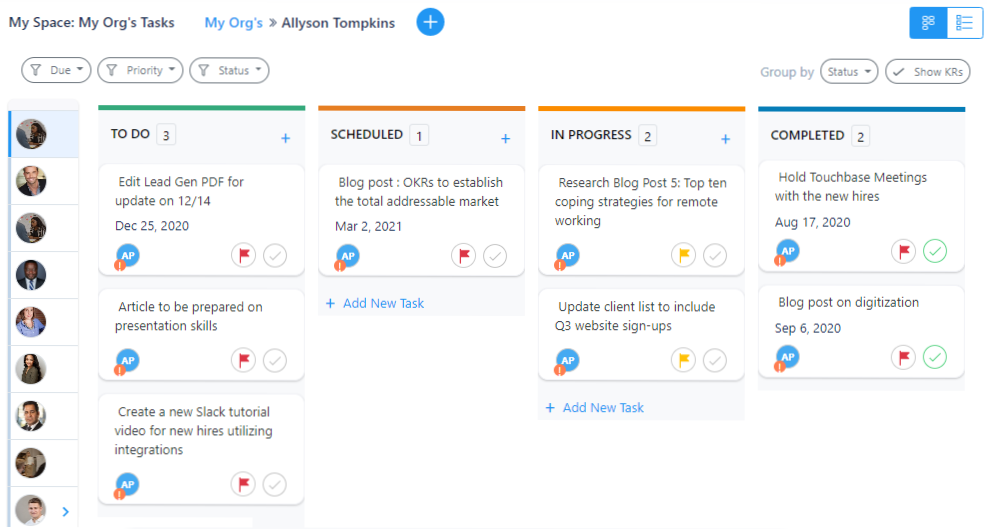 Monitor team's tasks
Profit allows you to monitor the progress and track your team's progress. You can view the tasks of each employee and filter the tasks based on their due date.
Management is about human beings.Its task is to make people capable of joint performance, to make their strengths effective and their weaknesses irrelevant