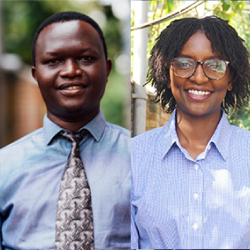 "I think the employee engagement has gone top-notch now with Profit.co, and I'm sure it will change the culture of Abahizi towards accountability and collaboration."
Driving Departmental Cohesion and Employee Engagement with Profit.co's OKR Platform: The Abahizi Success Story

Businesses today have more responsibility than just making a profit, and a company's impact on society and the environment is becoming increasingly important to consumers, investors, and employees. By empowering employees, we can create a better work environment, increase job satisfaction, and ultimately create better products and services for customers. Innovative businesses believe that investing in their employees is a way of investing in their company's future. The well-being of employees is a crucial factor in transforming the communities they belong to and bringing about social change.
We recently caught up with Darius Habamenshi, Managing Director, and Caroline Makara, Chief Financial Officer of Abahizi, Rwanda, about OKRs and their experience with Profit.co.
Abahizi is a social enterprise manufacturing top-quality handbags and accessories for a diverse range of international fashion clients. Their focus is not solely on generating profits but also on uplifting their employees' livelihoods and positively impacting the community. Like-minded organizations like this one inspire us to continue our social commitment and strive for a more significant global impact.
Abahizi Before OKRs
Abahizi is a social enterprise that believes in uplifting the local community. They employ women primarily and believe that uplifting them can change the community. Caroline added, " we are also business at the same time, and we think that we should focus on achieving goals and creating profit, so going forward into the 10th year, we started looking at ways of streamlining many of the processes." Caroline expressed, "We had an external consultant who used to help us manage our strategies and goals for the past five years. Going forward, we should have software or a system to make us independent and manage strategies and goals internally. This would prevent the heavy dependence on the external consultant for tracking our successes and failures".
How did you choose Profit.co?
Caroline said they were looking on the internet for a platform to help them manage strategies and their goals and track the progress across the organization. "We found many platforms and tried them for a couple of years, but we were unsatisfied, so we kept trying until we found Profit.co OKR Software." Caroline added, "we stopped and checked on all the features and found that it is the best one because it was easy to operate, any team member can track their progress, and the department heads can also track the tasks. They said, "We could see that the structure of the platform was very suitable, where the department goals could be derived from company goals and tasks, could be easily created and tracked that is why we chose Profit.co."
Why Profit.co?
Caroline was clear and reiterated, "We tested other plans and even used some of them briefly, but we found that the features provided by Profit.co were more suitable for our organization". Darius added at this point, "The differentiator with Profit.co was the team provided insights into the world of OKR methodology and why that was very important to manage the goals of an organization.
What challenges did you try to solve using Profit.co? Were you successful?
Abahizi was using another software. Caroline said, "It was very complicated and left us confused because it had too many metrics, and we could not use them effectively, and we were not sure whether it was suitable for an organization of our size, and we didn't get any help, and so we started going back to excel, and we very soon realize that was not easy to integrate as we have to move the data from one software to another." They realized that the excel sheets proved complicated. The consultant suggested we look at the whole thing with a fresh outlook and decided to move to Profit.co. Caroline and Darius agreed that the feature to download reports in real time and that it can be used for a presentation was a great advantage.
Can you share your onboarding experience with Profit.co?
The onboarding experience with Profit.co was very smooth because we had a clear idea about the objectives, key results, and how to set them, thanks to the coaching we received about the OKR methodology. Caroline was delighted to add that "All concerns were addressed timely and thoroughly by the Profit.co teams"
Can you talk about your experience on how your team adopted Profit.co, and your strategy as an OKR Champion for a smooth adoption?
We had an external consultant who helped us with the smooth transition of the platform, and the customer success team from Profit.co was also very helpful in resolving any difficulty we had during the adoption process.
After implementing OKRs, do you see a change in employee engagement/organizational culture?
Caroline and Darius agreed, "After Profit.co, they see a greater department cohesion within the organization. Everybody speaks the same language, and there is visualization across the departments." They said," we can also track progress across the objectives and goals of the organization. We can see how fast we are moving where we are stuck. The meeting feature of the platform allows us to check in regularly with accountability and collaborate across the organization". We can comfortably say, "I think the employee engagement has gone top-notch now with Profit.co. I'm sure it will change the culture of the Abahizi towards accountability and collaboration."
What are your thoughts or advice to other organizations about OKRs?
"I think it's the best way to go, honestly, it's an easy way to track and have a shared vision with everybody on the team, so yeah, I think it's a good strategy to adopt OKRs for any Organization."
How will you summarize your experience with Profit.co in one line?

Caroline said," I would say excellent customer service, and the platform has an excellent user-friendly interface, and with a little practice, it's easy to navigate. " Learn more about Profit.co and deploy it within your organization. You can try Profit.co for free. Sign up today.
Execute your strategy with the industry's most preferred and intuitive software