OKR Management
For decades companies have been using OKR as a management methodology, not only to survive but also bloom and stay ahead of their competition. OKR's have in one way or the other enabled big companies like Google, Intel, Amazon, Linkedin, Adobe, and many more to stay relevant and out-perform their rivals time and again. Profit is a comprehensive OKR management solution to define Objectives & Key Results (OKRs) at every level of your organization.
Profit OKR helps businesses stay on track in today's fast-paced and ever-changing industry, while still encouraging innovation. Profit OKR helps companies prioritize goals, save time, engage employees & execute strategies with limited resources, thereby fostering an effective leadership
and a high-performance culture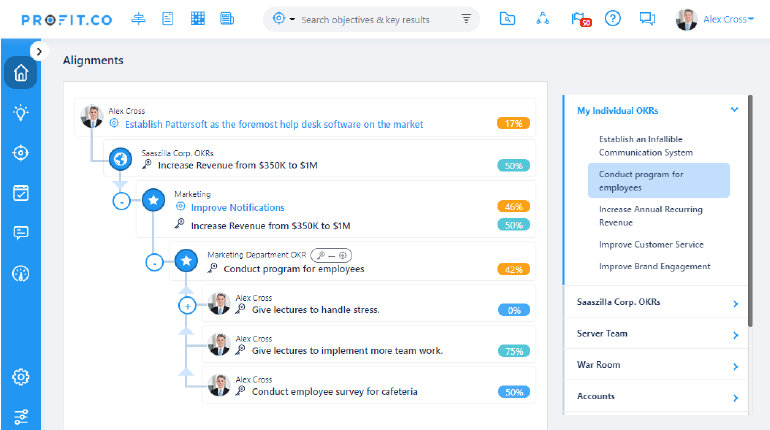 Strategic Alignment
Alignment is among the foremost features of OKR Methodology. Profit OKR helps companies achieve complete alignment across their organization. Employees can align with their management, department,manager and team shared goals.
They can also contribute their own OKRs to further the company's vision.
Alignment brings transparency which in turn fosters accountability and a shared sense of purpose among employees. Aligned employees feel connected to the company's vision and are able to see how their work contributes to the success of their company.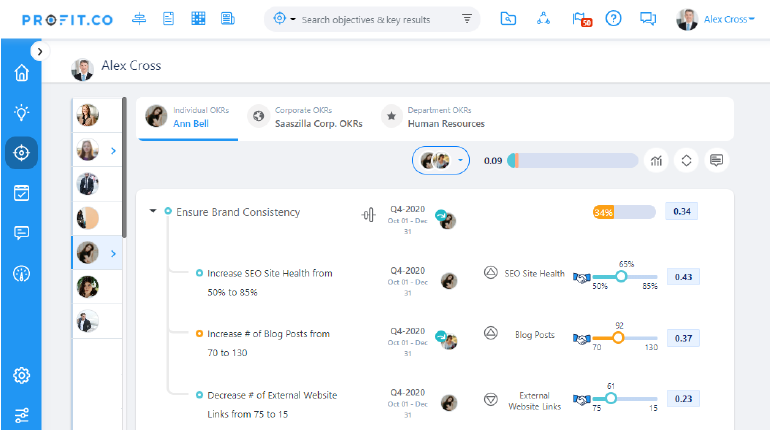 Corporate, Department, Team & Individual OKRs
Users can create & align corporate, department, team, and individual OKRs. While the top management defines the Corporate Objectives, the various departments can create their own OKRs to further the corporate vision. Teams and individuals can set their own objectives in service of those larger goals.
Profit helps bring exceptional clarity, transparency and alignment at all levels of the company.
Step by Step OKR Creation
Profit facilitates users to create objectives & key results in a step by step manner.Users can choose between Step by Step Guide or Quick create methods to define an OKR.
Objective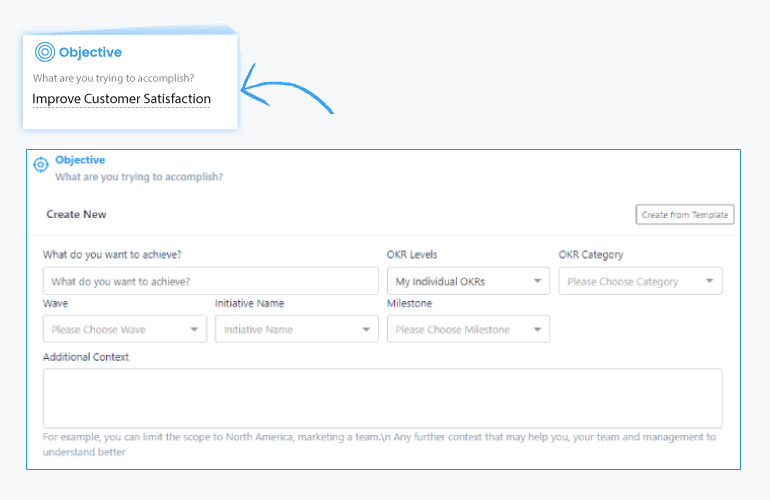 Step 1:- Create an Objective Users can create their objectives or use default templates with pre defined objectives. Users can also choose to add a description under the objective to provide further context.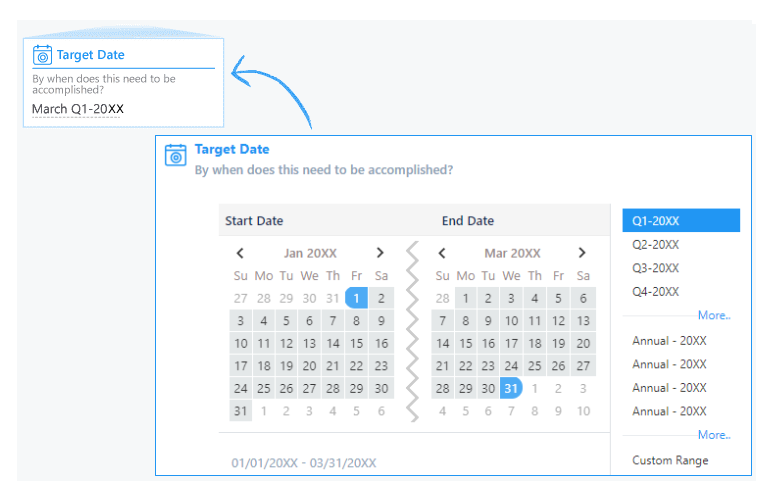 Step 2:- Set Target Date Users must set a date to accomplish the objective.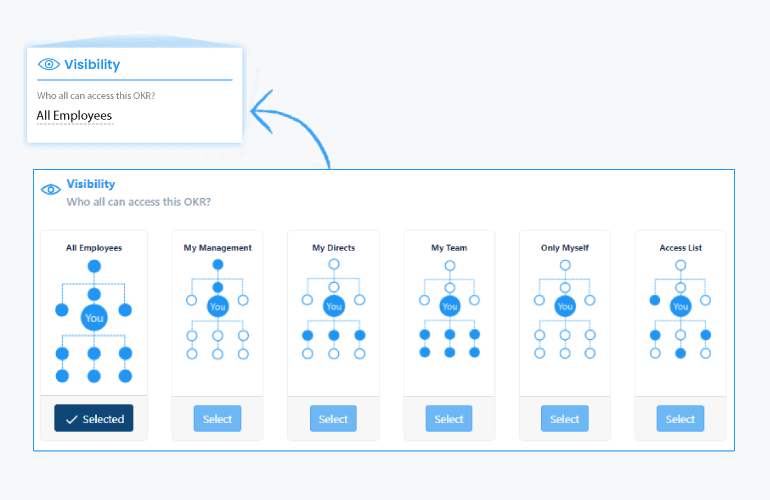 Step 3:- Set Visibility The "Visibility" feature allows you to create access controls and decide who has access to the OKRs within the organization. Proclaimed venture capitalist John Doerr in his book Measure what matters, suggested that "Transparency is the simplest way to earn trust." Objectives with company-wide visibility create transparency, facilitate alignment and foster cross-functional cooperation within the organization.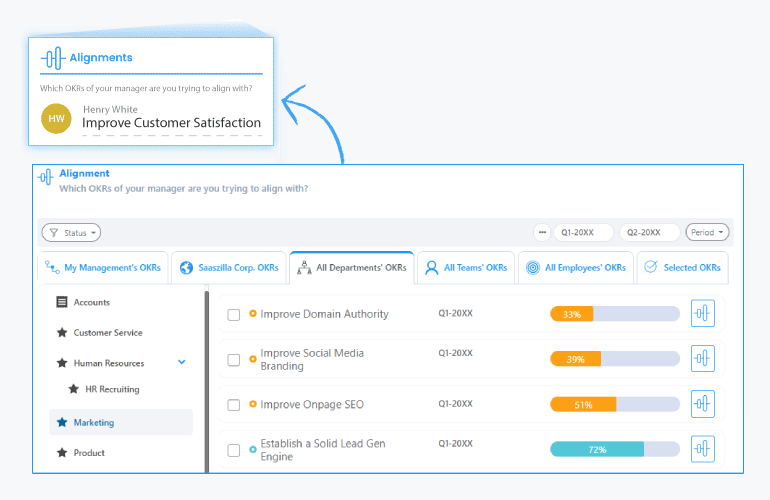 Step 4:- Alignment Users can choose to align their OKRs and contribute to Corporate, Management, Department, Team or shared OKRs. Alignment encourages collaboration among different levels of the hierarchy, solves interdependencies and promotes a high-performance work culture.
Key Results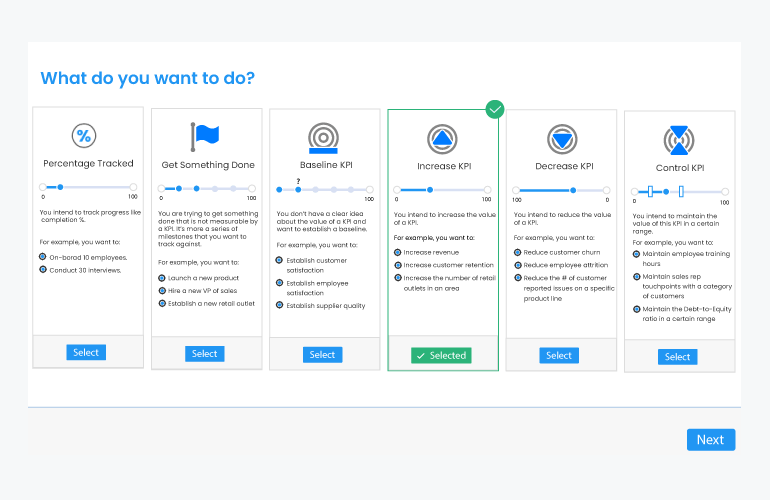 Step 1:- Choose Key Result Action type – Measurables / Trackables Profit OKR lets users choose between six Key Result types that can be broadly classified into Measurables and Trackables respectively. Measurable Key results are those that can be measured using Key Performance Indicators, whereas Trackable Key results cannot be measured, but progress can be tracked through a series of milestones. The Increase KPI, Decrease KPI, Control KPI, and Percentage tracked Key Result types are measurable. Get something done & Baseline KPI Key Result types are trackable in nature.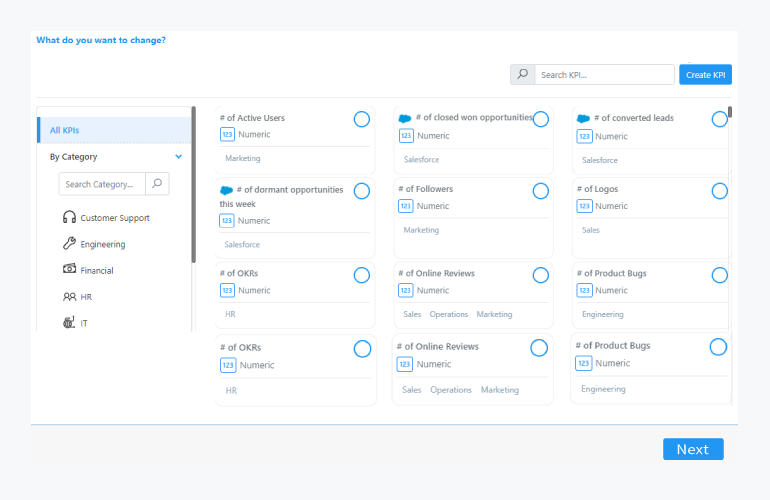 Step 2:- Choose KPI / Define Milestones Users choosing a Measurable Key Result type will have to select a Key Performance Indicator from KPIs list based on category. Users can also create custom KPIs to suit their requirements. If Users select "Get something done" the key result type must define milestones and assign incremental value to each milestone. Percentage tracked Key result type require no milestones need to be set.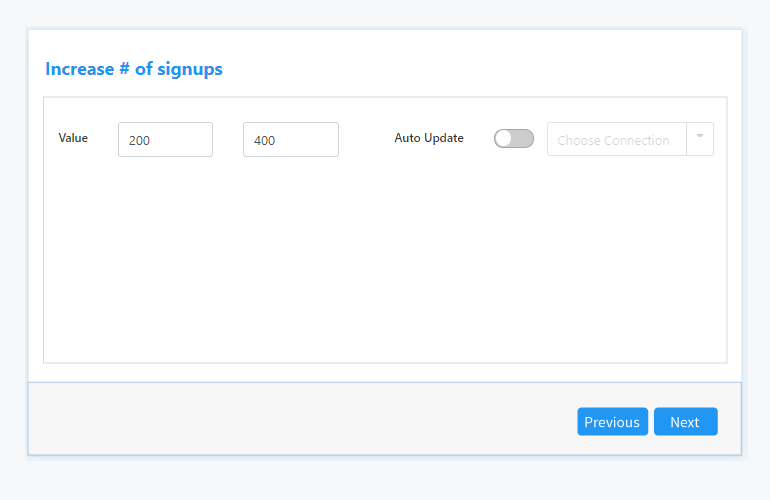 Step 3:- Set value Measurable Key Result Type measured through Key Performance Indicator, Values need to be set. The value fields reflect the extent of change desired in the selected KPIs. Change can be measured by numeric value, currency, percentage and time respectively. Extent of change values need not be set for trackables as they are tracked via milestones.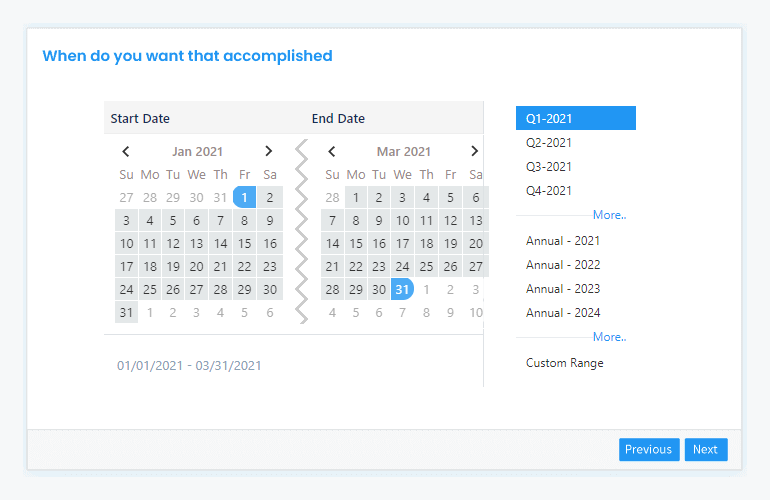 Step 4:- Set Target Date Users must set a target date for the Key Result.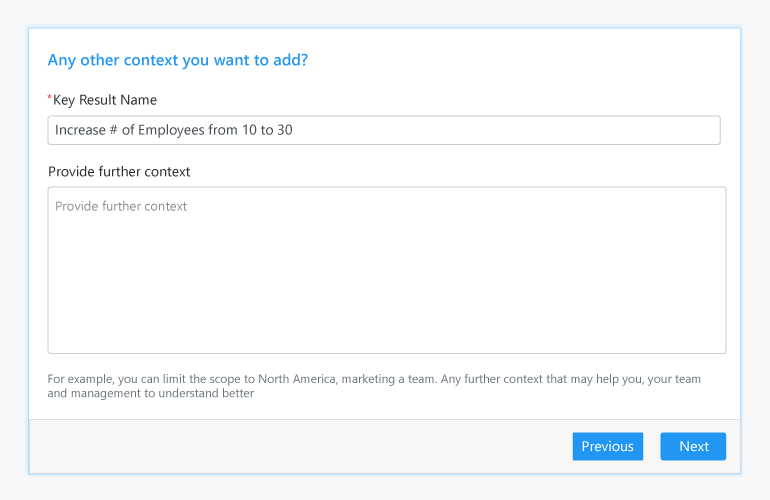 Step 5:- Key Result name and Description The Key Result name is automatically populated based on the selected key result type and chosen KPI. Users can modify the Key Result name and write an additional description to provide further context if required.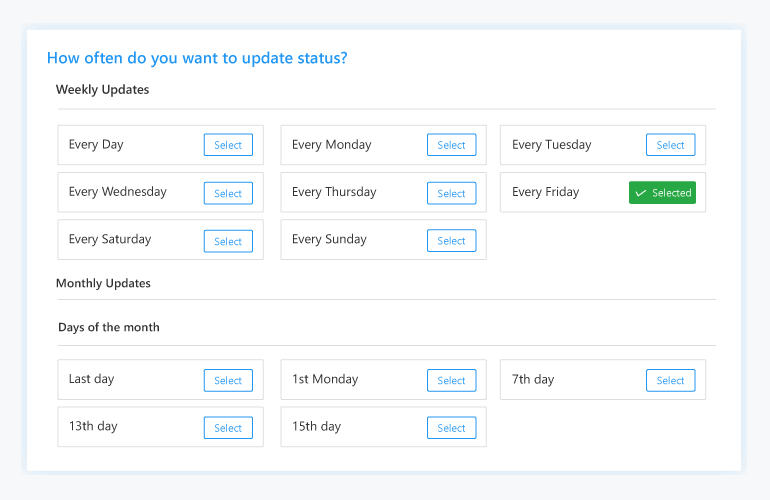 Step 6:- Set Check-in frequency
Check-in is the process of updating the progress status of key results on a regular time cadence. With Profit, users can check-in on weekly or monthly basis. Users can even choose to check-in on specific days of the month or week. Managers, team leads & supervisors can use check-ins made by direct reports to keep track of the progress made on key results.
Progress is reflected by moving a graphical slider and assigning a status label to the key result. The graphical slider is used to update KPI value, whereas the status labels namely (Not Started, On Track, In trouble, At Risk, Completed, Archived) are color-coded and have an impact on the objective confidence score.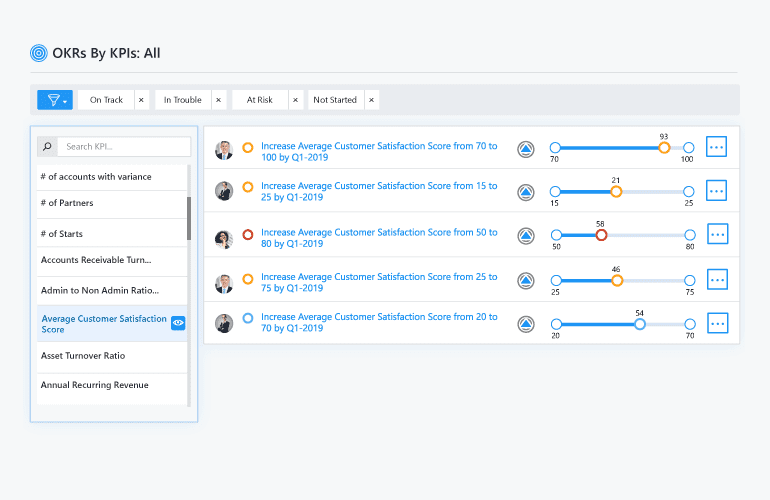 OKRs by KPI
OKRs are metrics oriented, simply put OKRs encompass KPIs. OKRs enable companies to measure progress using hard metrics. With Profit, users can keep track of all the Key Performance Indicators and the associated Key Results that contribute to Objectives across the company.
Users have the ability to monitor (watch) the progress of OKRs across the company by filtering out Key Performance Indicators that they consider to be most crucial for the Company's growth in the long run.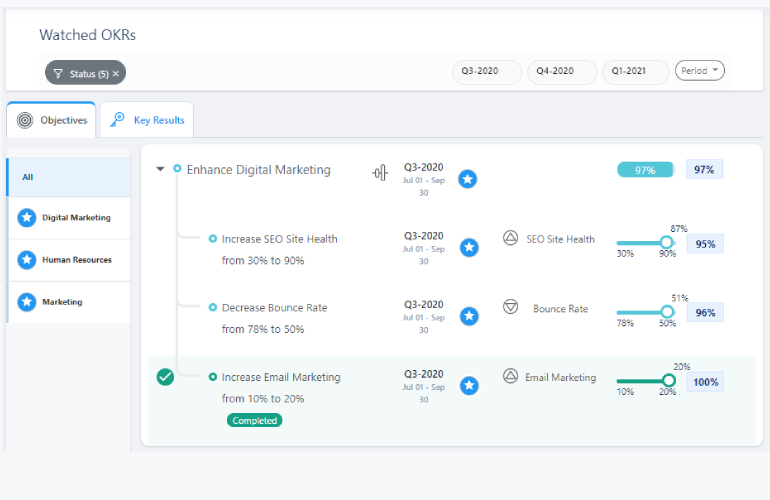 Watched OKRs
OKR methodology demands that Objectives & Key Results be defined and tracked. As OKRs are defined & owned organization wide by Departments, Teams & employees. You can choose to monitor those that are crucial to you.
With clearly established Key Performance Indicators for success, Profit helps you monitor, quantify progress and innovate in order to produce the desired outcome.
Deciding what not to do is as important as deciding what to do.