See Why These Businesses Trust Profit.co
Manage your teams with easy-to-use Goal- setting software !
Profit OKR helps businesses stay on track in today's fast-paced and ever-changing industry, while still encouraging innovation. Profit OKR helps companies prioritize goals, save time, engage employees & execute strategies with limited resources, thereby fostering an effective leadership and a high-performance culture.
Align your teams to achieve better results
Allow your entire organization to align their goals with your overarching company goals with our strong alignments.
Alignment dashboards help everyone to understand what the company's goal is and how they contribute to it.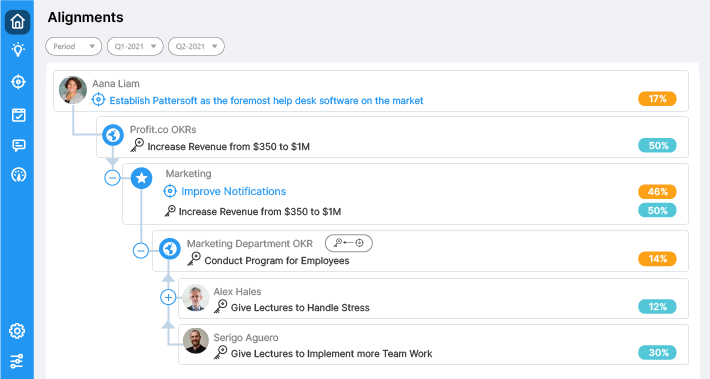 7 types of key results to track any type of goals
For the outcomes that are measurable use our measurable key result type and for those that are not measurable use our trackable Key result types.
With our 400+ inbuilt & custom KPIs you can easily start setting your key results effortlessly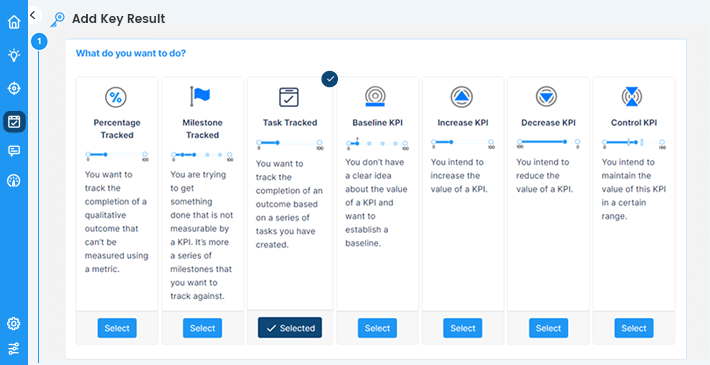 Easy to use OKR App
Create OKRs instantly with our built-in step-by-step guides and OKR Templates for every level of your organization in less than 5 minutes.
Weekly check-ins and reviews ensure that progress is made regularly, and problems are identified and brought to the surface early.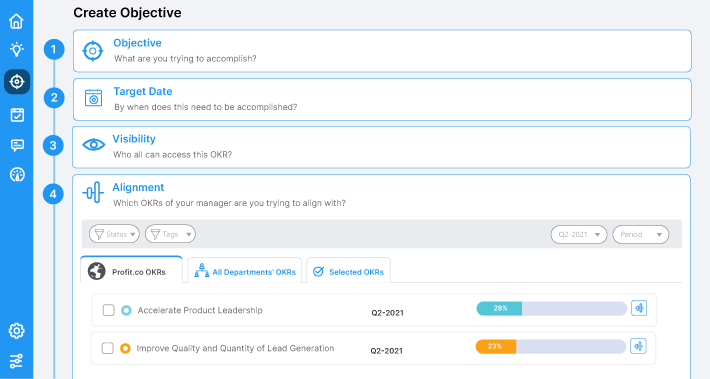 Know your team's progress with Company dashboard
Visually track progress, problems and course correct with the company dashboard.
Filter and export files from dashboard to know the level of achievement of your departments.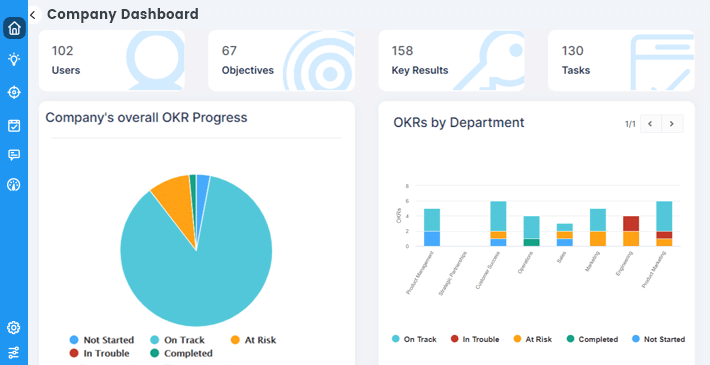 See how your team is performing
Profit.co dashboards offer real time progress on OKRs across every level of your company.
Real-time heatmaps allow managers to identify potential problems easily and push for progress.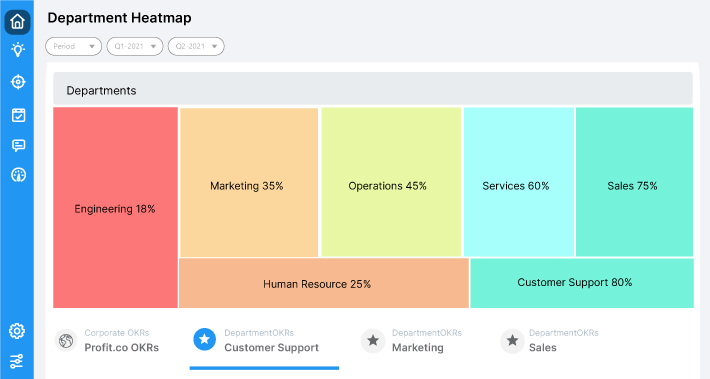 Link Tasks with key results
Link your tasks with Key Results with expert-step guidance, and facilitate the progress of Key Results with the assigned tasks.
Get things done systematically, while you keep track of the progress of the overall performance of your key result.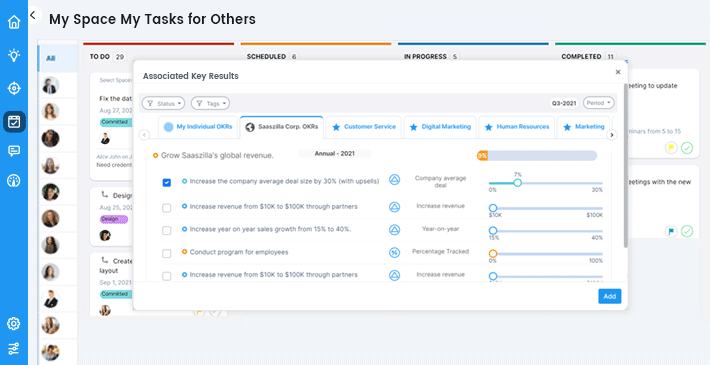 Engage and collaborate with your team
Every employee can tag colleagues with @mentions which encourages more collaboration, and also they can share their learning with #tags.
Managers can reward their team members for the progress through rewards and points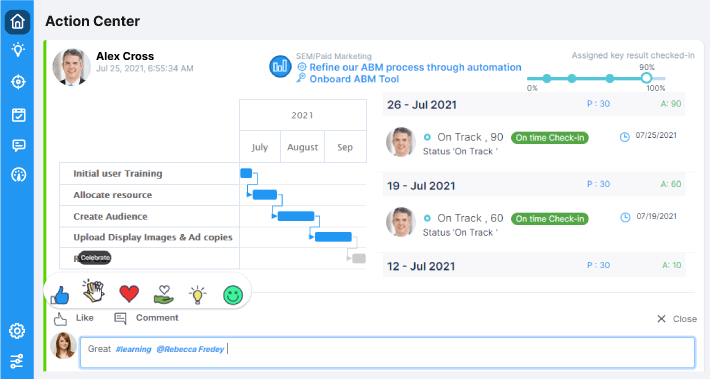 Stay updated from

anywhere & Any time
Get updated on real time progress and notified with access, from any device with just a click- on desktop, Tv, mobile and tab.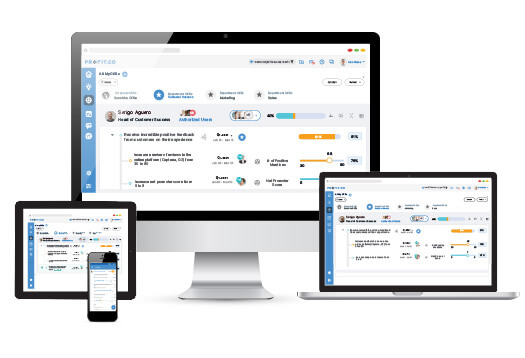 Don't miss out on our other top-notch OKR features!
Radar chart
KPI Library
Visisblity at different OKR Levels
Weighted key results
Sub key results
Downloadable OKR powerpoint presentation
API Access
Automated reminder
Seamlessly integrate with other & favourite apps and platforms
Start connecting your data with Profit.co.

See What Our Customers Are Saying
We're passionate about our customer's success
"Stop looking as this is the only OKR
solution you need."
"Having something like this is huge. We've grown so fast we need a way to see what's happening throughout the organization. It's really going to help us measure and manage our growth."

Robert N

Director of Software Development
Source:

"Great support is what we need"
The platform itself is very easy to maneuver and has many off the shelf templates for the type of key result you choose. There is also a LOT of information regarding OKRs in Profit.co University which I have referred to often. I have also created emails with "how to" links for users to complete upcoming tasks – great resources.
Lastly, I am very pleased with the level of customer service before, during, and after implementation of OKRs.

Noemi O.
Implementation Manager
Source:

"Great software with super responsive support"
"The software is user friendly,easy to set up.and adjust. The team is constantly working on customizing the soft to meet our expectations. The tool seemed very user friendly, the price was affordable,the support very helpful."

Liana A.
Operations Manager
Source:

Demo Booked Successfully
Schedule a Call
A calendar invitation has been sent to your email address.
Please wait while we are processing