People management is the key to improving the manager-team relationship. In fact, over 70% of employees say they value one-on-one time with their direct managers right from onboarding. In this article, we'll discuss the top people management tips to elevate your HR strategy today.
These tips are:
What is People Management?
People management is defined as a strategic approach to hiring, training, and retaining talent. It covers the various aspects of employee productivity, from recruitment to engagement, communication, and training. Note that people management is different from performance management.
People management considers the overall employee wellbeing rather than performance metrics only. Good people management directly contributes to better employee performance.
Are you looking for an all-in-one OKR software that helps you measure performance, communicate with your team, and execute your strategy? Get started on Profit.co for free today!
Components of People Management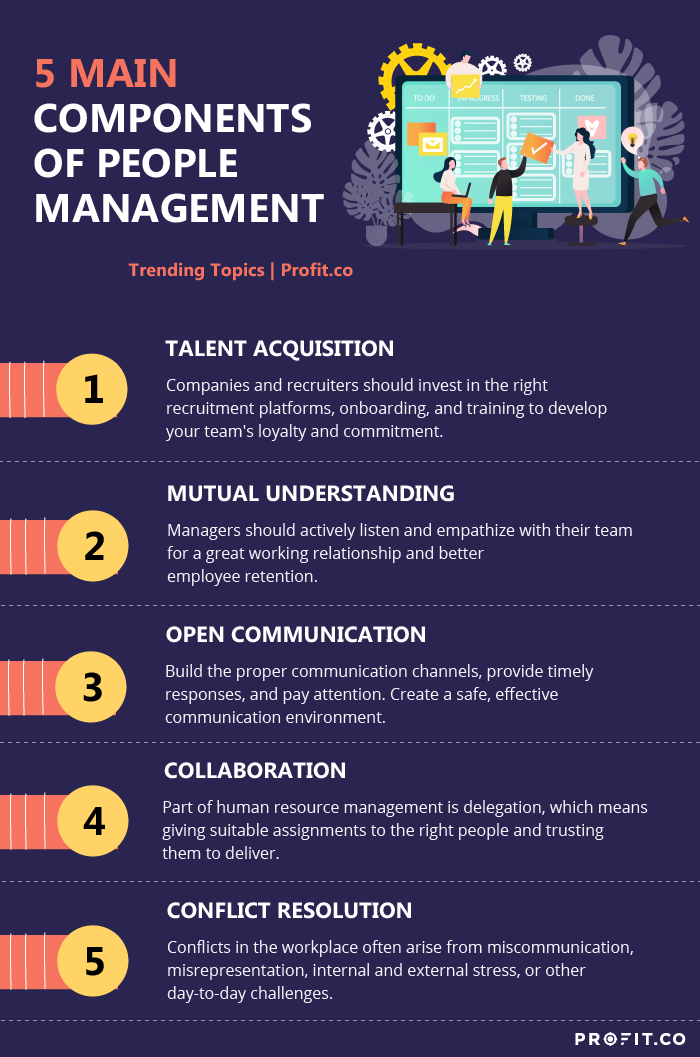 The components of people management overlap with the functions of HR in an organization. The five main features of people management are:
1. Talent Acquisition
The goal of recruiters is to build a well-functioning, thriving workforce. As a recruiter, you should invest in the right recruitment platforms, onboarding, and training to develop your team's loyalty and commitment. People management means that your team knows that working with you is the best possible career choice.
2. Mutual Understanding
An organization comprises all kinds of people with various personalities, backgrounds, skills, and goals. Managers should actively listen and empathize with their team for a great working relationship. People management means putting your team first. Understand where they're coming from, and help them to work towards your company's success as well.
3. Open Communication
A culture of open communication embraces giving and receiving effective feedback from your team. Build the proper communication channels, provide timely responses, and of course, pay attention. People management means creating a safe, effective communication environment. This helps keep tabs on overall morale and makes problem-solving easier.
4. Collaboration
All individual tasks contribute to the company's functions, so nobody is exempt from collaboration in the workplace. Part of human resource management is delegation—giving suitable assignments to the right people and trusting them to deliver. People management means showing your team that every task is valuable to the company.
5. Conflict Resolution
Conflicts in the workplace often arise from miscommunication, misrepresentation, internal and external stress, or other day-to-day challenges. Handle these differences respectfully through the proper channels. People management means solving problems to restore balance in your organization.
The Importance of People Management
The power of good people management can be challenging to quantify. It's not as straightforward as calculating a pay rise. But the greatest benefit of people management is employee retention.
The cost of turnover will always be higher than the cost of retaining the team you've got. Employee churn costs an average of $40,000, not only in advertising, recruitment, and training, but in hours of lost productivity.
Employees stay when there's exemplary leadership, commitment, and consistency. After all, people quit their jobs due to toxic work culture, especially when employees feel disrespected or work under abusive managers. A good people management strategy builds a healthy workplace that inspires and appreciates every team member.
10 People Management Tips and Best Practices
Here are the top 10 people management tips for implementing in your HR practice:
1. Define Clear Goals
Simple language, interactive tools, achievable milestones, easy feedback methods—all these lead to a highly efficient team. When everyone knows their role and responsibilities in the organization, there's less conflict and higher productivity.
2. Delegate According To Skills
Some team members may be better at interacting with clients, while others thrive at multifaceted tasks requiring slow, meticulous attention. Use your best judgment to assign the right tasks to the right people.
3. Build Trust
Employees always look to their managers for guidance, both for professional and personal challenges. Only trust can build and maintain a healthy relationship between leaders and their teams. Demonstrate your honesty, integrity, and dependability, and your team will reciprocate.
4. Always Pay Attention
Active listening is an essential skill for any leader, and more so for human resource managers. Problems, suggestions, and complaints always come up, as do innovative ideas and creativity. Become an active listener and respond using the right words and body language.
5. Explain Your Decisions
Sometimes you'll need to make swift decisions to meet your goals or resolve problems. Whenever possible, explain your thinking to your team. Show how and why your way was the better option in a tight situation. The approach will eliminate anxiety about their work and improve their skills in future projects.
6. Praise Good Performance
When you acknowledge a person's good work, you boost their morale and keep them motivated. Make sure you are ready to offer up comments that will boost performance. Praise takes different forms, from promotions and bonuses to verbal affirmations during one-on-one interactions or a thoughtful email if that's more appropriate to the context. Set a standard that will attract rewards so that your team knows what to aim for.
7. Facilitate Clear Communication
Embrace technology to create and establish communication avenues. The right HR software is accessible both on computers and smartphones and has a suite of communication features. Some people management tips for communication include faster email responses, flagging urgent issues, follow-up reminders, and team updates at every stage of your project.
8. Demonstrate Your Competence
Leadership in the workplace comes from years of experience, learning, and insights. Employees readily engage with competent leaders who demonstrate their expertise. Offer training and mentorship opportunities to build their career paths to greater success.
9. Be Supportive
Celebrate wins with your team, and encourage accountability in case of setbacks. Be your team's cheerleader, but exercise tough love to help them learn from mistakes. This is the best way to increase your team's productivity.
10. Collect Feedback
Go beyond the suggestion box to gather feedback from your team. Hold a meeting, send a brief email survey, or set up an anonymous feedback system if it better suits your group. Remember that receiving feedback is just one step. Take action on the feedback to demonstrate that you value their input.
How can OKR Software be Used for Effective People Management?
OKR software can be used for effective people management by:
Setting clear and measurable objectives and key results (OKRs) for employees, aligning their individual goals with the overall organizational objectives.
Tracking and reviewing employee progress and performance regularly, providing real-time visibility into their achievements and areas for improvement.
Facilitating communication and collaboration among team members, enabling transparency, accountability, and feedback exchange, thereby fostering a culture of continuous improvement and growth.
Conclusion
Good people management can transform your team from mediocre to outstanding. Use the above people management tips to create an impactful employee experience, work through conflicts, and boost your organization's efficiency.
Check out Profit.co to help manage your team, strategy, and communication better. Book a free demo with our OKR experts to learn more!