You may hear people talk about key performance indicators, but you may not understand what they entail.
After all, the key indicators for each business can be different. You need to carefully select which indicators you would like to use your goals, and determine what the most important metrics are for your business to track.
Key performance indicators (KPIs) allow businesses to measure their successes. In this article, we'll discuss the definition of KPI, why it matters, how you can develop your KPIs, and offer some examples.
What gets measured gets improved.
What Is KPI? Definition
Key performance indicators are simply the stats your business keeps track of. This can include the number of sales over a month, website visits, and anything else that helps you determine the health of your business.
KPIs can help you measure and track the progress of your goals. For example, if your business wants to gain more online visibility, it should make web visitors one of its KPIs. That way, you can focus on increasing the number of website visitors, which will create more visibility for your business online.
KPI metrics allow you to define the targets you need to reach in order to achieve your overarching goals. If you want to improve website traffic, you may want to measure organic traffic, click-through rates, and similar metrics that indicate a rise in web traffic.
The Importance of KPIs
Now that you understand what KPIs are, we want to talk about their importance. That way, you can define your own KPIs and begin measuring progress properly within your organization.
Give Your Business a Specific Goal
When you establish KPIs for your business to follow, you give your business some specific goals. Goals can help your business in multiple ways:
Give yourself some direction on what to work towards.
Understand what will improve your business.
Ensure your employees understand what they need to work on.
Business goals can help everyone in the company focus on what your business needs. For example, if one of your KPIs is weekly sales, and you set an ambitious target to achieve within the quarter, your employees will know to prioritize making more sales and working together to try and reach this target as a team.
Measure Your Success
KPIs enable you to precisely measure the success of your qualitative goals. When KPIs have a baseline value, a target value, a deadline, and an owner, they become key results, which measure the progress of an objective.
If your team reaches your targets, you know that your business strategies and approaches to execution are sound. On the other hand, if you don't reach your KPIs, you need to make some adjustments, so you can reach them in the future.
As you track your KPIs, you can see if they increase, decrease, or stay the same. Make sure you continually monitor them so you can see what initiatives are working for your goals, or what you need to adjust in order to see results.
Help Your Business Remain Focused
When you define KPIs for your business, everyone on your team knows what your business goals focus on. They know they must meet the targets set for each KPI, so they'll remain focused on those numbers. This can assist your business with the following:
Ensure your employees focus on the right work.
Help them do what they must, so they can increase your business profits.
Help them avoid activities that distract from reaching your KPI targets.
Working on KPIs helps your business focus on the most important priorities in order to increase its profits. If your employees know the KPIs they need to reach, they'll do their best to focus on those KPIs.
How to Develop KPIs?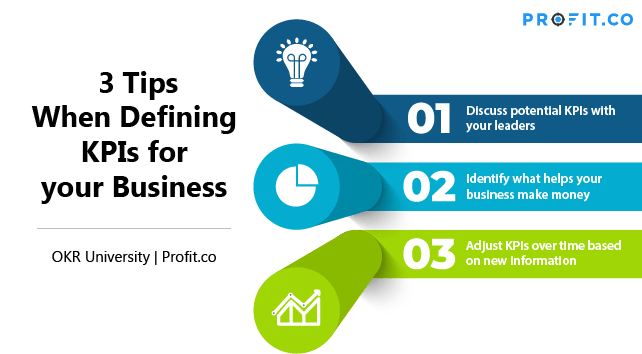 When defining your KPIs, keep these three tips in mind to help you develop the right KPIs for your team:
Discuss potential KPIs with your leaders.
Identify what helps your business make money.
Adjust KPIs over time based on new information.
In order to define the right KPIs for your business, have frequent conversations with your managers, or other leaders in the company. Do not shy away from trial and error. If halfway through the quarter you realize the KPI you selected isn't actually measuring your goal in the best way, you can be flexible and pivot.
However, it is important to do your best to select KPIs that indicate company priorities– for example, increasing profits.
As you identify these KPIs, you need to test them out. Keep the ones that work for your business, but don't be afraid to test and develop them with time. You may find yourself discovering better KPIs, so transition to them as needed.
KPI Examples
Defining the right KPIs can be a difficult process. It helps to look at examples of KPIs to help you think of what your business truly needs to measure. There are many sources that you can go to to get inspired. Take a look at these OKR examples to see how KPIs are used within the OKR framework, or even take to social media, where business influencers like Ram Bhupatiraju bring up good examples of KPIs. The following are Bhupatiraju's example KPIs for e-commerce companies:
Number of users.
Growth and trajectory.
Subscriptions and returning users.
KPIs like these help your business identify how the users interact with your business. However, you should find the KPIs that can help your business the most. For example, if you plan to focus on your blog, you should track information about your blog posts instead, such as the time spent on each article, the number of shares on a post, or the number of comments below the blog.
Final Comments
KPIs are a phenomenal tool to help you measure the effectiveness of your team and the progress of your goals. Take the time to think about what is important for your business goals, and what aspects of your business you need to focus on in order to best understand the health of your company.
Once you identify your KPIs, you can track them using Profit.co's agile OKR management module! In order to learn how, or view our library of over 300+ KPIs in the product, schedule a demo with Profit.co's experts today!