Many businesses wrongly assume that a single annual performance review is enough to keep their employees on track. Others simply follow the annual performance management cycle because it's all they've ever known. However, what both of these organizations have in common is that they're at risk of losing their employees because they aren't investing in their development, learning, and career progression.
It's often considered a more human-centric approach to performance management because it focuses on building a trusting relationship between employees and their managers. Managers are encouraged to give feedback and offer support naturally throughout the working day, while employees are given the tools and guidance they need to take charge of their own development.
With that in mind, organizations that have implemented this performance management process successfully have done so in combination with structured training and learning opportunities, as well as employee recognition systems and even rewards platforms.
How Does Continuous Performance Management Work?
Continuous performance management involves similar steps to the traditional annual preview, but the key difference is that the performance management process steps are repeated continuously.
The main components of this performance management system are as follows:
1. Observe Performance
The manager observes the employee performing their regular tasks, and evaluates them on their observed performance. Some organizations have implemented standard forms for measuring employee performance in this way. You can also consider using an employee self-assessment form to gather more information about how an employee feels about their work.
2. Conduct a Review
Using the gathered information, the manager schedules either an informal check-in meeting or a formal review depending on the intervals you've set as part of your continuous performance management plan. As a rule of thumb, most continuous performance management plans have formal reviews between 2-4 times each year, with informal check-ins either weekly, bi-weekly, or monthly.
3. Set Goals and Expectations
At the end of the review, a manager and employee will work together to create SMART goals for the next review period and beyond based on the employee's observed behavior. They'll also discuss how these goals can help the employee meet the manager's expectations, as well as how training and development can help them to meet these goals.
4. Implement Training and Development
Once a training and development plan has been decided upon, the manager then arranges for their employees to complete either internal or external learning programs alongside their regular responsibilities.
This cycle then repeats ad infinitum. While organizations often find this process to be time-consuming at first, particularly when compared to the annual review process, the stages' performance often becomes quicker and more effective as time goes on.
Advantages of Continuous Performance Management
Having a right and continuous performance management system helps an organization to convert, monitor, provide feedback and course correct, strategize the long-term objectives and its execution.
Continuous performance management might seem like an unnecessary time-sink, but research shows that it offers a myriad of benefits when compared against other performance management systems.
One of the biggest advantages is the reduced employee turnover. With an estimated 14.9% reduction in avoidable employee loss, this method of performance management ensures that employees are happier and more satisfied at work.
Higher productivity is another significant benefit. Research suggests that 40% of employees who don't receive feedback or only receive negative feedback are highly disengaged, which reduces their productivity and in turn, leads to reduced profitability.
Organizations that use continuous performance management often say it saves money against having to rehire and retrain employees lost to avoidable attrition. Rehiring a single employee is estimated to cost an average of $7,645, so implementing a performance management system that reduces employee turnover will save money in the long run.
Managers also like that this program attracts top talent because it shows new hires that the company is willing to invest in their employees. With 95% of companies admitting to hiring the wrong people for the job each year, this is a small investment to make to attract the best candidates for the job.
Additional benefits include:
Employees know where they stand in regards to job performance
Feedback is actionable because it's given frequently
Improved workplace relationships between employees and managers
Introducing Continuous Performance Management to Your Organization
If your organization's current system involves the traditional annual review process or another kind of performance review process, and you'd like to switch to continuous performance management, it's important to understand how best to introduce this to your company.
With that in mind, some key areas need to be covered by HR, management, and other executives before you can implement continuous performance management.
Namely, you need to make sure that this performance management approach isn't so weighty that it becomes more of a hindrance than your current system. Otherwise, it becomes a risk that management won't adapt well to the new system, and you'll end up with more problems than you aimed to solve. This is a particular risk when you're moving from a discreet annual review system to something more continuous, and it's one you need to be aware of moving forward.
How to Implement a Continuous Performance Management Cycle
If you think continuous performance management is a good system for your business, these steps will help you follow the best practices so you can implement an effective system.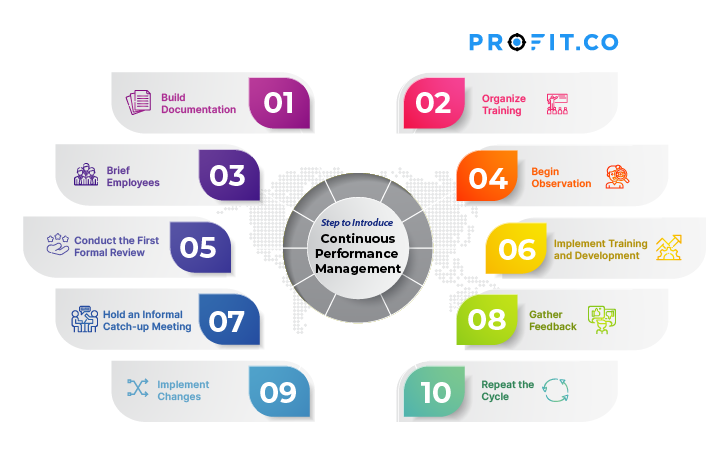 Step 1: Build Documentation
As an HR manager, you must build your organization's continuous performance management toolkit with your company's goals, objectives, and culture in mind. A robust performance management cycle starts with you. So, before you communicate these performance management changes to management, you need to build documentation that explains why these changes are important and how managers should implement them.
It's at this stage you need to consider the following options:
What company-wide standards will employees be evaluated on?
What method of evaluation should managers use? (Scoring, grading, long-form data, etc)
How and when does performance observation take place?
What frequency of performance review meetings works for managers and employees?
How do managers deliver feedback?
How does goal-setting work?
What training and development can managers schedule for employees?
Step 2: Organize Training
With your documentation in place, you need to organize training sessions with managerial staff to explain how to follow the continuous performance management process. By getting management on board early, you'll be able to collect feedback from the people who work directly with employees, helping you to optimize this process and make it more effective for everyone involved.
Step 3: Brief Employees
Once this process has been optimized with the help of managerial staff, then you need to make sure your employees understand why their performance management system is changing and how it'll benefit them. You can either do this with in-person briefings, allowing employees to ask you questions if they're not sure or via a digital presentation with prompts to speak to their managers.
Step 4: Begin Observation
When the continuous performance management cycle first begins, managers will need a period in which they can observe employee performance and behavior under the new guidelines. This ensures that the new system is fair for employees, as they'll be evaluated on new criteria, and managers, who may not have had much time during implementation to observe employee performance.
Depending on the procedures you set out in your documentation, managers have the following options for observing performance:
Simply making notes about witnessed behaviors
Self-assessment forms from employees
Feedback from coworkers and other employees
Feedback from customers and clients
Grading observations against company policy and procedure
Step 5: Conduct the First Formal Review
Your managers should then discuss the outcome of these observations with their employees in the first formal review under this new process. It's to be expected that this first review will be awkward and stilted, so as an HR manager, you should expect some employees and even managers to be resistant to this new process at first.
A typical review meeting, depending on your method, often looks like this:
Job specifications review: Employees' observed behavior is compared to their job description.
Company policies/procedures review: Employees' observed behavior and conduct is reviewed against set policies and procedures.
Free discussion: Employees discuss with their managers how they feel that they have performed and why.
Goal-setting: Employees and managers work together to set SMART goals and identify any training or development that's needed.
Management feedback: Employees give feedback on their manager's performance and behavior.
At the end of the meeting, the date for the next formal meeting should be set, and managers should brief employees as to how often they can expect informal catch-up meetings.
Step 6: Implement Training and Development
Managers should organize the needed training and development for their employees and implement this plan as part of their working day to help their employees reach their performance goals. Employees should also be encouraged to hold their managers accountable and remind them to set up the decided internal or external training sessions, as with this being a new process, some people may struggle to adapt.
Step 7: Hold an Informal Catch-up Meeting
A key part of continuous performance management is informal meetings between formal reviews to ensure that employees and managers are staying on track with their obligations and objectives. However, these meetings should be less structured and should be discussions only, giving employees the breathing space to tell managers if they have any concerns or need any additional support.
Step 8: Gather Feedback
Because this is a new process, you should be asking for managers and employees to send in anonymous feedback about how these new procedures are operating from their point of view. Once at least one formal and one informal meeting has been held, HR professionals should send out anonymous surveys or ask managers to provide feedback, so the process can be improved if necessary.
Step 9: Implement Changes
If your management or other employees have suggested changes to this performance management procedure, then you should assess them and implement the changes if needed.
Step 10: Repeat the Cycle
Once the first cycle has been completed, then you need to make sure that you encourage managers and other employees to continue following these procedures. Employees should have a line of contact with HR if their managers aren't giving them the support they need, and managers should be able to go to HR for guidance if they're struggling to implement the procedure.
Continuous Performance Management with Profit.co
Profit.co's performance management software enables managers and HR professionals to distribute reviews as frequently or rarely as they would like. With Affinity-Based Reviews, employees are reviewed by themselves, their managers, and their peers, giving a 360-degree view of employee performance and experience. With standard reviews, or conversation and feedback reviews, employees answer customizable questions about their role and performance to help managers gain a better view of how employees understand their responsibilities in the company.
Profit.co's Performance Management Module uses the 9 Box Matrix to help HR Administrators get a simple yet comprehensive perspective on the performance and potential of the employees in their company. With this dashboard, the performance rating from an employee's review and the potential rating from their manager's assessment is plotted in one of nine boxes that reconcile these two numbers as a category.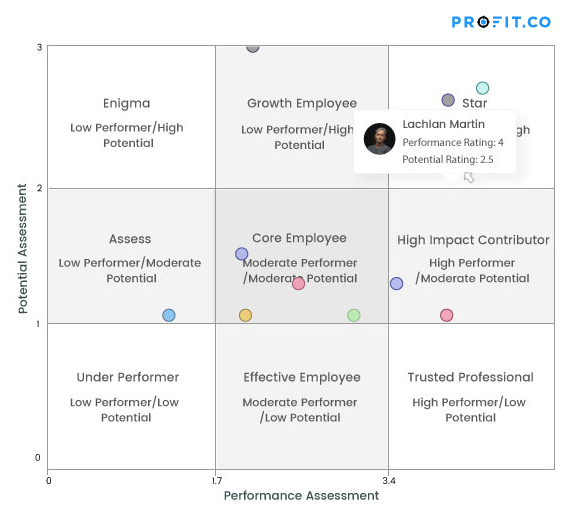 For example, an employee with high potential and high performance is a "Star" on the nine-box matrix. Alternatively, an employee with low potential and low performance is an "Underperformer".
Select the desired performance review, and employees will be plotted on the matrix. Each dot represents an employee. Hover over the dot to view the employee, and their performance and potential rating. Alternatively, scroll to the bottom of the screen to view employees by matrix box category.
Based on where an employee falls on the 9-Box Matrix, an HR Administrator can reach out to managers to determine whether its appropriate to initiate an IDP, or "Individual Development Plan" to put the employee on track for a promotion, or a PIP, "Performance Improvement Plan", to ensure that an underperforming employee improves performance in areas that are necessary for success at the company.
The 9-Box Matrix helps HR administrators contextualize employee potential and performance and anticipate their future in the company.
Conversation & Feedback:
Conversation & Feedback Reviews in Profit.co are the perfect way to collect detailed reflections on employee performance while keeping answers organized and comprehensive.
This type of performance review is highly customizable and flexible, prompting employees to answer open-ended questions that will help managers and HR Administrators get a full view of employee capability and skill.
You can assign different competencies or competency groups to different departments to tailor each review to the specific employee in regard to their role in the company. Employees will then rate these competencies using a sliding scale. These scores will help calculate their performance review score.
Adjust the visibility of competencies to limit who can rate which competency, so you can gather the specific information you want and assess the competencies that matter.
Employee Dashboard:
With the Performance Management Module, you will not only be able to view an employee in the context of their peers, but also individually, and assess their progress over time.
With the 360-degree dashboard view, employee progress on performance reviews and potential rating is tracked. HR Administrators and Direct managers can view a specific employee and see their performance trend in the overview tab, their progress as plotted on the 9-Box Matrix, as well as their performance review and potential review. Employee reviews are listed below to look back on.
HR administrators and managers can also leave helpful notes reflecting on employee progress and finally look at performance relative to productivity with a view of employee OKRs.
This enables a holistic view of employee performance and experience at a company and gives the opportunity to review employees more accurately and with more consideration.
Affinity-based Review
Affinity-Based Reviews in Profit.co offer companies a simple, organized way to get the most holistic, reliable, and comprehensive results from their performance reviews.
With this review type, employees complete a self-assessment and are then reviewed by their peers before their manager submits their review. Peer reviews can also be anonymized. This feature can prevent any discomfort among peer reviewers and can encourage honest answers without fear of tension within the workplace.
Employee Performance Review
With Profit.co's Performance Management Module, HR Administration has more tools than ever to get a simple, yet comprehensive view of all employees in a company and their performance. This module automatically provides organized and easy-to-analyze reviews that can help HR Administrators pick out outstanding employees, and monitor the needs of the company on a department, team, and individual level.
Performance Improvement Plans, or PIPs, are initiated if an employee needs to improve in some aspects of their job. A coach for the employee can be designated with the help of their manager, and a thorough plan is formulated to help get the employee up to speed. An Individual Development Plan, or IDP, is initiated when a star employee is ready for the next step of their career at your company. An advisor is designated to help them grow even further in their skills, and a timeline and gameplan are plotted to promote an employee from their current position to the next level.
The employee heatmap feature in the Profit.co Performance Module enables you to view employee performance in a highly visual and intelligible way. This is especially useful for spotting where departments may need more support, or how teams are operating under new leadership or progressing after a change in personnel.
Implementing Continuous Performance Management: In Summary
Continuous performance management offers a myriad of benefits against the outdated annual review process, which is why it's becoming more popular with companies across the globe. This method of performance management can help your company reduce turnover and improve morale, all while saving money against ineffective and outdated previous systems.
However, you need to make sure that you follow best practices to implement this popular new policy, otherwise, your performance management system will remain ineffective and is at risk of being ignored by your managerial teams. With that in mind, just as managers are expected to continually assess their employees, you should continually seek to improve your ongoing performance management system.