Performance management is an organizational process whose goal is to create an environment where employees can perform to the best of their abilities to deliver high-quality work.
There are two approaches to Performance Management
Traditional Performance Management system
Continuous Performance Management system
Traditional Performance Management system
The traditional approach is a once-a-year event, during which a manager goes over the employee's performance over the last year. While this approach is still practiced in some organizations, it is not an effective approach. The limitations of this approach have been elaborated here.
Continuous Performance Management
Continuous performance management is a relatively modern approach to performance management. Unlike the traditional approach of annual performance reviews that takes place once a year, continuous performance management involves ongoing, check-in meetings throughout the year, along with real-time feedback to improve employee performance on a regular basis.
As technology advances and our understanding of human motivation is improving, organizations are moving away from the once-a-year review practice, and now using OKRs with continuous performance management to align with and motivate employees. It accelerates performance by giving employees a direct line of sight into how their work impacts company goals and also ensures everyone is focusing on important company priorities. Businesses are also beginning to realize the disadvantages of the once-a-year annual review format and are looking for new ways to keep their employees motivated and their morale high.
The key components of continuous performance management are:
Periodic discussions on goals
Frequent performance reviews and conversations
Emphasis on constructive feedback
Learning and development plans
Monitored performance improvements
Real-time recognition and appreciation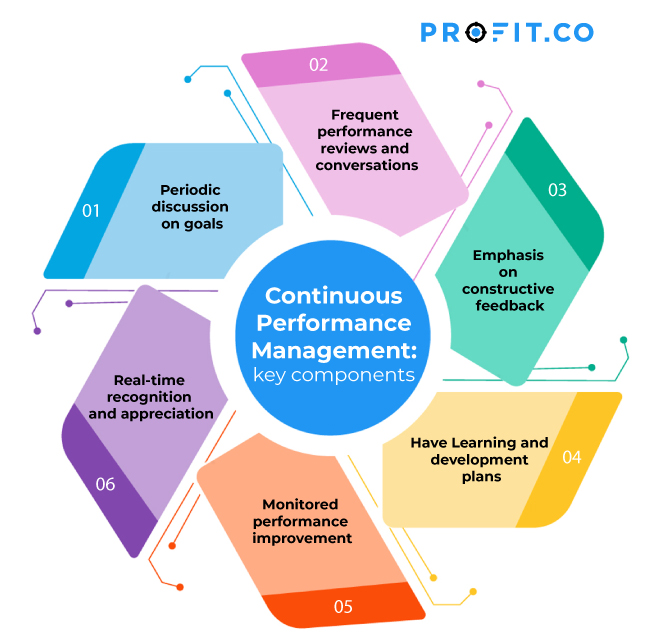 All of the above-mentioned continuous performance management activities and actions deliver the following benefits.
Key benefits of continuous performance management:
1. Creates more Engaging work environment
A continuous performance management system provides an open forum for managers and employees to interact, share, and discuss their roles regularly. This can help tremendously in helping identify any shortcomings or training requirements. It helps employees understand how they are performing and what they can do to improve, and also allows them to give feedback on their managers and company. When both sides can give and receive feedback continuously, the employee and management both benefit, which renders the performance management cycle more effective.
2. Recognizes Employee Productivity
Happy employees are more productive and work harder if their performance were being recognized. Regular feedback and reviews are important in keeping employee morale high. A continuous performance management system provides the perfect platform for formal recognition of performance. Everyone likes being told when they're doing a good job and benefits from having their achievements and accomplishments recognized. The top 7 reasons for employees leaving their job is discussed here.
3. Increases Employee Retention
Understanding what motivates an employee and formally recognizing their efforts can help management decide the best way to reward their performance. This, in turn, will help retain employees. According to HR Daily Advisor, companies that implement regular employee feedback have turnover rates that are 14.9% lower than for employees who receive no feedback. Employees who feel unacknowledged and poorly managed don't stick around. They look for challenge and recognition elsewhere.
Regular feedback sessions allow employees to raise and resolve issues. When these open, ongoing, fluid conversations with management are a part of work culture, employees can express opinions and issues freely and it ceases to be awkward. Also, managers are kept in the loop about the team's performance and of any issues.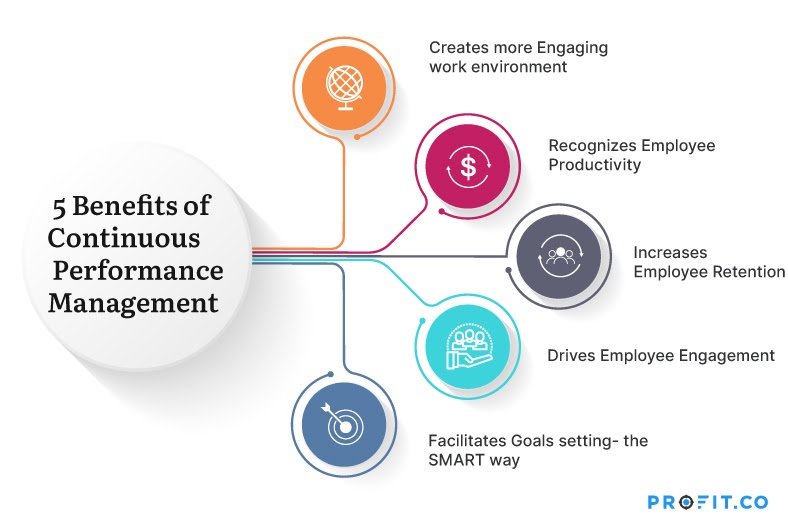 4. Drives Employee Engagement
Keeping track of employee performance helps in identifying whether it needs improvement. And if it does, why does it need improvement — is it because employees need to develop their skills or because of gaps within the organization? Once these are identified, the company can provide training to the employees to develop their skills so that they have the knowledge and experience they need to deliver quality performance, or if the company should hire new members into the team who meet the skill set requirements. It enhances employee engagement and the benefits of employee engagement can be read here. Continuous performance management helps create a good rapport between employees and their managers, allowing for a continuous cycle of improvement.
5. Facilitates Goals setting- the SMART way
A continuous performance management system can help modify and update goals according to the performance of the employee, team, and organization. The system adapts to the changing business environment, and ensures that the goals are dynamic and evolving – this is very important to actualizing the very essence of continuous performance management.
An effective performance management system helps define an employee's SMART goals within the workplace, eliminating any ambiguity or confusion regarding goal setting. When employees get clarity on what their goals are and what is expected of them, it encourages them to be more involved in the organizational goals. This ultimately makes it easier to arrive at the right objectives for the organization as a whole.
Continuous performance management is intensitive, however the benefits of this method are worth the effort and commitment from your company.
With the Profit.co software, you can integrate performance management seamlessly into your company's culture. You can initiate performance reviews as conversation and feedback reviews, which give reviewees the opportunity to answer open-ended questions about their performance, or as affinity-based reviews, which ask peers of the employee to participate in the review process.
Additionally, the OKR framework itself requires weekly check-ins so employees are always engaged with their work and goals, and managers always know about employee progress, or problems they need help resolving.
Profit.co's OKR-centric modules can help with keeping your company on track, measuring progress, and engaging and recognizing employees so everyone in the company can achieve even more.