Setting goals is an important practice in any organization. It's an essential part of the performance management process and is used to achieve business objectives. It helps boost performance, for when you have something to aim for, it helps you prioritize and focus.
A goal must answer the who, what, when, where, why, and how of the expectations of the goal. When there's a clear objective, people will be more dedicated to reaching their set goal. It is beneficial for both employees and for the company.
Setting goals helps in the following ways:
It helps to have a vision of where you want to be. And when you have a vision, you can chalk out a path of how to get there.
It helps employees understand why they are doing the work they do, and how it can contribute to the good of the organization
When you have something to achieve and are striving to get there, it almost automatically builds accountability
It makes work more meaningful and encourages employees to be more involved and passionate about their work instead of just 'getting it done' for the sake of doing it.
A more involved attitude towards work leads to deeper employee engagement
Helps keep people on track, and motivates them more than factors such as financial gain.
It acts as a reference guideline for performance review
As a manager, it's very important that your team members have very specific goals.
Employee goals are extremely important to help your team achieve newer levels of success. Each member of your team must be aware of what their goals are, what the company's goals are, and how their individual goals tie in with the company's goals.
Goals and motivation go hand in hand when difficulty is taken into account. Motivation and commitment suffer a setback if goals are set too high. Difficult to achieve goals not only affects motivation and commitment, but it also leads to dishonesty and cutting corners.
One of the most common and behavioural biases during goal setting is Loss aversion. As the name implies occurs when the psychological impact of losing something outweighs the pleasure of gaining. It is good to have a knowledge of all these factors during our goal-setting process.
In the words of Denis Waitley, the best-selling author of the audio series, The Psychology of Winning, "The reason most people never reach their goals is that they don't define them, or ever seriously consider them as believable or achievable.
Winners can tell you where they are going, what they plan to do along the way, and who will be sharing the adventure with them.
Therefore, it is important to ensure that the goals that are set for each employee are not too difficult, but challenging and achievable, and are aligned to the overall growth strategy of the company. This would lead to better employee performance.
SMART Goals
When you set goals that help create a system to track and measure progress, which helps promote employee and organizational success, they are referred to as SMART goals. By setting SMART goals, you're providing employees with an understanding of the goal, its purpose, and why it matters.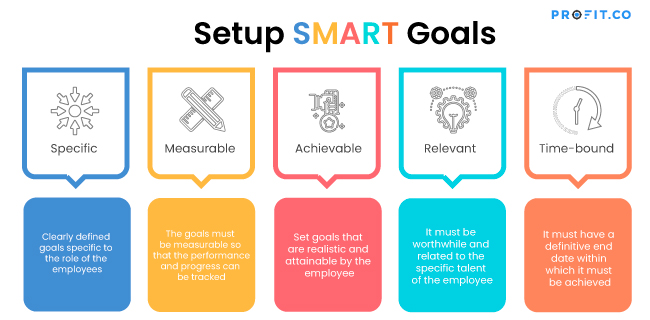 SMART goals are
Specific: Clearly defined goals specific to the role of the employees
Measurable: The goals must be measurable so that the performance and progress can be tracked
Achievable: Set goals that are realistic and attainable by the employee
Relevant: It must be worthwhile and related to the specific talent of the employee
Time-bound: It must have a definitive end date within which it must be achieved
Employees' motivations will depend upon how the goals are set, which, in turn, is what will determine employee performance. Mercer's global Performance Management Survey Report Executive Summary after a survey done on a sample of 1,056 organizations from 53 countries, concluded that 89% of organizations had agreed that goals influenced an employee's performance appraisal, promotion, or bonus. It now goes without saying, that goal setting and execution relate very closely to the employee performance.
For setting goals, the best-known goal management and execution framework, as industry leaders believe, is OKR (Objectives and Key Results). Apart from goal setting, OKR framework ensures that the entire organization is aligned and executes with agility to achieve strategic and tactical goals. It provides the complete framework for leaders to collaboratively define their goals, cascade them to their teams, review progress , have conversations with the team, as well as recognize their hard work, and finally reflect and reset goals by the end of the quarter.
How to set SMART employee goals with OKRs?
OKRs can be set at different levels- individual, team, department and corporate, and they can be aligned top down or bottom up according to the organization's requirements. During the goal setting phase, the 'Planning' exercise gives freedom to various departments and teams to define their OKRs with a condition – They need to "align" them to the corporate OKRs. ensures two things: One, it empowers various teams to set their own goals, giving them better ownership and job satisfaction, and two, it ensures that the corporate goals are cascaded down to have a better chance of achieving.
OKRs have been tracked by Spreadsheets from the early days of computing, and are still used by small teams (ten or less) for the limited purpose of planning their OKRs. However, using spreadsheets to implement OKRs does not serve the needs of a serious organization or any type of user – CXOs, Department heads, Managers or Individual contributors.
Using a great intuitive OKR software can increase the enthusiasm of teams and help them stay productive and execute with focus and alignment. Instead of worrying about the problems associated with spreadsheets, team members can spend quality time on deciding stretch targets, innovative ways to achieve them, a great "Conversations, Feedback and Review framework" to improve employee engagement and focus on execution.
When it comes to setting goals, most managers follow a well-established set of practices to make their goals SMART. They hold one-on-one meetings with their subordinates to set goals, and then they review performance against those objectives at year end and link their appraisal to promotion and bonus decisions.
Following are a few employee performance goals along with their examples:
1. Collaboration Goals
Goals that aim at supporting a colleague in achieving their goals to encourage collaboration. Encouraging team members to be collaborative helps them build a good rapport with each other which helps them work better individually and together.
Example
Help a colleague complete one of their projects this quarter.
Here is how a OKR can make a SMART goal:
Objective: Create Multilingual Marketing Content

KR1: Create 40 product videos in Spanish to aid LATAM Spanish sales
KR2: Create e-book on "performance management with OKRs" in Brazilian Portuguese
KR3: Create 25 conceptual videos on Performance Management in German
2. Professional Development Goals
No matter how smart or talented an employee is, there is always something they can still learn and ways they can grow as both individuals and professionals. These goals help employees stay up-to-date and relevant and in a competitive market.
Example
Complete the Content Marketing certification course by the end of the month and start with a Social Media Marketing Certification course by the beginning of next month.
A sample OKR has been added below:
Objective: Build a team of 5 marketing consultants from the marketing team

KR1: Complete one certification course on digital marketing
KR2: Give product demo on new features to internal customers at least once a month
KR3: Increase the Number of Managers (Project manager and above) Having Succession Planning Done from 60% to 90%
3. Creative Performance Goals
Being creative is essential to many different workplace responsibilities, whether it is how you manage a project, arrive at a solution, how you manage your team. It is very important to have a creative bent of mind to be successful in your career. Everyone is creative in their own ways. There are ways to improve one's creative abilities.
Example
Go for a 30-minute walk during lunch break
Pick up a new hobby or get back to a hobby that you love like painting, gardening, running by the end of Q3
A sample OKR has been added below:
Objective: Improve Existing Web Page Quality

KR1: Add at least 3-5 customer stories in home page
KR2: Replace existing images with custom-designed graphics For 15 WebPages
KR3: Add relevant infographics for at least 25 recently added blogs
4. Complex problem solving goals
One of the things that differentiate humans from robots is their problem solving skills. Complex problem solving skills, creativity and analytical and logical thinking are all closely linked. It is possible to get better at your complex problem solving skills by finding different avenues to hone it. The simplest known solution is breaking a complex problem into smaller tasks and accomplishing them one at a time.
Example
When you're faced with a problem and are struggling with it, list out all the possible solutions, however insignificant they might seem, and attempt to tackle the problem, by Q3
Find articles/quizzes that improve your problem solving skills by the end of the quarter
To accomplish an Objective , a complex Key Result can be split into small tasks, the completion of all of which will lead to accomplishment of the Objective. A sample for one such objective is shown below:
Objective: Improve website look and feel

KR1: Revamp Home page design benchmarking competitors.

Competitor analysis
Benchmark wireframe design
Implement wireframe to WordPress with responsive design
Implement WordPress responsive design to staging
Test design in staging web
Test design in staging compatibility testing in mobile devices
Move to Production – Web
Move to Production – devices
Test in Production.

KR2: Revamp Answers page design benchmarking as blog page.

Benchmark wireframe design
Implement wireframe to WordPress with responsive design
Implement WordPress responsive design to staging
Test design in staging web
Test design in staging compatibility testing in mobile devices
Move to Production – Web
Move to Production – devices
Test in Production
5. People management goals
Collaboration and teamwork are extremely important for a company's growth and success. Being able to motivate your team members and being a team player has an enormous impact on productivity and performance.
Example
Be empathetic: Everyday, for 30 minutes, put yourself in your team member's shoes and try to look at things from their perspective, and how they feel about things in their situation. Do this until the end of Q4.
Reward the work of your team members. Every month, until the end of Q4, recognize the work of one of your teammates (like an employee of the month), by sending them an email, and to the rest of the team about the employee of the month.
Make it an inclusive work culture for everyone to talk freely and express their opinions
A sample OKR has been added below:
Objective: Increase Employee Engagement

KR1: Increase Employee Satisfaction Score from 70% to 90%
KR2: Improve Glassdoor.com rating from 3 to 4.5
KR3: Increase employee participation in quarterly retreats from 75% to 95%
In Summary
Goals are a powerful tool to drive strategy execution. To harness their potential, leaders must move beyond the conventional wisdom of traditional goal setting and their entrenched practices. Setting SMART goals as a best practice in any organization is paving the way for the organization's success. The key is to find that sweet spot between motivation and goal difficulty — the goal should be set high enough to encourage good performance but low enough to be attainable. Setting unrealistic and irrelevant goals can cause stress and anxiety and lead to employee attrition. Which, in turn, will affect the growth of the company. When it comes to injecting excellence in employee performance, one size does not fit all. However, goal setting done right with a powerful framework like that of Profit.co's OKR and Performance management module can increase the employee's productivity, and transform the organizational success as a whole.