An important aspect of achieving a goal is consistent commitment. A common key result for important objectives is hitting a recurring target. For example, a sales representative might have an objective to "Have an outstanding quarter with new clients". One key result that will help the sales representative achieve that goal is to require that they make 100 calls per week for the 13 weeks of the quarter.
How do we track this key result? While the first thing that comes to mind might be to use an Increase KPI key result, in reality, the best way to track a goal like this is to use control KPI.
Let's look at another example: if a manager needs to send out a weekly report, every week, for all 13 weeks of the quarter, they can use a control KPI and structure their key result like this:
After selecting Control KPI, the manager can choose "Weekly Reporting" as the KPI. This will be tracked numerically, with a scale of 0.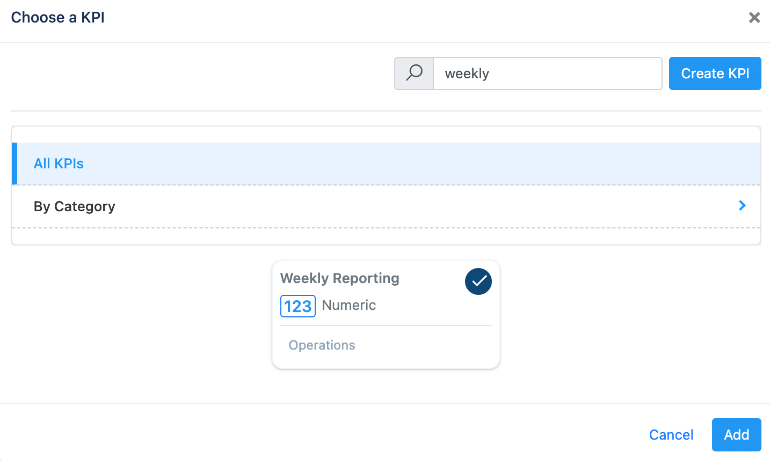 The key result will be maintained at "at least" 1, and checked in weekly. Here, '1' indicates that the weekly report was sent out, while '0' indicates that it was not. So, each week, the manager will either check-in with a yes: 1 or a no: 0.

So, the OKR could look something like this:

The first week of the quarter, the manager would complete the check-in and indicate that they sent out the weekly report.

This will move the key result progress bar by 8%, and the overall OKR progress 4%. The next week, the manager again sends out the weekly report, so they check in the key result as "1". The key result progress will move an additional 7-8%, depending on the number of weeks left in the quarter, and the Objective progress an additional 4%, because they have maintained the desired standard for an additional week.

If the manager did not send out the weekly report, they would instead check-in the key result as '0'. This will keep all previous progress, but not adjust the progress bar for that key result because the manager did not maintain the necessary lower limit.

By using a control KPI, a manager will be able to continually track the completion of weekly targets without having to wait until the end of the quarter to log progress, and within having to use an Increase KPI that can be misleading and unnecessarily complicated.
The key result progress bar will give an accurate percentage of the completion of this key result at the end of the quarter, making this method of tracking more effective and useful than using an Increase KPI key result.
Here are some other targets your team can accurately and continually track using a Control KPI:
Weekly- Meeting held
Weekly- All open tickets closed
Weekly- All major product bugs resolved
Daily- New leads distributed to sales reps
Daily- Progress report submitted