Introduction
If you want to stay up to date on the job market, tackle the demands of today's workplace, and aspire to grow the talents and strengths of your professional skills, then you definitely need an Individual development plan. Moreover, when speaking of personal development, it is vital that you reflect on your strength, weakness, and professional growth toward your organization's goals. If you are looking for such opportunities to grow, then this is for you! Be it a long-term or short team goal, all you need is a definite action plan. In this blog, let's discuss how IDP practices are a supportive tool to help you work on missions that look impossible!
What is IDP?
IDP stands for Individual Development Plan or Personal Development Plan. It is a tool to aid employees to shine in their career and personal development. The main aim of this tool is to accelerate performance and easily track during an employee performance evaluation. This helps employees in achieving their goals no matter how extended or short it is. The individual development plan mainly comprises continuous feedback on the employees generated and customized by the manager or supervisor to establish an action plan that involves planning, preparation, and execution. This process provides the best platform for the employees to enhance the existing skills and newer skills that they wish to learn within a specific timeframe.
Why IDP is Important in Performance Evaluation?
Goal-oriented employees tend to be more engaging, motivated and organized toward the mission and vision of the organization, as well as their professional performance. During performance evaluation, the IDP framework helps the managers/supervisor to evaluate the best performers and paves the way for the ones who struggle to show progress in their career path because of a lack of an action plan and a support system. So, IDP helps organizations envision an escalating career path for employees with desirable outcomes like job satisfaction, employee retention, and creating well-qualified and proficient leaders.
During performance evaluation, IDP gives a clear insight to gauge the employee's performance against their role. The individual development plan has the potential to showcase the current skills that the employee possesses and the opportunities they have to which they can escalate, as well as the futuristic core competencies that they should develop in case they aim for a higher position. The IDP should be integrated into the performance management process for seamless tracking.
The secret of success is constancy of purpose.
Important Elements of IDP
One of the most essential merits of IDP is that it is customizable and can be modified based on organizations' demands. But in general, an individual development plan must have the following elements put into practice.
Career goals and ambitions
This column should highlight the lists of achievable promotional goals, lists of targets to achieve, timeline within which the target should be executed. This column can also include a specific project name or an assigned task that suggests promotion to the desired position of the employees.
Growth opportunities
Support employees by providing them with opportunities to enhance and expand their professional skills. The employees can be encouraged to take up a certification course or attend workshops or knowledge-sharing sessions to develop their caliber.
Strength and talents
You can use the performance appraisal chart to recognize and reward the specific talents and skills an employee possesses. Encouraging positive feedback can build confidence in the employee, and they can develop a strong willingness to learn and adapt to face new challenges.
Action plan workflow
Based on the evaluation of the elements, you can establish an individually tailored action plan that an employee can work on. This developmental action plan will guide and support employees to learn, lead, compete, coordinate, volunteer, and excel in upcoming projects that they are assigned to work on. It will help them to prepare themselves to achieve the targets, be it long-term or short team.
Benefits of IDP
Once you have the action plan workflow ready, you can be sure that you are halfway through helping employees achieve their goals. Employees can work on the action plan that is assigned to them and see results that make them gain confidence. The developed IDP can help them access responsibility for more creative and wider opportunities.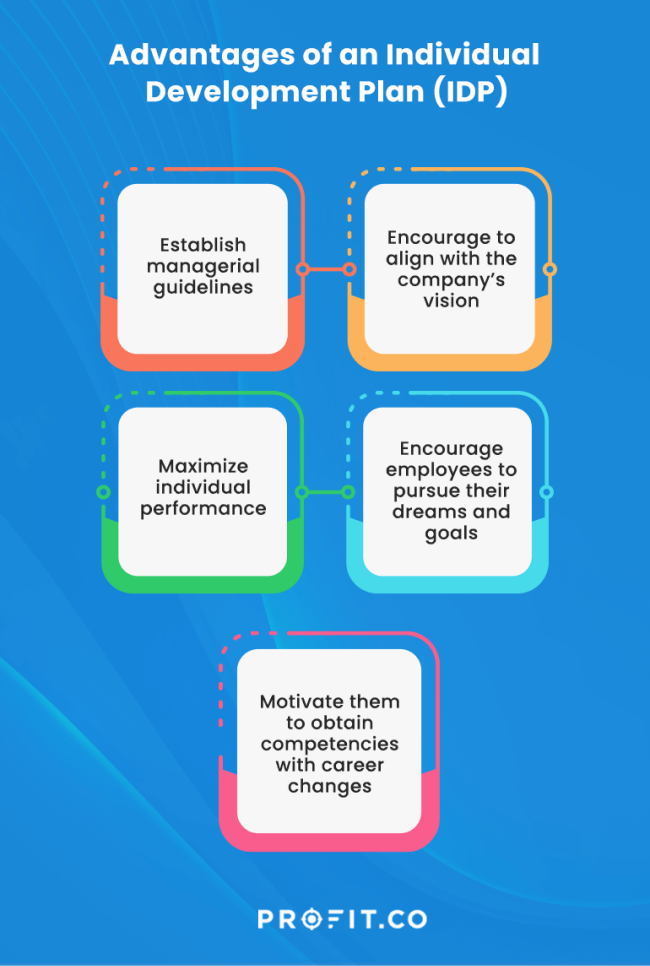 With the Individual development plan, You can:
Establish managerial guidelines to identify, nurture, and track developmental needs and growth
Encourage employees to prepare themselves to align with the company's mission, vision, goals, and objectives.
Maximize individual performance with training and mentoring
Drive employees to pursue their dream and goals by winning the odds in their current position
Motivate them to obtain competencies that can help them with career changes.
Profit.co's IDP
Profit.co's IDP help to improve the performance of high-performing employees in the organization. Profit.co supports users in tracking individual progress under the Individual Development Plan. This feature allows employees to show the progress of their IDPs so that the Mentors/Coaches are aware of the status of the plan and can close the IDP when the employees achieve it. The IDP is a key aspect to performance management system as it can be a comprehensive and wholesome progress.
Highlights of Profit.co IDP
The Individual Development Plan (IDP) recognizes and supports the organization's most potential workers in achieving greater success.
It advances a worker's career by assisting them in learning the most recent industry innovations and aids in setting goals with a much wider perspective.
IDPs assist managers in coordinating with the most productive workers and scheduling their activities and action plans in a way that is more beneficial to both the company and the employees.
A small glimpse of how Profit.co's IDP workflow looks
Coach / Mentors: You can select any number of coaches/Mentors to assess the individual by simply adding the + button.
Description: Highlight the skill that you wish an individual should focus on and cultivate.
Documents: You can add documents to support the planning process.
Current role: You can track and monitor the progress of the current role of an employee
Future role: You can track and monitor the progress of the future role that you assign to the employee.
Others: Under the Others section, you can add activities that wish to engage your employees toward achieving their goals.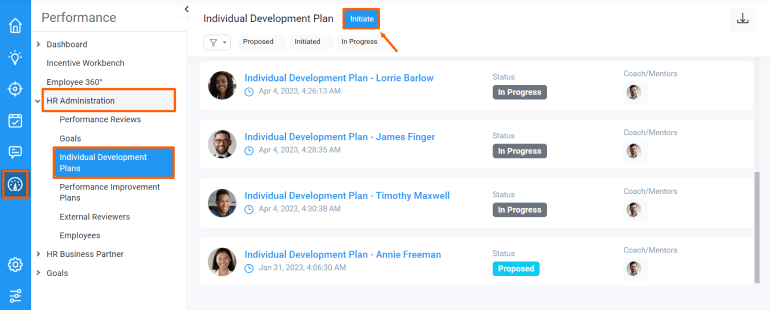 Conclusion
It is the primary responsibility of the employees to work closely with their manager or supervisor to develop and nurture the IDP plan assigned to them. With this plan, they can track and monitor the progress they show toward their long and short-term goals and their growth toward the objective, as the supervisors can drive them to achieve.