If you're still relying on paperwork, post-it notes, and other traditional methods for project management– you're doing it wrong. The best solution for organizing your work and setting goals for faster achievement is using software that streamlines the entire project management process.
If you can't describe what you are doing as a process, you don't know what you're doing.
In this article, we'll cover the top 10 project management software apps used by the top companies in the world. Let's take a page out of their playbook and get started.
What is Project Management Software?
In short, project management software is an application designed and developed to help project managers better collaborate with their teams. You have control over how the money is spent, what tasks are assigned to who, and properly distribute resources where it's needed.
Everyone involved in the project can log in and see what other teammates are doing and their progress. It gives project managers a bird's eye view over the entire project, giving them the opportunity to proactively deal with issues that might come up.
Project management and OKRs, as well as other goal-setting frameworks like it, can be integrated to streamline teams' execution and achieve more. To get the most out of the project management process, you should use the software.
What Are The Benefits of Using Project Management Software?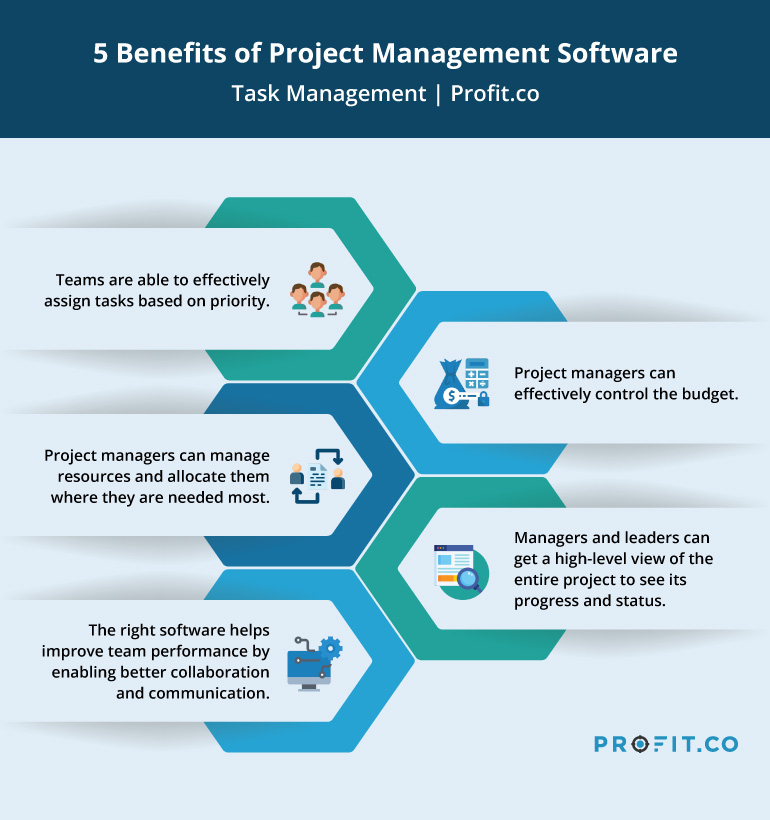 As we move into a new age where more people work remotely and in hybrid environments, project management software is more valuable than ever. Here are some of the key benefits you can expect when you start using project management software.
Teams are able to effectively assign tasks based on priority.
PMs can effectively control the budget.
PMs can also better manage resources and put them where they are needed most.
As mentioned, it gives managers a top-level view of the entire project to see its progress and status.
On the right software project management helps improve team performance by enabling better collaboration and communication between teammates.
Now that you know what project management software is and why it's beneficial, let's dive into the best 10 options available.
Don't forget to check out Profit.co's leading software which combines OKR, performance, strategy, and task management to help you achieve more, more efficiently. Get started for free today!
The Top 10 Project Management Software
Most of these project management solutions come with a plethora of features to help increase productivity. That includes scheduling, communication tools, project planning, and more. Here are the top 10 being used by a variety of companies worldwide.
Profit.co

Profit.co is an all-in-one management software that enables teams to manage their OKRs, tasks, performance, strategy, and employee engagement in one central location. This software makes it easy for leaders to connect high-level goals to day-to-day tasks and projects, and the customizable task management module allows teams to set up Kanban boards that track the stages of their projects with ease.

Profit.co offers integrations with all of the most popular business apps to manage their teams, and enables you to organize priorities and achieve projects with focus and agility.

Asana

Asana provides an easy-to-use application that's centered around tasks. It makes it simple to manage both large and small projects and is used by companies around the world. You can track the things that matter to you most. It also enables teams to communicate with each other directly in the app.

Trello

Trello is unique because it's what's called a kanban tool. This means that it shows the entire project using a single window. It makes use of cards that hold important information like your to-do list, and you're able to move them around according to their priority.

Monday.com

Monday.com lets you create an effective workflow that helps you complete tasks on time. It lets you record and share important documents and more with your team with its user-friendly interface.

Nifty

Nifty is a great solution if you're looking for a modern and easy-to-use project management software. It improves collaboration and efficiency by leveraging the power of automation.

Adobe Workfront

Adobe offers user-friendly project management software. Adobe Workfront comes with fully customizable dashboards, lets you update projects in real time, and ensures that everybody involved in the project can see everything that's going on. Plus, it can also be linked with other programs and systems like Creative Cloud or Google Drive.

Smartsheet

With a style that is reminiscent of Excel, the Smartsheet project management tool uses a table and grid layout. This software can help boost productivity with automation solutions that help take care of daily tasks. Additionally, this is a cloud-based software, which allows for team members in multiple places to contribute to the same project.

Buildtools

Buildtools is a project management software that focuses on the construction industry. It's a web-based solution that aims to help contractors, home builders, and remodelers with all of their back-end tasks and processes.

LiquidPlanner

This project management tool automatically grows with your business. As priorities, tasks, and resources change, LiquidPlanner adapts and updates with the new information. It uses analytics to give managers deeper insights so they can better manage resource allocation, costs, and the project itself.

ClickUp

The final project management software is ClickUp. This software is especially suited for those who follow an agile project management methodology. ClickUp offers features such as sprint management, resource management, an overview of contributors and their tasks, and much more.
Final Thoughts
There's a plethora of project management software on the market. It can be challenging to find the right solution for your needs. You need to make careful considerations like knowing which features are (and are not) beneficial to you. It will also depend on the size of your project as well as your team.
Regardless, taking advantage of any of these programs will help you in your day-to-day tasks. Hopefully, this brief round-up of the top project management software can help you make the right choice for your situation.
To learn more about how the Profit.co's OKR and task management software can help you meet your project management goals, book a free demo with our experts today!