OKR and Project Management
OKR is a popular goal-setting system that focuses on executing strategy and measurable targets to track performance. Objectives are ambitious, memorable statements that summarize the top goals of a company, department, team or individual. Key results help measure whether the goals that were set have been achieved or not. This framework can help project managers better plan and anticipate next steps for important targets and goals.
Those who plan do better than those who do not plan, even though they rarely stick to their plan.
Project management is the process by which projects are managed and seen through completion. Depending on the industry, there are various methodologies that can be used in order to complete the project.
How do OKR and project management work together?
Project management involves identifying requirements, setting targets, balancing and prioritizing demands. Project managers should be able to juggle multiple projects and be able to deliver projects within deadlines without having to compromise on quality. This can feel like quite an uphill battle without the proper tools and processes in place.
This is where OKR can be a huge advantage as it helps streamline projects and set objectives and key results. Despite how different OKRs and Project Management are, they work together very well. Let's look at how these two processes work together.
Step one is to define the objectives and key results that the project manager wants to achieve. Once those have been set, identify the projects and the objectives they are linked with. When the projects are aligned with the objectives, all processes can be streamlined and it becomes easier to track how the team is contributing to the project. It helps get everyone on the same page and collaborate with each other to work towards a common goal that can in a lot of ways boost overall productivity.
Want an OKR management software that centralizes all your work and helps your team communicate better? Get started on Profit.co today for free!
Following are 5 ways in which OKRs and project management can work together:
Measuring success
Setting goals that inspire
Project transparency
Learning from failure
Setting the bar high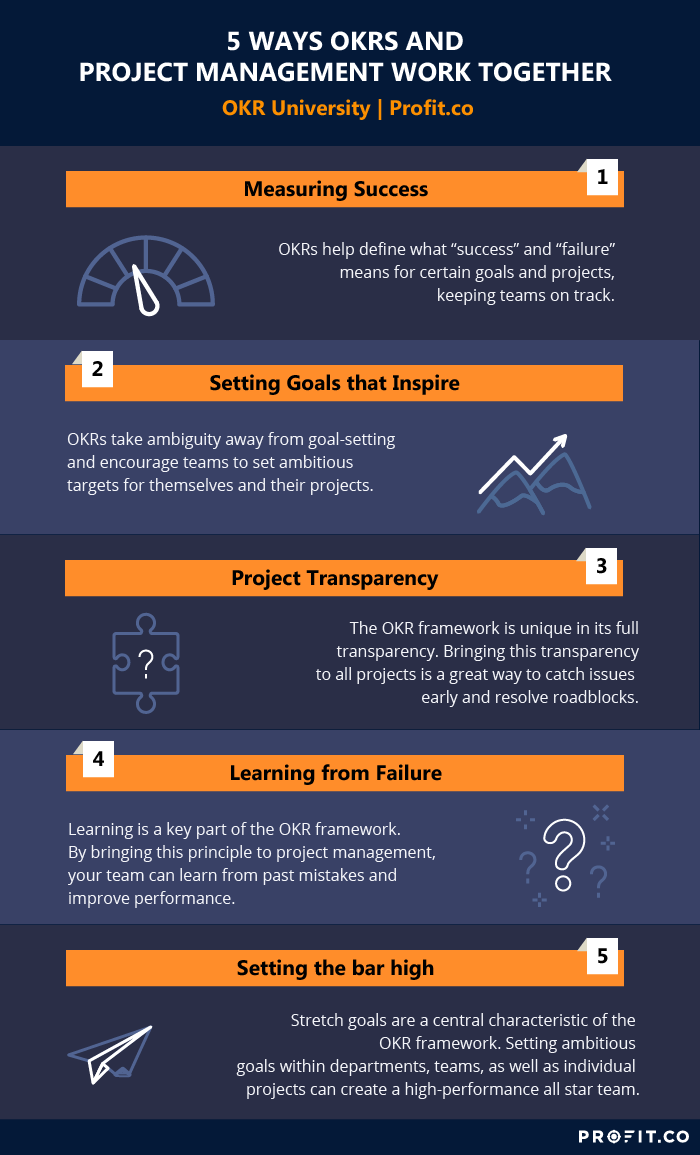 1. Measuring success
In addition to identifying project objectives, OKRs also help define what successes and failures look like. The key results that are set along with objectives help measure performance and keep teams on track.
2. Setting goals that inspire
OKRs help take ambiguity away from goal-setting. OKRs can help bring clarity to a project and help the team understand what needs to be achieved. Setting an objective doesn't come easy. So make sure to set an effective and inspiring objective statement to help the team stay motivated and come up with creative solutions while completing the project. Take your time when planning OKRs and learn how to write great OKRs.
3. Project transparency
Project transparency is key to the successful completion of a project. When there's a culture of transparency at an organization, trust builds itself into the culture, and employees can freely share their ideas and progress. OKRs is a great tool to make transparency and sharing of ideas happen. Project transparency leads to better successes for the team and the project.
4. Learning from failure
Failure is bound to happen. It's unreasonable to expect the team to guarantee complete success every single time for every single project. This expectation can be very demotivating for the team.
OKRs can help analyze a failed project objectively. It helps identify what went wrong, which in turn helps the team understand and address shortcomings. This, eventually, will help the team perform better and help employees bring the lessons they learned from past projects into new ones.
5. Setting the bar high
Project failure will happen. But the fear of failure must not deter the team and the manager from aiming high. Make sure that the objective set for the team must not be too easy to achieve. OKRs help set the right level of challenge for a project and help your team grow by testing their limits to reach ambitious, but not unattainable goals.
To learn more about how OKRs can help you manage and achieve your goals and integrate with your current business processes, book a free demo with our OKR experts!
In Conclusion
OKRs is a fantastic framework for goal-setting, and project management systems are great for getting all the project-related work done. While these two tools are different, they can be combined to help your team achieve more and maximize productivity. These two processes form a complete system to manage and measure all the work, from start to finish, from strategy to its execution.