To be an effective project manager, you must have a great vision of where your project is headed, and a clear strategy for how you're going to get there. More than that, you need to inspire your team and ensure that they have a clear understanding of your project's goals.
The basis of any project's success is a solid plan. Therefore, it's essential to understand where the OKR methodology differs from general project management strategies as well as how they complement each other. By implementing OKRs into your project management workflow, you can boost productivity and improve alignment within your team.
Of all the things I've done, the most vital is coordinating the talents of those who work for us and pointing them toward a certain goal.
What are OKRs?
Objectives and Key Results (OKR) is a popular methodology for defining project goals. When set effectively, they act as the guiding framework that moves your company forward.
Objectives should be motivating and ambitious goals. Use them to inspire your team to think big – they shouldn't be easy or accomplished by a single task. Instead, they should be specific and time-bound.
For example, here are two similar objectives that will produce vastly different reactions:
Poorly defined objective: Improve our marketing efforts to gain more sales.
Objective that leads to success: Transform our community into passionate promoters to achieve record organic reach in Q3.
Key Results help you measure the achievement of your objectives. They should be more specific and quantifiable than objectives, allowing you to grade your team's performance. However, they are not the same as tasks. Instead, key results are structured like SMART goals.
Here are two examples of key results of varying quality:
Poorly defined key result: Increase customer reach.
Key result that leads to success: Achieve 50k downloads in the first month after new product launch.
Learn to write high-quality objectives and key results on Profit.co's OKR management software. You can sign up for a free trial today.
How is project management different?
The strategies of OKRs and project management are not as much different as they are complementary.
Setting OKRs without laying out the tasks to achieve those key results makes it challenging to organize day-to-day operations. Likewise, if you only set out project task lists without defining your guiding objectives, you might ultimately find yourself wandering in the wrong direction.
Projects are temporary campaigns that you can break down into a series of specified tasks. They should fit into your long-term objectives and be part of achieving your key results. Usually, project management deals more with the daily management of time and resource allocation, while OKRs are used to set larger strategies and measure performance.
It can be confusing to differentiate between key results and project management task completion. This uncertainty can lead to teams writing project plans that look like OKRs, or vice versa.
Here's a simple way of telling the difference – tasks are actions, while key results measure value. You should only have between three and five key results per objective, but you will probably have a long list of tasks to complete before a project is finished.
Project tasks are the activities you perform to achieve results
Example: Edit all published blog posts to align with revised SEO strategy.
Key results quantify value and might be outside your control
Example: Appear on the first page of Google for targeted keywords.
How can you effectively use OKRs for project management?
Now that you understand how OKRs and project management go hand in hand, you can begin to integrate the two strategies to manage both tasks and objectives efficiently. Set your OKRs into motion by breaking down each key result into a list of actionable assignments. From there, you'll develop a clear path towards the big picture.
Here are some things to keep in mind when you're setting performance goals for project management.
Set inspiring, challenging goals
Objectives that inspire others will have the greatest chance of success. They prompt creativity and innovation that may lead you in new directions and push you onto new heights. Furthermore, a demanding challenge encourages your team to pull together and support each other in your collective effort.
Review and reflect regularly
OKRs won't do your team any good unless they are reviewed often. Schedule routine checkups to ensure that you're staying on track and that your team's project task lists remain aligned with your organization's overall objectives and key results. It is helpful to summarize your reflections at the end of each project to know what worked and what needs to be changed next time.
Learn from failure
If you are consistently hitting all your big targets, then chances are you aren't aiming high enough. On the other hand, coming repeatedly short of the mark will hurt team morale and hinder progress. Failing to achieve your project's goals should be a learning experience that helps you develop more appropriate, efficient objectives next time.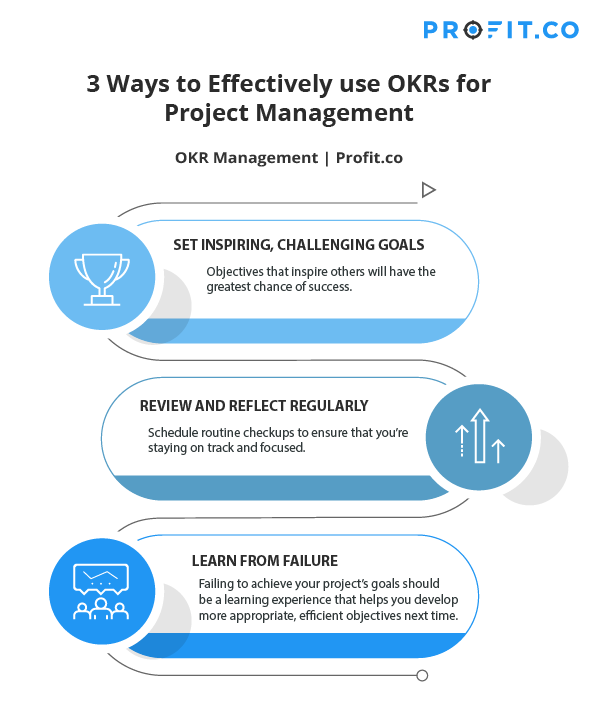 Let's look at an example of how to set OKRs in the context of project management.
First, define your objectives and key results. These will guide your project scope and task list.
Objective:
Stir up a user-generated buzz around the new product launch that outshines competitors
Key Results:
Organic social media mentions up by 40%
YouTube video views over 100k
Pre-release sign-ups over 5k
Several projects might need to be created to support this objective. Here's an example of one such project:
Project
A multi-channel marketing campaign to gain widespread exposure for new product launch
Tasks
Marketing team develops a roadmap
Meeting and briefing with the creative team
Create press release
Press release distributed to targeted media outlets
Website and social media channels updated with new product info
Social media ad campaign launched
Creative team develops videos for new product
YouTube videos launched
Review social media ad campaign metrics
Retarget social media ad campaign
Email marketing campaign content created
Email marketing campaign launched
Review email marketing campaign metrics
Retarget email marketing campaign
The Bottom Line
OKRs and project management systems have different areas of focus but work best when used together. If you can successfully implement both methodologies, you'll have a complete framework for managing your company's growth – from daily tasks to long-term objectives.
To learn how you can manage your projects alongside your OKRs on one intuitive software, schedule a free demo with the OKR experts at Profit.co today!