Staying organized is a common problem among working professionals, and particularly if you find yourself stretched between multiple tasks and responsibilities throughout the day. Despite the fact that there are thousands of productivity methods and aides that claim to help you process your to-do list better than ever before, Getting Things Done (GTD), remains one of the most popular methods.
The key is not to prioritize what's on your schedule, but to schedule your priorities.
Whether you're reading this because you've struggled with other productivity methods before, or you're new to the concept of productivity, the GTD method can help you boost your productivity and accomplish more.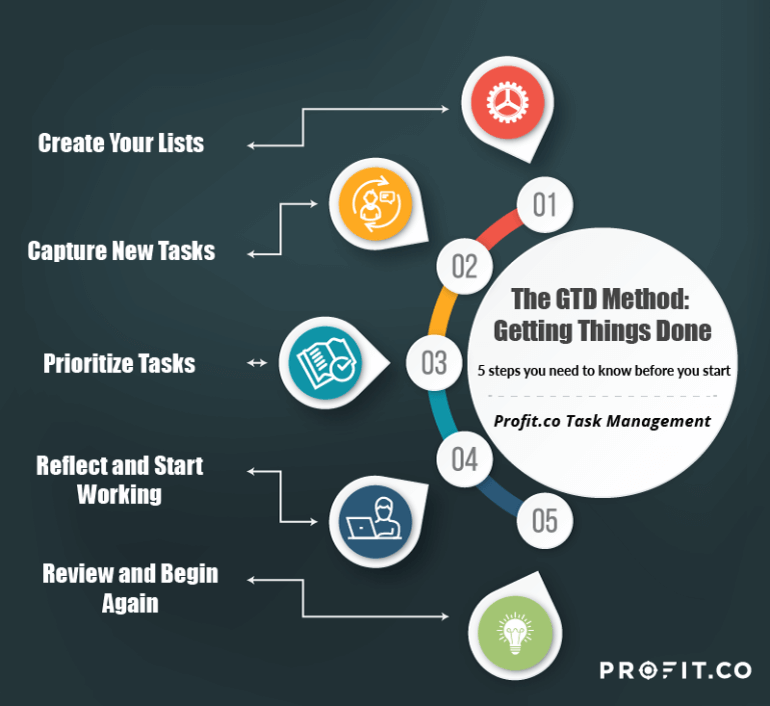 What is the Getting Things Done Method?
Designed by productivity consultant David Allen, Getting Things Done is a popular productivity method and book that helps you to organize your to-do list, figure out how to prioritize your tasks, and fit everything into a manageable schedule.
How is the Getting Things Done Method different?
Unlike other productivity methods that focus on holding space for tasks in your head, the purpose behind GTD is to get everything written down following a set method so you can spend more of your time and energy on being creative.
Despite having the reputation of being needlessly complicated, one of the best things about Getting Things Done is that it's an extremely flexible and customizable system. All you need to get started is a notebook and something to write with.
There are five steps to the GTD method that you need to know before you start.
These are:
Capture: When a task crosses your mind, write it down in your inbox list.
Clarify: Process tasks in your inbox and create clear steps to complete them.
Organize: Sort tasks into the correct task list, file reference materials, add dates to your calendar, and more.
Review: Frequently revise your lists with daily and weekly reviews.
Engage: Start working on your tasks based on the priority order you decided.
Getting Started with Getting Things Done: A Step-by-Step Guide
While GTD is a flexible and creative system, you still need to follow a process to get the most out of it. Here's how to set up your Getting Things Done process.
Step 1: Create Your Lists
Before you start organizing your tasks, you need to build the lists you're going to need to begin sorting through your thoughts. The five key lists you need are:
In/Inbox: For new tasks that need organizing.
Next Actions: For tasks that need to be done as a priority.
Waiting For: For tasks that you're waiting on someone else for.
Projects: For any objective that requires you to complete one or more tasks.
Someday/Maybe: For tasks that you don't want to forget, but aren't a priority right now.
Step 2: Capture New Tasks
To begin, do an initial sweep to fill your inbox with any tasks that come to mind. This could be things you're holding in your head like your grocery shopping, items from emails like meetings to prepare for, or anything else that crosses your mind.
The goal here is to get everything out of your head and written down so you can begin to process everything.
When you've got everything down for now, then process these tasks one by one by asking yourself a single question– is it actionable? If yes, add it to "Next Actions". If no, then get rid of it or add it to "Someday/Maybe".
If it's ready to move forward, then ask yourself what you need to do to complete this task. So, for example, "plan drinks with friends" will become "book a table for 7 pm at x bar".
Step 3: Prioritize Tasks
Now you're at the Clarify and Organize stage of GTD. Start prioritizing tasks in your "Next Actions" list. You'll need to use the following flow:
Does it take less than 2 minutes?: Complete it now.
Can it be delegated?: Assign the task to someone else and move it to "Waiting For".
Is it non-actionable?: File it in a reference folder or under the relevant task.
Does it have a deadline?: Give it a due date and add it to your calendar.
Do you need the task?: If not, delete it.
Does it take more than one step to complete: Add it as a project under "Projects".
Step 4: Reflect and Start Working
With all of your tasks organized, you should be able to quickly see what you need to start working on. If you've got multiple tasks, you can pick something to work on that you have the energy for, or you can break down bigger tasks into smaller ones so they take less time to complete. By now, you should also be able to see which tasks you need to complete based on their due date, which will help you get to work.
Step 5: Review and Begin Again
With GTD, you'll need to review your lists on a daily, weekly, and/or monthly basis to make sure everything is working for you.
Tips to implement GTD method
Small reviews, where you reorganize new tasks in your inbox, should ideally be done daily to make sure you take care of any new priorities. You should be performing a bigger review on a weekly or monthly basis to make sure all of your lists are organized and prioritized correctly. In these bigger reviews, you should also think about what aspects of GTD work for you and what doesn't so you can restructure your approach if you need to.
This will help you set out your tasks for the week (or month) ahead of you, so you're not left wondering what you need to do when you get into work on Monday morning. So, all that's left to do is start the process again.