Key Takeaways
OKRS with PDCA within an organization,
PDCA optimizes the organization's processes
Many organizations in areas like manufacturing and management utilize the Plan Do Check Act cycle to adjust to changes
PDCA can help all businesses and individuals with professional and personal improvements
Introduction
In any business, the level of customer satisfaction will fluctuate. When scrutinizing client comments, you might begin to notice a pattern or recurring complaints such as late deliveries or poor communication. When this happens, leaders typically respond by adjusting a part of their process– such as finding an alternative provider. As a result, customers' satisfaction rate rises rapidly, and they start giving positive feedback.
Implementing changes based on feedback and issues is what the Plan, Do, Check, Act Cycle (PDCA Cycle) is all about. According to Benjamin Franklin, the words improvement, achievement, and success have no meaning unless they are applied to a process of continual growth and progress.
Without continual growth and progress, such words as improvement, achievement, and success have no meaning.
What is PDCA CYCLE?
PDCA cycle is a performance management approach that focuses on improving various processes of the organization consistently. The cycle has four stages: plan, do, check, and act. It enables the organizations to effectively adapt to market dynamics, increase productivity and meet customers' demands.
What are the Steps in PDCA Cycle?
PDCA cycle enables you to solve numerous challenges and efficiently develop solutions. Below are the four steps: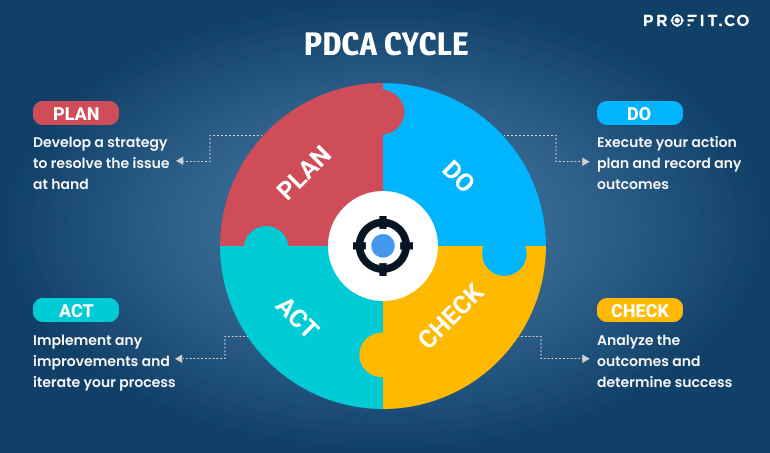 Plan
At this level, you develop a strategy to resolve the challenges you encountered in the past. Make sure you have the right people in place to conduct an analysis of the issues and develop a practical plan for your company.
Always ensure that you choose people who can brainstorm new ideas, adjust to changing circumstances, and adopt new techniques to get better results. With the right team, you can pinpoint your challenges, classify them, and develop action plans for solving them successfully.
Do
'Do' is the second step of the cycle. During this stage, you execute the action plan developed in stage one. This is an important stage in the cycle, so make sure that you're carefully following your plan and recording any outcomes. These will come in handy later in the PDCA cycle process.
Additionally, remember that you must communicate and train any employees involved in the PDCA cycle and catch up on the techniques you're using, the deadlines you've set for each stage, and the actions you're taking in each leg of the process. When you have all the necessary preparation in place, the "Do" stage of the PDCA cycle can garner outstanding results.
Check
'Check' is the third stage of the cycle. In this step, your team scrutinizes and analyzes the results of executing your plan. Checking is essential to determine if the implementation of the plan was successful. Also, you can compare the results of the initial and current situation to determine if you are on the right track. If the outcome doesn't live up to your expectations, you can reverse-engineer the planning process to get better results.
Act
'Act' is the final step of the cycle that involves applying the outcomes of this cycle to your operations as usual. As a result, you improve your key processes, and have improved results. If you decide to undergo this process again, you can work off of this new baseline and keep building on your progress so you keep improving on your operations over and over again.
Integrating the PDCA Cycle in OKR
PDCA and OKR work collaboratively and play an essential role in every organization. Objectives and Key Results play a significant role in solving challenges, improving processes, and steering innovation.
On the other hand, PDCA tests the improvement measures in an organization before updating the procedure or working practices.
The collaboration of these two frameworks has many benefits, including:
Increasing and improving various activities such as performance management in an organization
Identifying the challenges and determining their causes
Optimizing the control guidelines
Enhancing the integration of the productive levels
Ensuring the involvement of all team members, including the executives and collaborators
Consistently improving on business processes
Improving OKRs with PDCA
Good Objectives and Key Results must always be measurable, challenging, transparent, and be consistently reviewed. You can also create great Key Results using the SMART goal framework, which requires goals to be specific, measurable, attainable, realistic, and time-bound.
You can track OKR progress with the right OKR management tool. Profit.co enables you to customize your OKR program to fit your team's exact needs and help you focus your priorities, measure your progress, and achieve your goals. You can get started on Profit.co free today.
If you wish to improve the OKRs with PDCA within an organization, team, or even on an individual level, then you must follow the steps below:
a) Comprehend the Company Goals
For the PDCA and OKR to work together effectively, you must comprehend the company's goal. Then you can create your plans and ensure that the responsible teams act upon them to make progress. Transparent goals ensure that the entire team moves in the same direction.
b) Select the Accurate Tools
Getting the right tools for OKR operation is essential. It ensures that you are ready for the Objectives and Key Results, especially while working in a remote workplace. Constantly update your respective team members on all progress to be on the same page.
c) Involving the Entire Team
PDCA and OKR are interactive, so every team member must contribute to both frameworks in order to develop a sense of ownership and accountability. After setting the company goals and obtaining the necessary tools, you can conduct a meeting to brainstorm improvements to existing processes such as project or performance management.
d) Write Down the OKR Goal Statement
The objective here is the target that you want to progress. It plays a critical role in guiding the overall results. The goal must always be ambitious and relevant and should have a short description explaining its purpose.
e) Establish the Key Results
In order to measure the progress of your objective, you need to set quality key results. Key results enable users to quantify the progress of your objective. Remember that they must be mutually exclusive, as well as collectively exhaustive and address every indicator affecting the objective so you can accurately track its progress in your company.
f) Plan the Initiatives
Planning the initiatives involves executing your plans to help progress key results and reach those targets. This ensures that time, effort, and other resources are dedicated to the set OKRs.
g) Consistently Track Progress
While many teams begin their OKR journey with the best of intentions, the day-to-day tasks in an organization can distract individuals from their OKRs. It's critical to consistently track progress and record outcomes from your PDCA cycle and your OKRs so you can see what works and what does not
Conclusion
PDCA and OKR play a critical role in boosting the efficiency of the processes in any organization. When a business combines their use of OKRs and PDCA, various organizational functions and activities can improve. If you are looking to implement PDCA alongside your OKRs, remember to stick to the process listed above and be consistent with your review and analysis.
For more information on how you can integrate PDCA and OKRs, schedule a free demo with our OKR experts.