Employee engagement plays a crucial role in determining job satisfaction, how much employees feel one with their work and the organization, its core values and vision, and how eager they are to participate and contribute to the organization. If there is a problem with employee engagement, employees may lose interest in work, which can result in employee turnover and other undesirable effects for the organization. So, organizations spend time and resources to listen to employee feedback, address issues, and keep engagement levels high.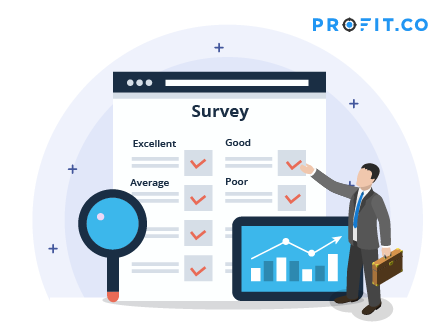 Employee engagement surveys are conducted to measure various aspects of employee engagement. However, employee engagement surveys are not conducted frequently, especially because they are more elaborate, and they consume time. Also, some factors may be ongoing over a long period of time and may need continuous monitoring. For example, changes in welfare measures may cause change in acceptance levels from employees over a period of time. In such scenarios, employee engagement levels can change quickly, and an annual survey may be inadequate to capture the sentiments of the employees. Pulse surveys are conducted frequently to fill this gap.
If you want something to happen, you have to make people able and you have to make them want to.
What are Pulse Surveys
Pulse surveys are short and focused surveys that are conducted frequently to measure a particular aspect of employee engagement periodically. Unlike an annual survey, it is conducted every month or a quarter. It does not take a long time to complete, since the questions are simple and focused, and the survey itself is short. This also increases the response rate of the employees, giving a better indication of how engaged the employees are.
Pulse surveys are also effective as extensions of an annual survey. While feedback from an annual survey is followed up with monthly pulse surveys to continuously monitor the mood of the workforce in relation to the implementation of an action plan created in response to the annual survey.
Profit.co is an OKR, Performance Management, and Employee Engagement software that allows you to distribute pulse surveys quickly and easily. You can get started for free today!
How do pulse surveys improve employee engagement?
Pulse surveys can be used to measure various factors that contribute to employee engagement such as:
Relationship with the team, peers, superiors and other colleagues
Career opportunities and growth
Compensation, incentives, and benefits
Rewards and recognition
Work-life balance
Work culture
Job roles and responsibilities
Work environment
By studying these factors in detail, the organizations can understand specific factors that lead to higher employee engagement levels. It helps organizations identify problems and gaps and address them as quickly as possible. This results in greater job satisfaction and employee engagement.
Benefits of pulse surveys
Pulse surveys offer numerous benefits to the organization as well as the employees.
1. Pulse surveys let you focus on one important thing
Unlike annual surveys, pulse surveys can be used to focus on one particular aspect of employee engagement. This allows organizations to concentrate on an important factor that holds the key to employee engagement and get to know more about.
2. Pulse surveys result in more accurate picture of employee engagement
When you focus on one particular topic and regularly study the change in employee feedback, you can build a real-time picture of how a specific aspect of the workplace or its operations affects the employees' engagement levels over a period of time. Getting better insights results in better interventions to address issues in the long run.
3. They provide deeper insights
When you conduct an annual survey, you have to cover various factors that affect the employee engagement in the organization. As a result, you cannot ask too many questions about any one aspect. Pulse surveys let you measure specific factors in great detail, unlocking more actionable insights that can lead to more far-reaching and thorough interventions.
4. Continuous monitoring leads to continuous improvement
Pulse surveys encourage continuous learning about employee sentiments. It helps you identify their reaction to changes made in the organization and in their work, over a period of time. This continuous learning process provides the opportunity to make constant corrections to optimize and improve things. As a result, there is continuous improvement in employee performance and experience.
5. They strengthen the rapport with employees
Workplaces can often be monotonous, as employees constantly chase their targets and goals. Lack of conversation between employees and the organization other than annual surveys and performance reviews can estrange employees from the organization. Pulse surveys create frequent opportunities to engage in conversations with the employees and listen to them.
6. Quick surveys means more participation
Since pulse surveys are shorter and more focused, it takes less time to complete one, compared to an annual survey. As a result, they are less daunting and less time consuming for the employees. This encourages them to respond regularly to them. So, response rates for pulse surveys are always higher and the data is more reliable.
7. More conversations and follow-up actions build trust
When an organization constantly listens to feedback from the employees and addresses their concerns, it clearly conveys the intent of the organization to make employees feel comfortable. This helps the organization earn employees' trust.
8. Identifying and resolving problems leads to workplace happiness
A workplace without many problems is a happier place to work. Pulse surveys help to constantly address issues as they arise. As a result, pulse surveys result in workplace happiness in the long run.
Best practices for an effective pulse survey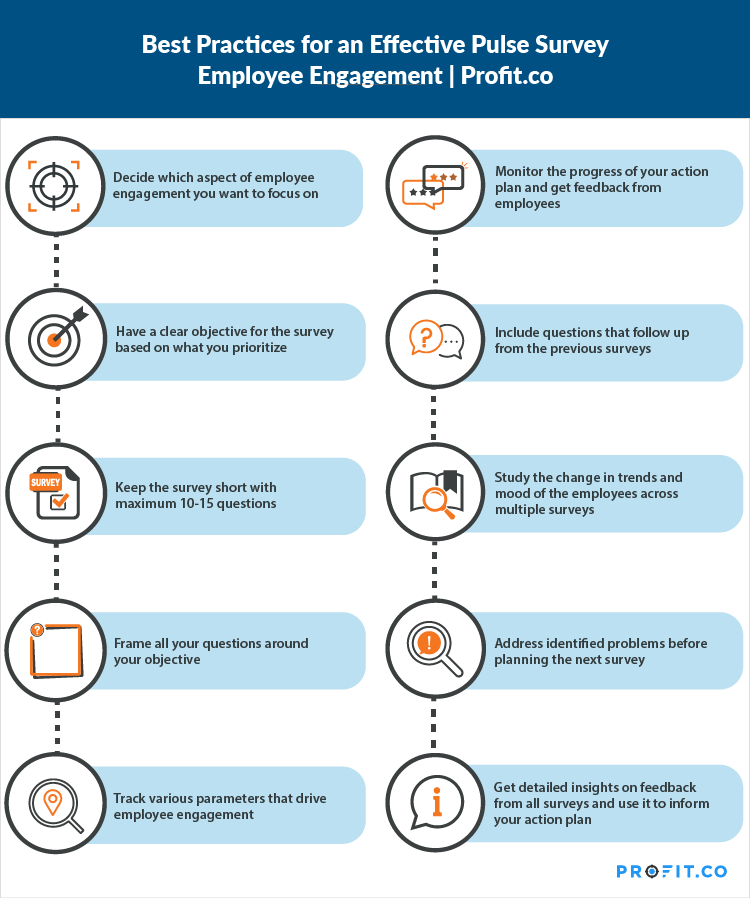 Following are some of the best practices to ensure that your pulse surveys are effective:
Decide which aspect of employee engagement you want to focus on.
Have a clear objective for the survey based on what you prioritize.
Keep the survey short with maximum 10-15 questions.
Frame all your questions around your objective.
Track various parameters that drive employee engagement.
Monitor the progress of your action plan and get feedback from your employees.
Include questions that follow up from the previous surveys to ensure continuity of data.
Study the change in trends and mood of the employees across multiple surveys to understand the employee engagement levels.
Take action to address identified problems or improve things based on feedback, before planning the next survey.
Establish connection and continuity to any previous surveys conducted to substantiate the findings with more detailed insights on specific areas, and use it to optimize your long-term action plan.
What kind of questions can you ask in a pulse survey?
Since pulse surveys are focused, you cannot ask questions that do not fit in your focus area. For instance, if you are focusing on employee benefits, your questions need to be centered around the topic. Following are some of the questions to ask in a pulse survey, depending on your aspect of focus:
On a scale from 0-5, how happy are you at work?
Do you feel your work reflects our core values?
Do you feel a sense of purpose with your work?
What are the challenges you face at work?
What are the factors that obstruct you from delivering your best work?
Do you have the tools and resources to deliver your best work?
What can we improve in our operations?
Are you able to meet your career goals in the organization?
What employee benefit would you like to be introduced in the organization?
On a scale from 0-5, how likely are you to refer a friend to join the organization?
To learn how an employee engagement software can help you get more out of your pulse surveys and engagement programs, book a free demo with Profit.co!