Talent management is a systematic process that assists in attracting, identifying, developing, engaging, retaining, and deploying valuable employees.
For talent management to be effective, the strategies must align with the business goals and objectives. Strategic talent management allows a company to develop a high-performance work environment.
It adds value to the brand, promotes a learning environment, and enhances diversity. Glassdoor Chief People Officer Carina Cortez elaborates on the same. "Job seekers and employees are now looking for action and change from employers on diversity and inclusivity."
Every company needs to evaluate how they invest in employees. Having the right processes to nurture employees from recruitment largely contributes to the organization's growth and success. The best way to ensure this success is by implementing effective talent management strategies.
Train people well enough so they can leave, treat them well enough so they don't want to.
Talent management practices are dynamic, as people-specific trends keep evolving. Let's explore the talent management process, the steps involved, how it improves productivity, and how the right steps and tools make all the difference.
What is Talent Management?
Talent management is a strategic process and a distinct section of Human Resource Management. It covers hiring the right talent and empowering them to reach their optimal abilities.
The process involves:
Determining vacant roles and talent gaps
Looking for suitable candidates and onboarding them
Strengthening them within the company and enhancing the required skills
Training the candidates based the future objectives and engaging them sufficiently
Retaining and inspiring them to attain the long-term business goals
Talent management combines all aspects of human resources with the company's objectives. All these aspects are interdependent, so the entire process goes off-balance if one fails.
Talent management is different from recruitment, but the two have a close relationship. They both fall under the human resource umbrella, but the distinction depends on:
Your company's size
The type of business you conduct
The particular industry you're in
You can combine the two or separate them into individual departments.
The Steps Involved in Talent Management
Talent management is a broad process with various steps. It begins from talent acquisition or recruitment to the point that the employee leaves the company and must complete the off-boarding process. Talent management strategies should cover all areas of the employee journey within the company up to retirement.
It includes components such as:
1. Planning
The first step in the talent management process is planning. It ensures that the talent management model abides by the company's vision.
Planning involves:
Identifying the talent gaps
Creating job descriptions based on the necessary roles to guide the sourcing of suitable candidates
Developing a workforce strategy for recruitment activities
2. Attracting
Once you have a plan, the next step is determining whether the talent required should come from within the company or from an external source. Whichever way you choose, you have to attract enough applicants. External sources can be referrals, social networks, or job portals.
Your company's brand plays a role in identifying the right talent pool. Your brand and reputation affect the quality of applications you get for the open positions.
It's essential to increase the company's visibility as the best workplace to project your company as a good employer. According to a study by Deloitte, 75% of active job seekers apply for jobs if the employer has a positive employer brand.
With the right strategy, you can attract the type of workers suitable for your business. Such employees have the talent and drive to advance within your company. You can use them as your brand ambassadors to attract more talent for other positions.
3. Selecting
Selecting involves using various checks and tests to identify the best fit for the job. To get the whole picture, you can apply:
Panel interviews
Written tests
Psychometric tests
Background analysis on public platforms
There are AI-based solutions and software that can help to skim through applications to get an ideal match.
4. Developing
Developing employees involves training them or taking related steps to help grow their expertise. It contributes to the growth and success of your business while building loyalty and employee engagement.
Developing employees starts with an efficient onboarding process. It's essential to help new team members settle in new positions. You then have to provide enough opportunities for the employees to learn and grow.
These opportunities motivate them to enhance their skills, proficiency, and aptitude.
The company also has to ensure growth by adding value to employees. You can offer:
Mentorship programs
Job rotations schedules
Job coaching
Career counseling
5. Retaining
The success and sustainability of any organization largely depend on retaining talent. Talent management helps to keep employees longer by creating an enjoyable work environment. Most companies achieve this through:
Financial incentives such as rewards, salary increments, and promotions
Providing growth opportunities
Special projects to encourage decision-making and involvement
Offering training for more engaging roles
6. Transitioning
Once you hire and develop employees' skills, you must ensure that their knowledge remains within your company. Transitioning or knowledge management involves planning how employees will transition to other roles. They can move to more prominent roles or switch departments.
Every employee needs to feel a sense of ownership in the company. Some popular transition tools Include:
Planning succession effectively
Offering retirement benefits
Administering exit interviews
Together, such tools help transition employees as they grow and advance their careers in our company.
How Effective Talent Management Enhances Productivity​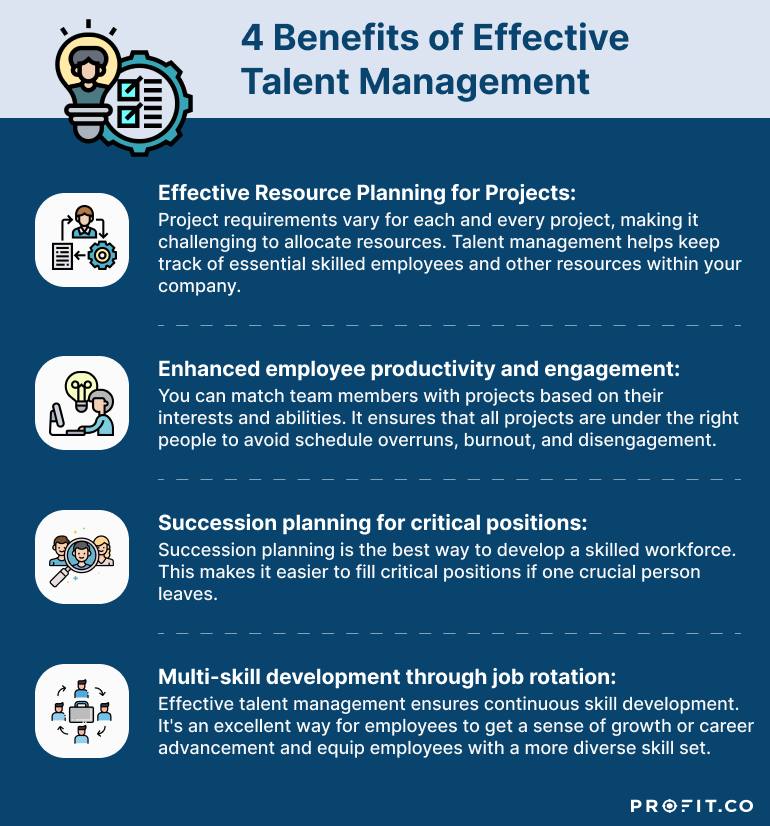 A recent analysis determined that more than 85 million unoccupied job positions will be due to a shortage of skilled people by 2030.
Organizations can be future-ready and avoid these talent gaps through talent management. It increases talent retention, employee satisfaction, and enhanced productivity.
Other benefits of effective talent management are:
a) Effective Resource Planning for Projects
Project requirements vary for each and every project, making it challenging to plan for resources. Talent management keeps track of essential resources within your company, such as:
The skills, experience, and qualifications of all employees
The availability of talent at any given time
After training, leaders can verify the employees' skills and competencies and update the system. The inventory ensures that you have adequate resources for current and future projects. It's an excellent way to plan projects since you're aware of what you have and what you need at all times.
It also helps to identify suitable candidates for vacancies to reduce hiring costs. The employees remain motivated to ensure productivity and timely completion of projects.
b) Enhanced Employee Productivity and Engagement
The talent management process includes identifying and nurturing employee skills. You can match team members with projects based on their interests and abilities.
It ensures that all projects are under the right people to avoid schedule overruns, burnout, and disengagement.
c) Succession Planning for Critical Positions
Talent management includes succession planning. It's the best way to develop a skilled workforce to fill critical positions as the business evolves and management changes. If one crucial person leaves, the effects will be minimal, and you'll avoid budget overruns.
d) Multi-skill Development through Job Rotation
For most people, monotonous and limited work causes a sense of career stagnation and boredom. It leads to impulsive attritions, low productivity, and morale.
Based on Gartner's report on workforce activity, 40% of employees leave companies due to a lack of satisfaction and career development. At the same time, 28% of the other employees actively look for jobs, while 42% would take up new opportunities.
Effective talent management ensures continuous skill development. It's an excellent way for employees to get a sense of growth or career advancement.
Job rotation also equips employees with a more diverse skill set or secondary skills. It enhances motivation and competency.
The Proper Talent Management Steps and Tools Make a Difference
The talent management process can be challenging. However, using the right digital tools and best practices has rewarding results such as high performance.
You can streamline and improve the process using various management tools to monitor all processes and projects. These tools help with hiring, onboarding, workforce management, performance reviews, training, and off-boarding.