Human capital management is a combination of practices that assist companies in attracting, hiring, training, developing, and retaining top employees.
Employees can make or break a company. They spend most of their days contributing to the company's success and achievement of the business goals and objectives.
Everyone talks about building a relationship with your customer. I think you build one with your employees first.
Human capital management invests in and empowers employees. It recognizes employees as valuable resources.
These resources require harnessing to achieve their full potential.
Let's discuss what HCM is, its benefits, and how to leverage HCM software.
Key Takeaways
Human capital management covers HR functions and other tactical and strategic areas
HCM creates a pathway for optimizing the efficiency and performance of a company's workforce
Human capital management includes hiring, training, workforce planning, and management. It also covers payroll planning and performance management
What Is Human Capital Management?
Human capital management (HCM) refers to the practices a company uses to manage, develop and optimize employee talent and skill. The goal of HCM is to enhance an employee's skill and value to the organization.
In HCM, the workforce is a vital asset with optimizable value. HCM modifies HR functions by creating opportunities to improve:
Engagement, and
Business value
Successful companies understand the importance of HCM. They allocate resources to help employees grow and develop skills and abilities to perform at their best. HCM assists in identifying competency gaps and directs recruitment efforts towards filling those gaps.
Employees experience job satisfaction and fulfillment when their work allows them to utilize their strengths and talents.
What Does Human Capital Management Involve?
Human Capital Management (HCM) is a comprehensive strategy that directs:
Talent attraction
Hiring
Onboarding
Training
Development
Performance analysis
Feedback
It nurtures an environment that helps employees excel by matching them with positions that are well suited to their skills and interests. This allows them to strengthen the skills and competencies they currently have as well as develop new ones. The HCM strategy ensures the company has a high ROI in training and enhances job satisfaction.
Benefits of Human Capital Management
HCM simplifies HR tasks and ensures that companies receive the maximum value from their employees. Other benefits include:
1. Improving Human Capital Management
HCM offers a way for companies to manage their people. It creates a centralized system that the HR department can utilize to acquire the best talents and train them to attain the company goals.
2. Enhancing the Recruitment Process
Efficient human capital management helps your company attract top talent. It provides a pool of top candidates with the best experience and skills based on the specific position.
The HR team can share why the company is an ideal employer to acquire candidates capable of delivering results.
3. Identifying Skill Gaps
HCM helps identify competency gaps in the workforce. This enables the HR department to modify recruitment processes. They know which positions to accommodate to enhance the company's ability to achieve its goals.
4. Improving Organic Growth
HCM is a vital tool that drives organic growth by identifying the skills and competencies of individual team members. It ensures your company optimizes internal resources to increase revenue and enhance productivity.
Human capital management invests in employees and equips them with the skills to deliver the expected results.
5. Matching Employee Capabilities with Positions
HCM assists companies in matching candidates with roles that utilize their talents and skills. The system uses processes that highlight the strengths of each person.
6. Improving Efficiency and Productivity
Human capital management focuses on optimizing the talent resources available for the best possible returns. Training employees to develop the particular skills your company needs enhances productivity.
Since proper people management practices are in place and employees are in roles where they can perform their best, your company will enjoy enhanced efficiency.
7. Improving Performance Reviews
Human capital management makes performance reviews more effective. It offers various appraisal levels such as manager reviews, self-reviews, and peer reviews. Employees get actionable feedback that encourages them to improve and do more.
HCM has many components– two of which include performance management and engaging and developing employees. With the help of the right software, HR administrators and managers can make this process easier within their organization.
Profit.co's all-in-one employee engagement and strategy, OKR, performance, and task management platform enables HR administrators to continuously monitor performance, guide employee development, and keep team members engaged no matter where in the world they are working from. You can sign up on Profit.co for free today!
Human Capital Management vs. Human Resource Management
Most people use the terms HCM and HRM interchangeably, but they mean different things. Human resource management (HRM) mainly involves administrative functions such as issuing benefits and employee records.
Human capital management (HCM) is broader, covering HRM and strategic functions like performance management and analytics.
Human capital management focuses on maximizing the ROI and value of the employees in a company. HRM focuses on creating and managing the processes and systems necessary to hire, train and retain human resources.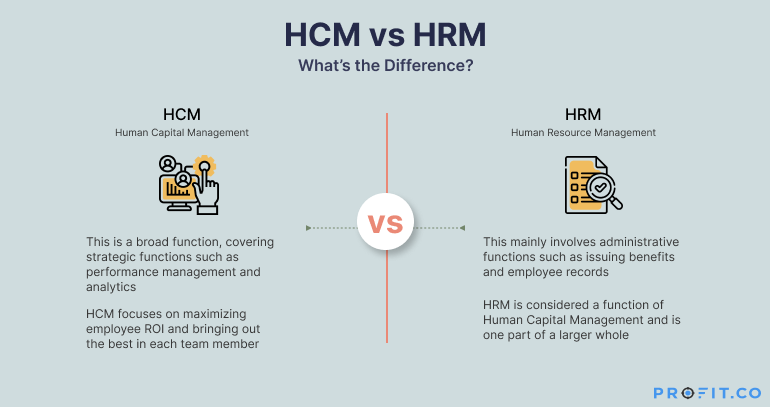 Components of Human Capital Management
The main goal of Human capital management is to add value to employees to ensure they have great performance and efficiency.
The components of HCM include:
Talent Management
Talent management starts from recruitment and continues throughout the employee's tenure with your company. It helps them gain new skills and improve performance at work.
Recruitment and Hiring
Attracting and hiring top talent is vital in attaining your company goals. HCM gives the HR department the right tools to make the company an ideal workplace.
Onboarding and Training
HCM relies on the efficient onboarding of new team members. It highlights the job requirements and expectations. It also introduces them to the workplace culture and ensures the right environment.
HCM also involves training employees to optimize performance for the benefit of your company.
Benefits Administration
HCM simplifies complex tasks such as the management of employee benefits. Once you set up the benefits plan, you can manage enrollment and deductions in the entire system.
Time, Attendance, and Payroll
With the right HCM processes, it's easy to monitor and manage working hours and leave applications to ensure the payroll is accurate.
Reporting and Analytics
Human capital management provides actionable insights. These insights assist companies in adding value to their employees. The data and statistics help executives adjust the company practices to enhance the work environment.
What Is HCM Software?
HCM software refers to any application used in HCM functions like recruitment and performance management. It can be independent or integrated with other applications.
You'll also find HCM software suites that support multiple HCM functions. Famous examples include Oracle, BambooHR, and SAP SuccessFactors.
HCM software manages most functions and processes required for efficient workforce management. HCM software is similar to a human resource management system (HRMS) or human resource information system (HRIS).
Practices Included in HCM
Human capital management includes various processes and practices such as:
Recruiting and hiring
Onboarding and training
Workforce planning
Workflow management
Time and attendance
Employee self-service
Payroll and compensation planning
Benefits administration and retirement services
Performance management
Reporting and analytics
Compliance
Using Human Capital Management Software to Improve Your Organization
According to Gartner, 60% of companies with over 1,000 employees will acquire an HCM suite by 2025. However, they will still need other HCM applications to manage 20-30% of their needs.
Effective HCM software integrates and streamlines all HR processes. Such a solution helps you make smarter business decisions faster and provides the best experience for your employees. You can leverage in-built technologies such as chatbots and AI to enhance efficiency and automate workflows.
For instance, chatbots interact with candidates via realistic conversations during recruitment. You can use machine learning to evaluate resumes, video interviews, and performance reviews.