Recruiting a strong team is vital to any organization's performance, productivity and growth. Recruiting metrics enable and promote data-driven hiring strategies to ensure a strong team.
Numerous data points and metrics aim to enhance the hiring process. It's, therefore, essential to understanding which metrics are more effective. This removes the confusion, allowing you to focus on data that can empower intelligent hiring decisions.
To help your HR team leverage the correct data, here are the ten most essential recruiting metrics you must track.
Recruiting is hard. It's just finding the needles in the haystack. You can't know enough in a one-hour interview.
What are Recruiting Metrics?
Recruiting metrics are groups of data points or measurements that HR teams use to monitor, manage and enhance the hiring process.
These metrics offer HR professionals real-time and actionable insights to make strategic decisions that help achieve the recruiting goals. They ensure healthy HR processes which promote sustainable growth. When used correctly, recruiting metrics assist your hiring team in assessing the recruiting process and help determine your strategy's success.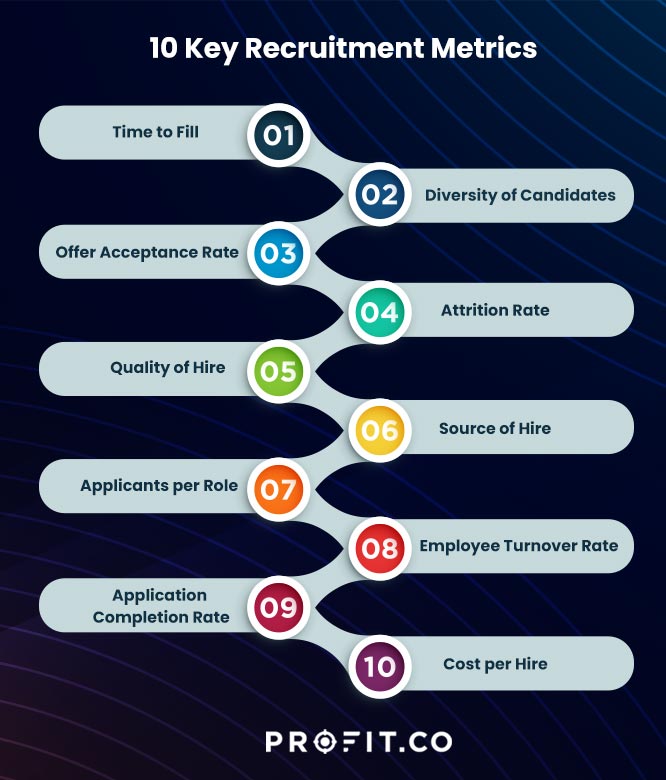 Why Should an Organization Track the Recruiting Metrics
As an HR personnel or recruiter, it's essential to make proper hiring decisions. Every hire should boost your ROI and benefit your organization.
Recruiting metrics enable measuring the success level of your hiring decisions and goals. They give you the insights and visibility to make intelligent, strategic, and data-driven decisions.
You can monitor the progress of internal recruiting standards to see how you measure up to the competition.
Top 10 Recruiting Metrics to Track
Time to Fill

Time to fill is the duration it takes to find and hire new team members, which means the number of days from advertising an open position to hiring the right person. This metric helps your hiring team determine how long it takes to replace leaving employees or fill open positions.

Diversity of Candidates

Diversifying your team is the only way to ensure a balanced, equal, and fair work environment. This diversity is vital to your company because it combines skills, experiences, and perspectives. A recruitment dashboard can measure this metric by collecting data from hiring feedback forms and candidate surveys.

Offer Acceptance Rate (OAR)

This metric shows how well you understand your applicants' priorities and preferences. It determines the number of candidates who got an offer and those who accepted. Consistent high rates show you have adequate measures that help you design offers that meet your candidates' expectations. It shows your recruitment process is dynamic, and the role descriptions are transparent.

Attrition Rate

The attrition rate measures the number of employees your company loses within a certain period. Besides the hiring and recruiting costs, every new employee you hire comes with onboarding costs.

Monitoring the attrition rate metric gives you insights into whether:

Your job postings and descriptions accurately capture the expectations
Your HR team is transparent along the hiring process about duties and responsibilities

Quality of Hire

This metric measures how a new hire performs within the first year of employment. It shows if a new employee is a perfect fit for your company. Low ratings or poor performance may signal that you hired the wrong person for the position.

Source of Hire

Top candidates use various digital platforms and channels to find open positions. Understanding the source of your top applicants can be invaluable to your hiring team.

This metric allows you to identify the channels and sources with the highest ROI when looking for new team members.

You can easily compare these channels by visualizing them on a recruitment dashboard. The dashboard highlights the number of applications from every channel and how many qualified for the position, and it saves you from spending money on unproductive platforms or channels. To learn how to use metrics to improve your hiring process, you can get started on Profit.co completely free today!

Applicants per Role

A recruiter's role includes bringing enough exposure to available positions. Tracking the applicants per role measures job seekers' interest in the role, and this metric can help you streamline your job descriptions to attract top candidates.

Employee Turnover Rate

Employee turnover rate is a crucial recruitment metric that helps you determine whether your employee retention strategies are effective.

Tracking this metric on a recruitment dashboard can help you identify the source of turnover issues and how to address them. You can also develop efficient replacement plans in case the turnover rates increase.

Application Completion Rate

Combining this metric with others, such as applicants per role, can give you a better overview of your hiring process. Although an elaborate application process is beneficial in finding the right match, sometimes it takes too long and frustrates applicants.

Tracking this metric is a great way to identify issues with the hiring process and gain insights into the areas to streamline.

Cost per Hire

Cost per hire indicates the amount of money you spend to hire one candidate. This metric helps you identify the areas you can cut costs without impacting the candidate's experience level or quality.
Conclusion
These key recruitment metrics can help optimize your hiring processes and human resources. Tracking these metrics consistently offers invaluable insights into your overall hiring strategy to ensure it remains feasible and practical.
Thanks to innovative recruitment dashboards, it's easier to leverage recruitment metrics. The real-time data empowers you to make intelligent decisions to give your company a competitive edge. Book a free demo with our team to learn more about how OKR software can enhance your recruitment process.