The success of an organization depends on its strategy. The higher-level strategic planning and the ability of the company to implement its strategy determine how well the organization performs and remains successful in the long run in today's fast-paced and competitive business environment. Strategy implementation is crucial because you must execute a strategy well to achieve your company's objectives and goals, and you will miss opportunities and lose revenue.
In contrast, if you can execute your strategy well, your company can gain a significant competitive advantage. It will allow you to achieve your goals and remain ahead of the competition for a long time. As a result, companies are increasingly looking for ways to improve their strategic implementation and enhance their ability to execute their plans better.
Rising Usage of AI
Artificial Intelligence (AI) is among those emerging technologies that have gained focus in the business world in recent years. AI has gradually chipped away the inefficiencies in various aspects of operations and enhanced customer experience. Companies have been exploring and identifying numerous ways to use AI to drive growth and improve business outcomes.
One area where the use of AI is gaining momentum is strategy implementation. AI technologies enable companies to understand and leverage data better, gain valuable insights and optimize their strategy implementation. It leads to better decision-making and resource allocation and brings improved business outcomes. In this article, we will explore how companies use AI for strategy implementation to gain a competitive edge.
Manage the top line: your strategy, your people, and your products, and the bottom line will follow
What is a Strategy?
Strategy is a blueprint and a high-level plan created by the management for achieving the long-term goals of an organization.
A business strategy is based on a detailed assessment of the following.
The current situation in the company
Strengths and weaknesses of the organization
New opportunities and threats
Current market conditions
Developments in the industry you operate in
Competitors and competing products
Risks that you may need to manage
Creating a strategy involves making decisions based on these factors, creating a roadmap for operations, and formulating an action plan to achieve the objectives. The business strategy governs the goals, targets, activities, outcomes, and resource allocation for various processes and operations of the organization, such as the following.
Market segmentation
Product development
Product positioning
Pricing
Sales
Marketing
And more
Strategy implementation involves creating ownership of the business strategy amongst employees, achieving strategic alignment across the organization, and fine-tuning processes and systems to deliver desired outcomes per the strategic plan.
When executed right, a business strategy will create desired outcomes at all levels, which will snowball into organizational growth, success, and fulfillment of the organizational objectives. It creates a sustainable, long-term competitive advantage for the organization.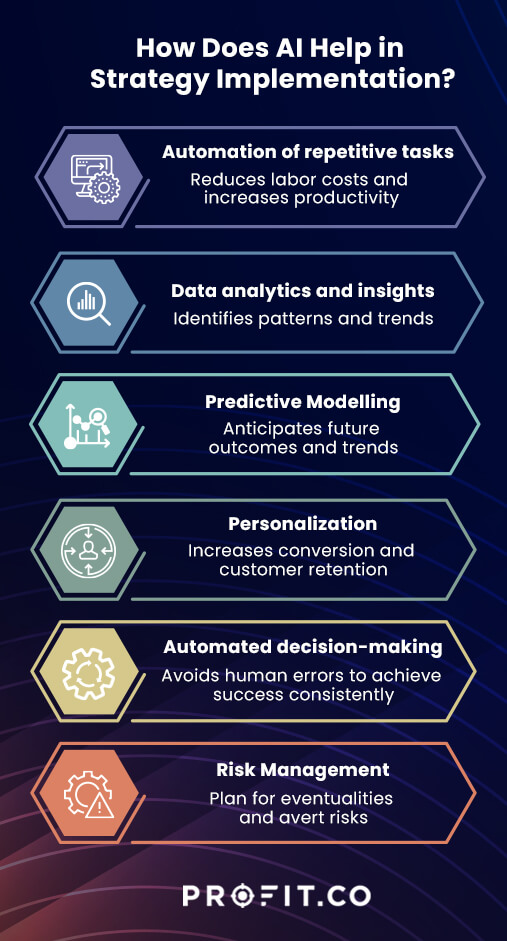 How does AI help with strategy implementation?
Artificial Intelligence (AI) is a replication or a simulation of intelligence required to perform human tasks that involve perception and cognition. AI-powered machines perform tasks that require human intelligence, such as data analysis, visual perception, image processing, facial recognition, speech recognition, decision-making, translation, etc. These AI systems are constantly learning. They can update themselves, improve functionality, and adapt to new situations and environments.
In the business scenario, integrating AI in various aspects of the business enhances your ability to execute your strategy more effectively. Following are some of the ways AI helps in executing business strategy.
1. Automation of repetitive tasks
AI helps companies automate repetitive tasks, such as inventory management, which humans previously carried out thoroughly. For instance, AI helps in warehouse management and automation of procurement by managing purchase orders, maintaining the vendor database, sending purchase orders to concerned vendors at the right time, etc. Through this automation, the warehouse management system ensures the availability of crucial components, materials, and products just in time when you require them. It helps companies manage demand and supply better. AI is used similarly in various operations to reduce labor costs and increase productivity and efficiency.
2. Data analytics and insights
AI helps companies gain comprehensive insights by analyzing vast amounts of data to identify patterns and trends. For instance, AI can constantly track the number of leads generated through every marketing channel and compare them with the amount you spend in those channels for your marketing efforts. It helps you allocate resources better for different marketing efforts and get more out of reduced spending.
3. Predictive modelling
AI can help businesses build predictive models to anticipate future outcomes and trends. For example, you can predict product demand based on patterns identified from historical sales data and customer behavior. For instance, if the holiday season is nearing, AI can help you analyze and predict the surge of demand and make critical business decisions, such as setting higher production targets, running extra shifts, having a specific amount of products in stock, adjusting pricing, designing marketing campaigns and offers to attract customers, etc.
4. Personalization
AI helps companies personalize the customer experience. For instance, it provides product suggestions based on customer preferences. It enables personalization in other areas, such as emailers that can be customized and personalized with content based on certain predefined conditions. For instance, companies have abandoned cart reminders automatically sent to customers who add products to the cart but leave the site/app before making a purchase. Through these personalizations, AI makes it possible to cater to every customer better based on their preferences and improve customer experience drastically. It also helps to increase conversion and retain customers better.
5. Automated decision-making
AI can automate decision-making processes. For example, chatbots can cancel orders and initiate refunds upon request. In a variable pricing scenario, AI helps to determine the pricing based on predefined rules and criteria. It helps reduce human errors and make data-driven decisions to achieve success consistently.
5. Automated decision-making
AI can automate decision-making processes. For example, chatbots can cancel orders and initiate refunds upon request. In a variable pricing scenario, AI helps to determine the pricing based on predefined rules and criteria. It helps reduce human errors and make data-driven decisions to achieve success consistently.
6. Risk management
AI analyzes data and identifies business risks to help companies prepare for these eventualities and avert risks. For instance, AI can analyze patterns and save insurance companies from false claims by assessing historical data and finding the correlation between connected events and a spike in claims, such as the connection between the loss/damage of smartphones and the launch of next-generation models. The use of AI in risk management is gaining popularity in recent times.
A Step-by-Step Guide to Integrating AI into Your Strategic Execution
AI needs to be set up and customized to your use cases. Before you can start integrating AI, you need the following.
A clear understanding of the business goals and objectives
In-depth understanding of the data and systems required to support the strategy
Human resources and infrastructure to support the development and deployment of AI models and systems
You can start integrating AI and enhance your strategy execution by following these steps.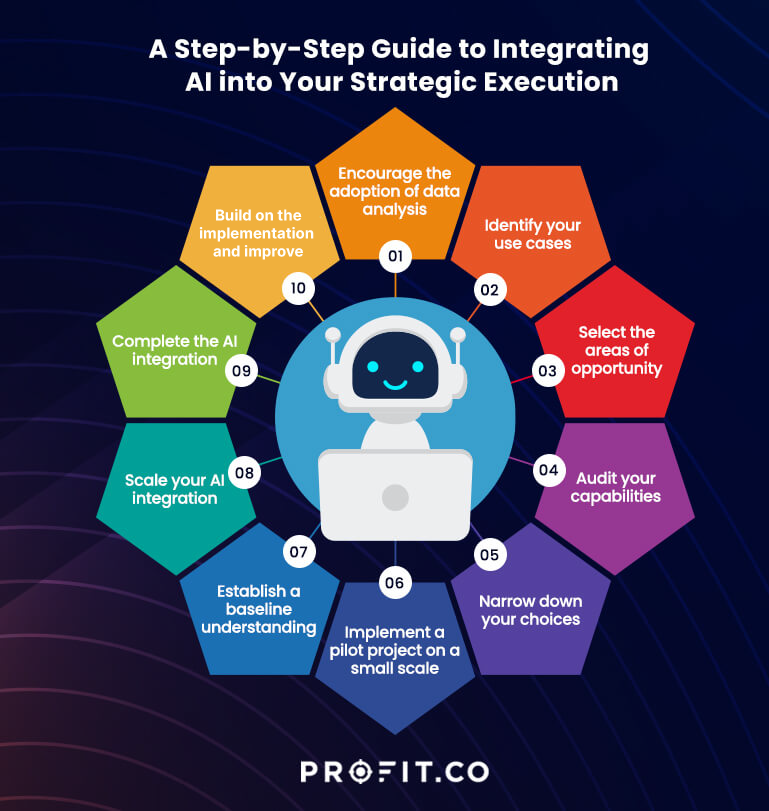 1. Encourage the adoption of data analysis
While AI can provide insights that can lead to business-critical decision-making, the stakeholders and decision-makers need to realize the importance of data. They should build a deeper understanding of how to decode insights and rationalize decisions and actions based on that. Otherwise, your team won't be able to leverage the data for the organization's benefit. So it is essential to train your workforce, management, and leadership team on data analytics and ensure they have the analytical skills to drive business outcomes. A consistent understanding and interpretation of insights go a long way in driving sustained change.
2. Identify your use cases
While implementing AI Can bring efficiencies and ensure better strategy implementation, it also costs a lot. So it is essential to study how your competitors and the leading companies outside the industry implement their strategy using AI. You can draw inspiration from them, but identify your unique use cases and analyze the feasibility of integrating AI. It is crucial to discuss with all the stakeholders, including concerned teams, and analyze if the benefits outweigh the costs.
3. Select the areas of opportunity
After you can identify the use cases, you have to select the areas in your business operations that will benefit the most from AI integration and get a quick return on investment. You can forecast this using various metrics to analyze the potential impact of AI implementation in these areas.
4. Audit your capabilities
You have to thoroughly analyze and identify the human resource and technology requirements to implement artificial intelligence in the identified areas. You need to identify the gaps in existing technology and the lack of skills required to leverage AI. Based on this analysis, you have to organize training and workshops for concerned employees and seek the expertise of consultants and other third-party associates, to leave no stone unturned regarding AI implementation.
5. Narrow down your choices
While you can choose broad areas of business where artificial intelligence makes sense for your operations, you have to narrow your focus further. For instance, if you want to implement AI in marketing, you can do it in many ways. You can use AI to automatically segment customers based on their preferences and behavior on your e-commerce website and create categories in the mailing list accordingly; you can automate sending of emailers based on certain pre-determined conditions; you can use AI to track the performance of marketing campaigns and optimize marketing efforts; you can use AI to provide personalized experiences by sending personalized offers to customers and creating loyalty programs optimized to increase conversion rates. You can narrow your focus to specific operations and processes in your broader use cases by identifying inefficiencies in operations, finding suitable AI solutions to address them, and doing a cost-benefit analysis.
6. Implement a pilot project on a small scale
When integrating AI for strategy implementation, you can first test it on a smaller scale. You need to gather data, develop customized algorithms and release it on a smaller scale in a controlled test setup involving experts in artificial intelligence, data analytics, and the concerned business processes. It helps to measure the impact, foresee the risks and tweak your AI models before scaling them up.
7. Establish a baseline understanding
Document your learnings and establish a baseline of understanding. Compare the results with the forecasts and see whether your small-scale pilot project met its objectives. It helps to build on your experience and knowledge of AI and fathom its impact on your strategy implementation.
8. Scale your AI integration
Once you verify the effectiveness of your AI on a small scale, you can gradually scale AI deployment. As you scale up the AI integration, you may need to continuously tweak the algorithms and business processes. Ideally, the impact of AI on your strategy implementation will show up in your metrics and help build confidence across the organization. It will convince the stakeholders to experiment with AI integration in other aspects of your business and broaden the influence of AI in your strategy implementation.
9. Complete the AI integration
Integrating AI is one thing, but gaining a competitive advantage in the long run and achieving long-term growth by improving its lifecycle, testing, and deployment is another.
You can achieve these by building a modern data platform that enables the streamlined collection, storage, and structuring of data so that the accuracy of chosen metrics and the quality of insights and reporting remain consistent. You can structure your organization in such a way that the development of data platforms and governance based on the priorities of your business power your goals and decisions. You should also build processes and expand the technologies required to manage data elements from various parties.
10. Build on the implementation and find room for improvements
AI models and processes require continuous improvements to keep in sync with the rapid changes in the business environment and quickly respond to changes in the strategy. It would be best to listen to feedback and proactively address the lack of AI adoption or resistance to AI at every level of the organization.
Frequently Asked Questions
What is the role of AI in business strategy?

AI helps companies improve strategy execution by analyzing massive data, offering valuable insights, influencing business-critical decisions, and optimizing operations to achieve a sustained competitive advantage.

What are the 4 AI business strategies?

AI strategies can be classified into

(a) Effectiveness strategy – to make operations more effective and impactful

(b) Expert strategy – for the automation of decision-making

(c) Efficiency Strategy – to optimize operations, cut costs, and achieve better efficiency

(d) Innovation strategy – for promoting creativity and innovation

What is an example of how businesses use AI?

An example of AI usage by e-commerce businesses is the automation of sending personalized abandoned cart emailers.
Conclusion
AI is transforming the way businesses approach strategy. By leveraging AI to analyze data, automate operations, and personalize the customer experience, businesses can gain a competitive advantage in today's fast-paced business environment.