What is Organizational Culture?
All organizations have cultures and characteristics built into their DNA. Employees internalize the core values and standard practices of the organization just by working there. Core values are also shared through more direct modes, such as training, meetings, and how leaders present themselves to the business. As a result, employees in an organization can subconsciously reflect the qualities that have been shared with them in everything they do.
Purposefully or not, these are the behaviors that define a company's culture. Notions about performance, teamwork, values, and more are defined by how employees are told to behave within the organization, and the collective behavior of employees becomes ingrained, defining the organization as a whole.
Culture isn't just one aspect of the game; it is the game. In the end, an organization is nothing more than the collective capacity of its people to create value.
What is Performance Culture?
Regardless of their nature, all organizations strive to produce more at any given time. So, performance is a crucial part of a company's priorities.
However, keeping performance as the only parameter for measuring individual or organizational success can seriously hinder the strive for excellence. If a company employs annual reviews as their performance management system, performance is isolated to just one part of the year, and while it might be important to the company, it could seem less important to its employees.
In contrast, integrating performance as a part of organizational culture goes a long way in getting consistent performance from every level. Further, when the whole workforce is aligned towards achieving performance, it becomes more than just a metric to measure the success- it becomes a standard that defines the organization as a whole. and its operations.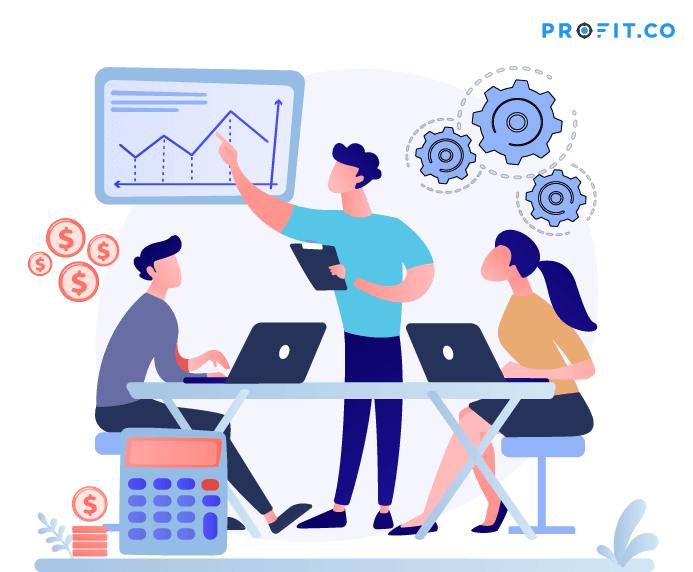 Challenges in creating a performance culture
However, cultivating a high performance culture in an organization is not easy. Organizations have to constantly adapt to changing conditions. There are various challenges ranging from emerging competition from new players all the way up to a global pandemic. As priorities change, performance may take a backseat. It becomes important to adapt to the changing conditions quickly without compromising on performance.
Some of the challenges in establishing a performance culture across the organization include:
Changing conditions that affect performance
Lack of alignment towards goals and results

Inability to scale operations when needed
How can OKRs Impact Performance?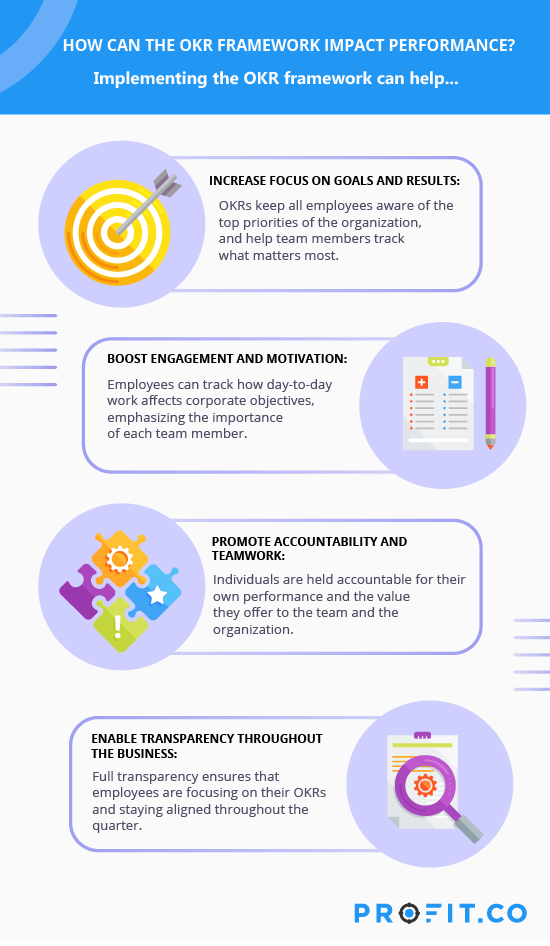 The OKR framework is a goal-setting framework that helps organizations set ambitious objectives and quickly align employees to them. It enables employees and the
organization to stay focused on what all they need to do in order to achieve consistently and reach those lofty objectives.
With OKRs, teams can cascade and align goals to different levels of an organization, defining outcome-based key results that help verify the success of the objective. OKRs help guide daily work, and connect all employees to a larger purpose.
Managing OKRs is even easier on an intuitive OKR management software like Profit.co. You can get started on Profit.co for free today!
This relentless pursuit towards daily goals at individual and team levels eventually cascades to the achievement of the overall objectives at the organization level in the long run.
As a result, when used correctly, OKRs can help a company implement a high performance culture and achieve far more than their team thought possible. OKRs help the organization adopt performance culture in the following ways:
1. OKRs increase focus on goals and results
When organizations have shifting priorities and changing goals, they need to remain agile. In order to achieve and sustain performance in changing conditions, the entire workforce needs to be able to quickly align to the objectives. OKR helps organizations achieve that by placing goals and results at the center of the company's focus.
With OKR, instead of chasing long-term objectives set by a manager, teams get to set the weekly and daily goals that correspond to the organization's objectives. This helps in achieving quick alignment and focus towards tasks and results. The employees get a clear sense of direction towards where they are going with their daily targets and what they need to do to achieve the organization's objectives. This directs focus towards the outcomes of their work and enables sustained performance at every level of the organization.
2. OKRs boost motivation and engagement
OKRs emphasize the value an employee adds to the organization, rather than evaluating his or her ability to complete tasks. OKRs by their very nature encourage employees to set ambitious targets; aiming higher is a part of the goal setting process in OKR. Additionally, employees can see how their day-to-day work and their individual performance contributes to the success of the entire company through top-down and bottom-up alignment.
Falling short on ambitious targets still enables more progress than achieving modest goals. With OKRs, employees are appreciated and rewarded even for partial achievement of ambitious objectives. This gives a great deal of motivation to the employees and incentivizes them to aim high every time. Since reprimanding employees for falling short of their goals isn't in the OKR playbook, employees aren't afraid to set ambitious goals, and are constantly pushing their performance to their fullest potential.
These aspects of the OKR framework help instill a culture of high achievement into organizations, and can give companies the performance culture they are searching for.
3. OKRs promote accountability and teamwork
OKRs give employees control over their goals, and leaders can assign employees ownership of specific key results, holding them accountable for important outcomes. Departments and teams can write their own goals and align them up to company-level priorities, ensuring that everyone is on the same page, but that individuals still feel a sense of ownership in the goals that they are responsible for.
This process holds employees accountable for their own performance and the value they offer to the team and the organization. It encourages them to look at other team members and compare the targets they have set, pushing one another to achieve more.
4. OKRs enable transparency throughout the business
In order to create an effective performance culture, goals must be aligned and ambitious at all OKR levels in an organization. Progress made by individuals and teams is constantly updated, and it can be viewed by anyone in the organization. This helps ensure that teams hold one another accountable, fulfill any dependencies, and stay aligned throughout the quarter. If teams are focusing on tasks that are not related to the objectives of the organization, then they can course correct quickly, ensuring that your organization doesn't just prioritize productivity, but productivity towards what matters most.
Where do HR OKRs come in?
The role of HR OKRs in creating a performance culture cannot be overstated enough.
Human resource administrators handle payroll, employee incentive programs, employee benefits, and play an important role in rewarding the employees for the outcomes they produce. In order to help promote this performance culture and fulfill their own goals, they must set OKRs.
In a top-down approach, managers set the goals for the employees and review their performance at the end of a review period using a performance management system. Rewards, promotions, hikes, and incentives are given based on the manager's assessment and verdict. However, OKRs inherently disconnect rewards from performance as a metric for evaluating employees.
Instead, OKRs encourage employees to go all out towards ambitious objectives by setting hard-to-achieve goals and identifying their own means to achieve that. Failing to fully achieve such ambitious objectives can still produce great outcomes, workarounds for intense challenges, and innovative solutions for problems.
But if such a positive outcome is incorrectly construed as poor performance, then employees will not get the rewards they deserve, and may lose motivation; it may cause undesired repercussions such as employee turnover. So, the HR team should be able to identify the value employees add to the organization by producing great outcomes, even if they do not completely fulfil the objectives.
HR OKRs are set to push HR personnel to identify great outcomes and provide rewards that suit employee achievement without quantifying and evaluating performance as a metric. HR OKRs bring alignment across the team with regard to how to identify performance and suitably reward them. It goes a long way in redefining performance and creating a high performance culture in the organization.
If you want to focus your priorities, measure your progress, and achieve your goals with more accuracy and alignment, check out Profit.co, and book a free demo with our OKR experts to learn how Profit.co will work for you.