Many top organizations face the challenge of keeping up with a large workforce and conforming to their mission. While this may sound difficult and almost impossible, successful firms have discovered a hack that helps them manage their team and ensure its core values align on the same path. Enter the OKR framework.
If you want something new, you have to stop doing something old.
The OKR (short for Objectives and Key results) framework is a business tool that helps a leader create transparency, accountability, and proper directional movement for him and his team. This tool is used to break down business strategy into short-term, measurable goals. OKRs help your team track the progress of their goals throughout a quarter and help your organization learn from their successes and their mistakes.
OKR is a crucial goal-setting tool that measures growth and progress across all organization levels, from the management tier down to the newest hire. The methodology was introduced to companies like Google, which used OKRs to become one of the top tech companies in the world today. OKRs, when blended with the right leadership style, can help a team achieve ambitious goals in the least possible time.
This article will explain how OKRs can help a leader increase the general output of his team. It will also explain the benefits of OKR to the leader.
Structure of OKRs
From a leader's perspective, OKRs are structured around two main questions.
For the Objective: where do I want to lead this business?
The objective determines the company's direction in leading his team if the instructions and mandate align with the company's.
For the Key Result: What key metrics do I need to see from my team to achieve this goal?
The key result measures the outcome of strategies employed to meet the objective. Key results should be a mutually exclusive, collectively exhaustive list of outcomes that, once fulfilled, will signal that the objective has been achieved in full.
Determinants of a Successful OKR Framework
The following OKR characteristics can help a leader determine the health of their OKR program:
Transparent. All OKRs throughout the organization should be fully transparent, so that each and every team member can learn the top priorities of their peers, leaders, and team members.
Ambitious. There is no OKR framework without ambitious goals. If the OKR sets a high bar, the entire team will think strategically to achieve the ambitious outcome within the period.
Measurable. Unless you are able to measure progress, you will not know how close you are to achieving your goal. Using KPIs can help you write measurable goals, and an intuitive OKR tool such as Profit.co can help you track the progress of your goals. You can get started on Profit.co for free today.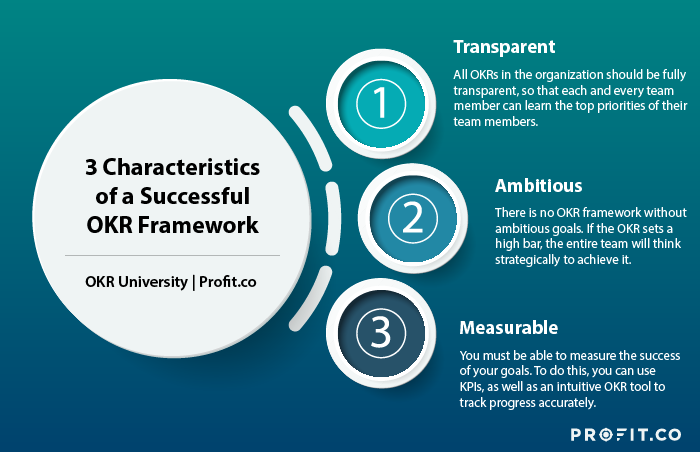 How the OKR Model Helps Leaders Manage their Teams Better?
1. Goals can be broken down and cascaded to others on the team.
One significant benefit of using the OKR framework is that it helps the leader break down ambitious goals into measurable key results. These key results are specific, trackable, and must be time-bound. They can cascade these key results as objectives to lower levels of the organization, so that responsibility for fulfilling the top-priority goal is delegated, and each member of the team is involved in completing the company's goals.
2. All employees on the team have a sense of purpose.
Whether the organization is made up of many people or just a handful, each person within the company has a sense of purpose and importance. This is because individuals can trace the OKRs they are responsible for all the way up the organization to see which top-level company goal they are fulfilling. This way, all team members know the "why?" of the organization— or what the top priority is— and know that they play an important role in helping the company realize their vision.
Examples of How OKRs in Different Formats
A leader can use the OKR model to set goals for the entire organization, which will be measured by key results. These key results can be assigned to departments and teams as objectives. This way, responsibility for top-priority goals is distributed throughout the organization, ensuring that all aspects of an OKR are completed in full by the deadline. The following are examples of great OKRs for a team and a leader.
Example of OKR for a Team

Objective
David Griffin
Improve our market share
Visibility: All Employees

Key Results
Q4-2021

Launch New Product
Collect 250 five-star reviews on various marketplaces (G2, Capterra)
Q4-2021


5-Star Reviews
Release 10 thought leadership videos on social media
Q4-2021


Videos
Example of OKR for a Leader

Objective
David Griffin
Achieve record-breaking Annual Recurring Revenue (ARR)
Visibility: All Employees

Key Results
Increase annual renewals from 75% to 90%
Annual-2021

Annual Renewals
Increase lead conversion to sales from 20% to 40%
Annual-2021


Lead Conversion Rate
Redesign customer acquisition process
Annual-2021


Redesign Process
Keep in mind that the SMART goal framework can be used to write key results. Ensure that objectives are qualitative and ambitious, and that key results are specific, measurable, attainable, realistic, and time-bound.
Leadership and OKRs Differ For People
There are seven recognized leadership styles in business. They are as follows:
Autocratic
Authoritative
Pacesetting
Democratic
Coaching
Affiliative
Laissez-Faire
OKRs can help augment the power of all these leadership styles. Here's how.
1. Autocratic
This leadership style is sometimes referred to as the "command and control" approach. While it has fallen out of favor with today's leaders and today's talent, people who use this style will find that it is easy to establish priorities, assign goals, and designate responsibility for certain targets while using an OKR tool.
2. Authoritative
This leadership style is about being a visionary, and encouraging others to follow you. Leaders who find their style closely resembling the authoritative approach will find that nothing enables them to share their vision with their team more effectively than a transparent OKR tool. This enables leaders to directly translate their top-tier vision for the company's goals to daily work for their employees.
3. Pacesetting
Pacesetter leaders have high expectations for their teams and are always pushing for high performance. The pacesetting style pairs well with the OKR framework, seeing as one of the key tenets of the methodology is being ambitious. With OKRs, it's common practice to set moonshot goals that are only achieved 75-80% of the way. Pacesetter leaders will be able to set high performance standards and monitor employee progress with the help of a transparent OKR software.
4. Democratic
The democratic leadership style wants input from everyone. They make decisions once they know everyone's take on an issue, and encourage continuous conversation. The democratic leader will be pleased to know that OKRs enable them to get direct input from employees via rolling-up OKRs, or bottom-up alignment.
With this method, teams can set their top-priority goals, and roll those up as key results to higher-level company objectives. This allows employees to have a direct voice in the priorities and goals of the company, and helps establish team buy-in.
5. Coaching
Leaders who take a coaching approach are defined by their ability to tease out the best performance from employees and give them tips on better performance. OKRs, when tracked on a transparent platform, enable leaders to view how each employee is performing on their OKRs. Employees complete check-ins to detail successes and roadblocks, and the leader can easily see those roadblocks and help resolve them with the employee with ease.
6. Affiliative
The next leadership style is affiliative leadership. This style is very people-focused, and this leader would be very in touch with their team's overall wellness and how it's affecting their work.
With OKRs, employees can complete check-ins that detail all of this, and leaders can in turn read these reports and reach out with the necessary support. Additionally, leaders can see the overall progress of OKRs– so if there is one OKR that is lagging behind, they'll be able to spot that outlier and reach out to see if the employee needs support in work or otherwise.
7. Laissez-Faire
Finally, the last leadership style is the laissez-faire leader. This style involves minimal oversight and a very hands-off approach to team performance. Luckily, OKRs can help this type of leader communicate their top priorities for the organization– their Objectives– and then allow departments and teams to come up with their own objectives beneath that priority umbrella.
Whenever this leader wants to put their finger on the pulse of the organization, they only have to open up their OKR software, check the progress of targets across the organization on a convenient department heatmap or company dashboard, and step in if necessary.
All of the features and functions mentioned above are possible on Profit.co intuitive and agile OKR software. To learn how Profit.co can help augment your leadership style and OKR program, book a free demo with our OKR experts today!
.btm-rgt-act { position: absolute;right: 0; bottom: 0;}.btm-rgt-act img, .top-lft-act img {display: none;}.mb-4{margin-bottom: 40px;}