A successful organization is always the one that performs at the highest level. It is an organization where employees remain dedicated to consistently making their greatest efforts to produce the best results. Performance Management is indispensable for producing such consistent performance that leads to sustained growth and long-term success.
Curious that we spend more time congratulating people who have succeeded than encouraging people who have not
Numerous performance management tools, such as performance reviews, assess, rank and hone every individual's performance based on various parameters. But the problem with conventional performance management principles is, they can be intrusive and consume a lot of time and resources.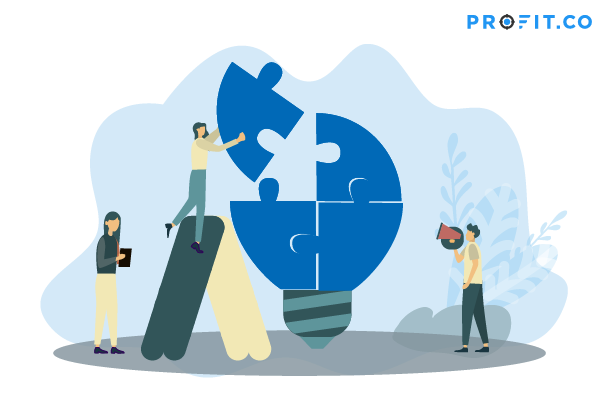 For instance, annual reviews focus on so many factors that impact on the performance of an individual. They need to be customized for different departments and teams. HR teams can spend months planning and conducting reviews, collecting data and analyzing it, assessing every individual's performance and giving feedback. Also, such reviews can cause discomfort, as the evaluations are more akin to scrutiny by superiors; a lower rating can demotivate employees.
Performance Management for agile organizations
Organizations need to be agile these days, and the lengthy process of micro-managing individual performance prevents organizations from achieving their objectives quickly and efficiently. So, agile organizations need a different approach.
Instead of reviewing individuals and forcing an agenda on them, modern performance management involves achieving performance by enabling employees to take ownership of tasks. For this, there is a clear need to establish a connection between an individual's work and organization's outcomes. Only then, the employees will be able to see the relevance of their work and gain the motivation to take up ownership.
Objectives and Key Results (OKR) can be that one tool you can adapt in your organization for performance management to foster a sense of ownership and self-motivation among employees. Want to get started with OKRs and performance management on an agile and intuitive software today? Start your Profit.co free trial today!
OKR goal setting and performance management
Objectives and Key Results is an outcome-driven goal setting framework that allows employees to achieve performance through constant goal-setting and achievement of measurable outcomes, which pushes the organization towards its goals.
OKR promotes collaboration, employee participation and engagement. It enables you to improve the organization's performance by creating ownership of tasks at individual level, and not through managerial compulsions and scrutiny.
OKR promotes performance in the following ways:
1. OKR taps the innate curiosity of employees
OKR, by its very nature, challenges the employees to take up targets that are greater than what they have achieved in the past. As the targets get bigger every time, they throw new challenges in the employees' path. These challenges push them to find workarounds and innovate constantly to overcome them.
Exploring new limits and experimenting with different solutions bring out employees' innate curiosity. This provides employees with interesting experiences at work, leading to job satisfaction and workplace happiness. It feeds their passion to perform at a higher level and achieve things that they could not have achieved in any other scenario.
2. OKR creates opportunities to learn and perform better
OKR encourages employees to constantly deliver better outcomes. As a result, employees often seek ways to improve themselves. They voluntarily enroll themselves in relevant skill development programs, and build new skills to achieve their lofty goals. This not only paves way for professional development, but also adds new capabilities to the organization, thus promoting higher levels of performance and achievement.
3. OKR creates transparency, accountability and competitive spirit
The biggest highlight of Objectives and Key Results is the power it offers employees to choose their own targets in line with team goals and organizational objectives. Where there is freedom, there is also responsibility. When employees are free to choose their goals, they are also responsible for the outcomes they produce.
It is technically possible for an employee to set easy targets, which could lead to poor performance. However, OKR is a transparent tool that allows employees to see what others are achieving. It lets them see the benchmarks that others are setting. So, they are placed in a position where they will be left behind if they are not setting their goals and outcomes close enough to the benchmarks. This transparent nature of OKR makes employees pursue performance through self-motivation without any external persuasion.
4. OKR goal setting drives performance through company-wide alignment
Objectives and Key Results have the inherent strength of creating clarity for goals at all levels. There are four levels of OKRs:
Company OKR Level
Department OKR Level
Team OKR Level
Individual OKR Level
Company-level, or organizational goals, are discussed and set by the management with employee participation. These goals are usually set based on the organization's strategy and values. These goals offer employees clarity right from the beginning.
These goals are usually cascaded down to the departmental level. This way, there is much better clarity over what is expected out of the team members. Teams or sub-departments can create their own goals to roll up for department OKRs as a key result. Individuals create OKRs as needed– these are usually assigned by managers, or cascaded down from teams.
OKRs have an effective alignment process that allows everyone at every level of the organization to understand their top goals, and even create their own top goals. This autonomy offers employees the clarity on their role and what they need to deliver, creating ownership of the tasks and performance.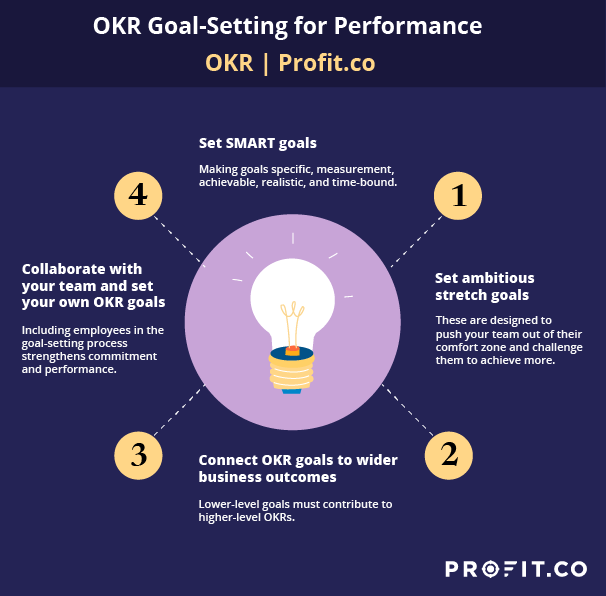 OKR goal setting for performance
Following are the things to keep in mind while setting OKR goals, in order to achieve the best performance possible.
1. Set ambitious stretch goals
Stretch goals are the goals that are incredibly difficult to achieve. Nevertheless, when the employee sets out to achieve something out of their reach, they improvise and try to find a way to achieve it. In that process, they learn new things and find some solutions that never existed. So, even if they do not end up achieving the OKR goals to the fullest extent, it can still help the employee overachieve and reach unprecedented performance.
2. Connect OKR Goals to wider business outcomes
An employee's work in the organization and their achievements make sense only when their work is in tune with the expectations. Good performance is meaningless when it does not lead to the right outcomes. So, the employees should set individual OKR goals rolled up towards wider business outcomes. This leads to understanding of purpose, achievement of performance and productivity, and ultimately, the fulfilment of organizational goals.
3. Collaborate with your team and set your own OKR goals
The beauty of OKR goal setting lies in the participation of the employees and their ability to set their own individual goals based on the expected outcomes for the organization. However, OKR does not focus on individual achievements, nor does it determine rewards for individuals based on their performance. It puts an emphasis on team outcomes. When an individual selects their OKR goals, it needs to fit in with the rest of the team's milestones without overlap.
So, in order to achieve a high performance culture using OKRs, it is vital for employees to work with their respective teams and brainstorm the priorities and potential goals for the team as well as themselves, before setting individual OKR goals.
4. Set SMART goals
In order to achieve desired performance, the OKR goals should have certain key elements— specific targets, measurable outcomes, practicality, goals that impact organizational outcomes and a reasonable deadline. In short, they should be SMART (specific, measurable, achievable, realistic, and time-bound). This scientific approach to relentless goal setting and working towards outcomes lays the foundation for consistent, outcome-oriented performance.
Want to learn how Profit.co can help your organization get the most out of OKRs and performance management? Book a free demo with our OKR experts today!