OKRs and Check-in
Setting Objectives and Key Results alone can make you feel petrified. So, when do you actually feel motivated about your OKRs? The key driving force of feeling motivated with OKRs lies in regular check-ins. You should consistently check-in on Key Results and to perform this, you need a persuasive OKR software like Profit.co. This blog is a guide to OKR check-ins on Key Results.
Profit.co's OKR check-in tool provides you the opportunity for adding detailed updates on your Key Result progress. Check-ins allow you to input a metric-related value to measure your Key Result progress and also gives you the chance to indicate your Key Results' status (or, how confident you are that you'll be able to complete it). Additionally, you can add comments to provide context for those tracking your KRs.
Check-ins can be done, starting with your "All my OKRs" page, where you'll find your Objectives listed with their accompanying Key Results below. Beside each Key Result is a slider tool, which can be manually dragged to indicate a progress update. The color of the tool's icon is representative of the status (On track, Not started, At-risk, In trouble, and Completed).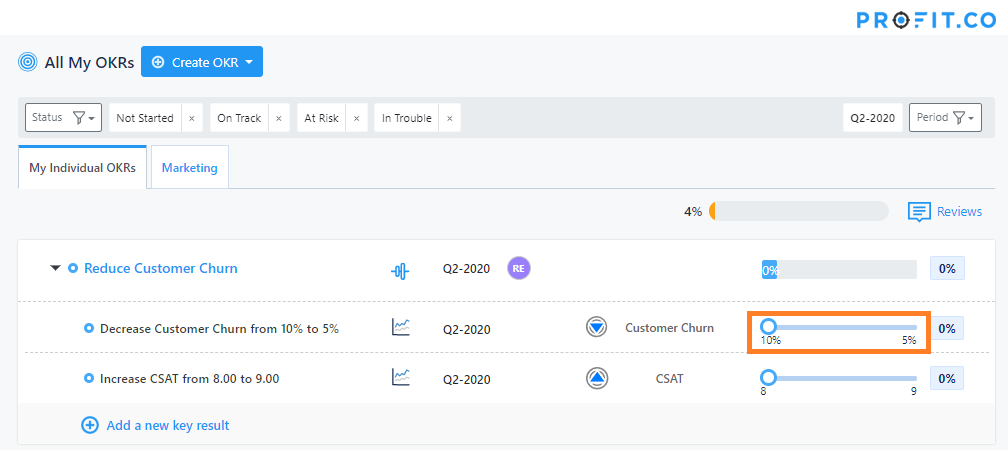 Checking-in on Key Results
At Profit.co, we recommend weekly check-ins to routinely track your Key Results. This way, you can consistently update members of your organization on your progress and avoid any potential last-minute surprises at the end of the quarter.
To complete a check-in, first make sure you're on the "All my OKRs" page found in the OKR module on the left side of your screen. (OKRs → All my OKRs)
From there, find the Key Result you'd like to complete a check-in for, and drag the slider to the updated value.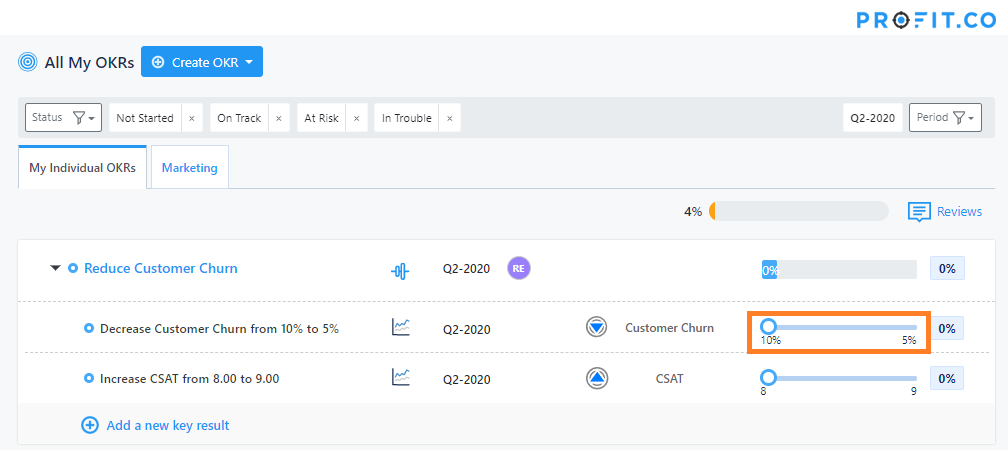 A check-in window will open where you can update the following:
Value – the current progress value of the Key Result.
Status – indicates your confidence level of achieving that Key Result.
Comments – your comments on the progress that's been made.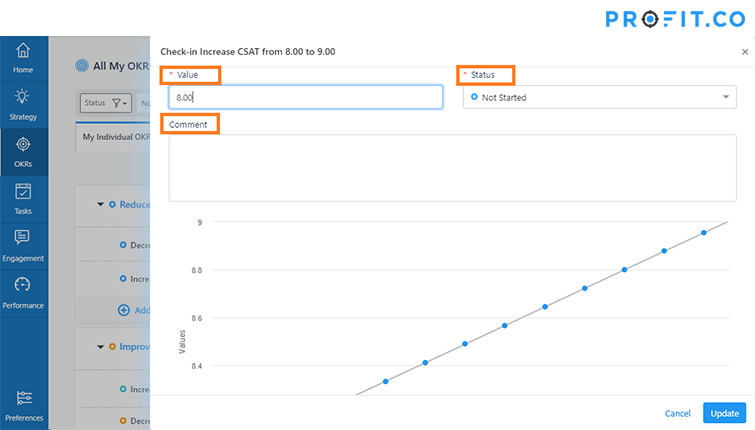 The value represents the metric-based value or percentage of your Key Result that has been completed so far.
The status is indicative of your confidence in your own ability to complete the Key Result, independent of the value. For example, even if your Key Result is 80% complete early on, you might choose to label the Key Result as "At Risk" because you're unsure of the next steps. In contrast, another Key Result may only be 10% complete and you may choose to designate it as "On Track" because you know exactly what needs to be done next.
The comments section allows you to provide an explanation for both the value and the status and provide any additional details or information that would be important for others to know.
Tracking Progress of Key Results progress over time
Profit.co has two features that allow you to view the planned progress for your Key Results, as well as your Key Result history.
1. Planned vs actual progress: The first is a projection graph with your planned progress plotted on a steadily increasing trajectory, with corresponding dates and values in gray. Your actual progress is represented in blue, with the dates and values from your check-ins.
2. Check-in history with filters to see on time, missed, late and future check-ins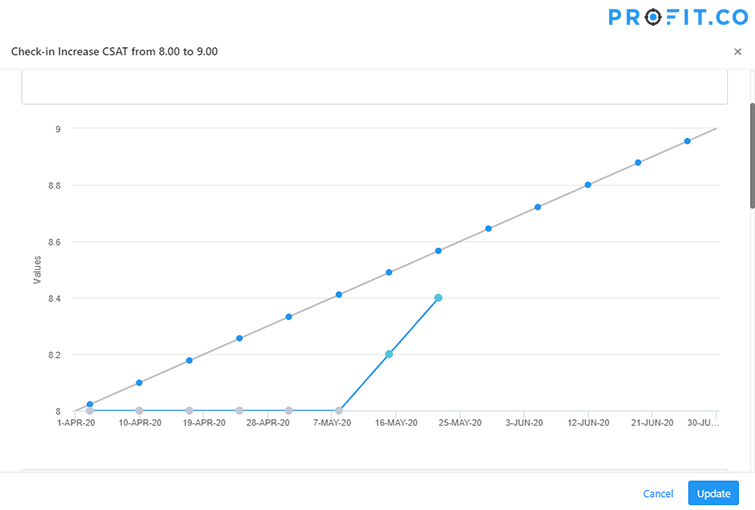 Below the graph, is your check-in history. The history is an overview of the dates that you've checked-in, the check-in value, and the status. You can also filter this view if you'd like to see check-ins that were completed on time, late, missed, or ones that are upcoming.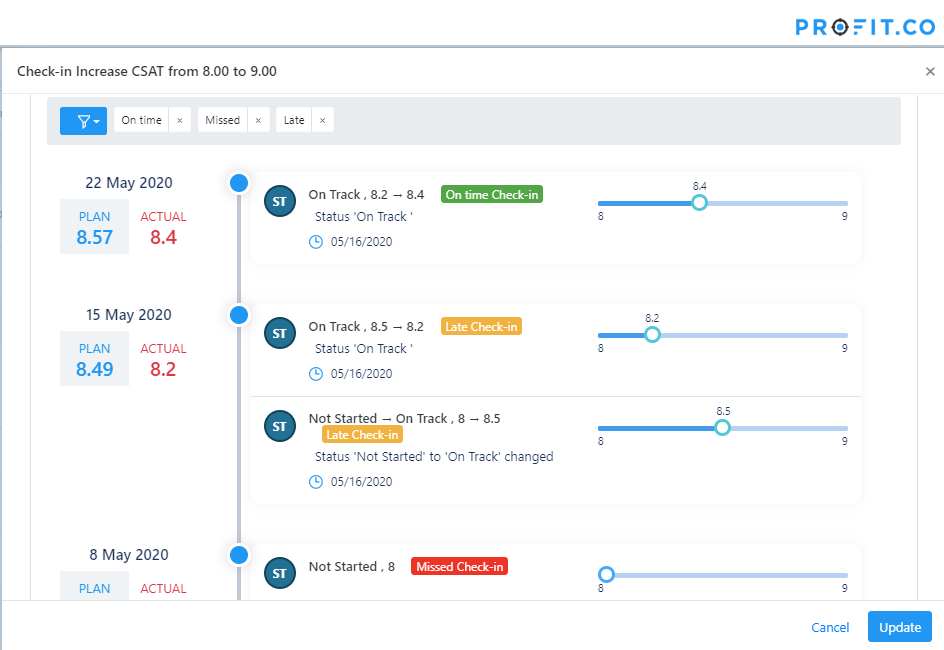 Note: You can also check-in and view history from the KR overview page, under the 'Check-in' tab.