The leading project management metrics include productivity, cost, gross margin, quality, satisfaction, and scope of work.
Key project management metrics provide insight into how your projects are progressing, how much money you're spending, and your team's performance. These metrics will also help you to improve your future projects.
If you can't measure it, you can't manage it.
What Are Project Management Metrics?
Project metrics are the crucial measures that help you evaluate project performance. As a successful project manager, you should always track your team's progress and guide their efforts toward achieving your high-priority goals, projects, and initiatives.
Benefits of Using Project Management Metrics
So many benefits come with tracking the right project management metrics. Here are some of the ways that use project management metrics to track your progress benefits you:
1. It Helps In Keeping an Eye on Progress
Project performance metrics ensure that you fast-track project progress from the initial stages to completion. When you use the right metrics, you will always get up-to-date information on your performance and maintain focus on the goals you want to achieve.
2. Gauging Performance
Project performance metrics help you to compare actual and planned performance, and gauge how well your team performed based on expectations. It analyzes the performance against the KPIs, ensuring that the project is on the right track. Famous entrepreneurs like Mark Zuckerberg use metrics to evaluate project manager suitability.
3. Advocating for Changes
Your project performance may be on the right track, but you may need to make some adjustments in the course of the project. However, you have to make sure that you implement changes at the right time. Program metrics make it easy to tell if the project is running on-schedule and whether it can handle changes.
4. Scrutinizing the Productivity
Project performance metrics analyze the productivity of your individual teams. If your teams are meeting targets as expected, you can congratulate and encourage them. Meanwhile, if they underperform, you have a chance to identify the problem and brainstorm solutions before the project falls behind.
5. Assist In Managing the Cost
Cost control is vital as completing a project within the budget is an essential indicator of success. With the right metrics, you can continuously monitor cost and ensure you don't exceed your limit without stalling the flow of operations.
6. Identifying the Constraints
Project performance metrics help highlight project constraints and limits that can hinder your team from achieving your goals.
Samples of a Project Management Metrics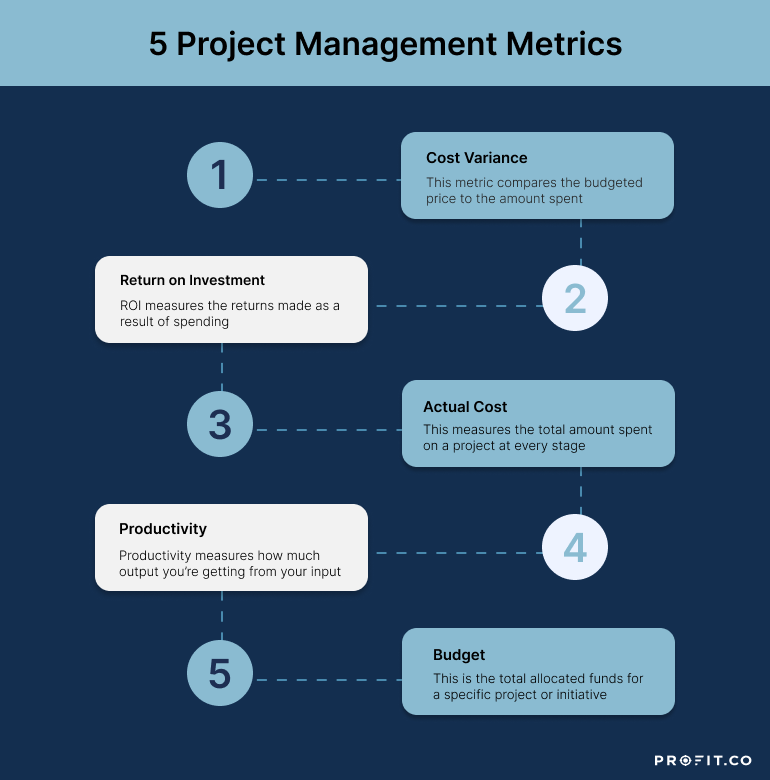 There is a diverse variety of project management metrics. You don't have to utilize all metrics at the same time. Instead, you can choose a handful of metrics that track the most important outcomes and information for your specific projects. Metrics can help you determine the success and progress of your project, so ensure that you choose metrics that are relevant and informative.
Below are examples of frequent project management metrics that many enterprises use, including:
1. Cost Variance
Cost variance is a metric that compares the budgeted price of a project to the actual amount spent. Always ensure that your cost variance is favorable. If the cost variance is negative, you have exceeded your project's budget. With cost variance, you can monitor the cost of your project and keep a close eye on the number of funds that you wish to spend.
2. Return on Investment (ROI)
ROI measures the benefits or returns you gain from a specific project corresponding to the entire cost or investment in the project. It measures the profitability of your project. When ROI is positive, the project has been profitable to your enterprise. However, if it is negative, the project is not a good investment because it results in a loss in your business.
3. Actual Cost
The actual cost is a critical project metric. This is the entire cost of your project. To determine the exact price, add up the total expenditures you spend on your project. After that, compare the figure with the gains to determine the profit you make for the entire project.
4. Productivity
In project management, productivity measures the success metrics for a project. It compares the outputs and inputs in your project. As a result, you can determine the number of resources spent on a project compared to your project's results. It shows how efficiently you utilize your resources and can help assess your project performance.
5. Budget
When planning a project, you must develop a detailed budget. A budget shows the number of funds you want to utilize in the project. A budget allocates funds for every component of a project, including working time, materials, software, tools, and other things needed for the project to be successful. Exceeding the budget is a sign of poor planning or inefficient processes, so this is an important metric to watch.
What are the Right Metrics for your Project?
The metrics that you utilize to evaluate project manager performance should be:
1. Straightforward and Fitting
Project metrics should be easy to measure, comprehend, and fit the organization's set goals.
2. Must be Valid and Measurable
Always ensure that the metric you use is precise and easy for your team to measure. Vague metrics won't do your team any good when they try to evaluate their progress and performance.
3. Must be Derived from Actual Data
If data can't explain a metric, it is a poor metric. Before selecting a metric, ensure that the data can back the results.
Rooting your evaluation of project performance in quantitative metrics is a great way to consistently track progress without opinion or subjectivity getting in the way. Profit.co's OKR Management tool enables users to transparently track their most important metrics and create quantitative measurements for high-level, qualitative goals. You can get started on Profit.co for free when you sign up today!
How to Choose Project Management Metrics
Every project manager has different intentions and definitions of success for a project. Therefore, it is vital to develop project metrics for your enterprise-specific requirements. Start by defining what success looks like for your specific organization, department, or even project. Then, determine what metrics will help you measure that success.
Ensure that the project management KPIs and program metrics are helpful and straightforward.
Consider long term plans, how you compare to competitors, and the availability and credibility of data when you're choosing your metrics. Additionally, you should communicate the importance of gathering project management metrics with your team so that all members of your organization look to these data points to track their progress.
Final Thoughts
Project management metrics play a crucial role in every organization's success. They trace the performance of initiatives, help managers define what success looks like, and ensure that the team is moving in the right direction.
If you don't utilize any metric in your project management, it becomes challenging to see how the project is progressing. With clear, trackable metrics, you can take a pulse check of project progress and determine when it's time to adjust course, or where your team is having trouble. If you don't make the necessary adjustments, the business can encounter severe challenges resulting in its failure. Therefore, tracking key project management metrics is absolutely critical to the success of your business.
Profit.co's OKR management platform comes preloaded with over 400 KPIs and metrics that can help you measure your progress and meet your business's short and long-term goals. To learn more about how Profit.co can help your team, schedule a free demo with our OKR experts today!
Related Articles