The success of an organization depends on how well it executes its projects. However, executing projects is neither easy nor straightforward. Implementing a project involves planning, defining goals, coordinating various teams, reviewing their performance periodically, resolving issues that may arise in the course of the project, ensuring that the teams are on track, achieving targets, and making sure that the project achieves its objectives on time.
All of these responsibilities are easier said than done and require a decisive and strong leader to pull everything together and execute these to perfection. This is where a project manager comes in.
Time is the scarcest resource and unless it is managed nothing else can be managed.
What is a project manager?
A project manager is the leader of the project. He or she is the professional who is in charge of planning and executing the project within the specified budget and timelines. They are at the top of the hierarchy in a project implementation team, and are responsible for the day to day management of all the activities in the project, usually using a project management tool.
So, the role of a project manager is of great strategic importance and plays a crucial role in the success of a project. Considering the success of an organization is dependent upon the successful implementation of all the projects, it is absolutely vital that your company have effective and efficient project managers who perform consistently and achieve excellent results on time, every single time.
Don't forget to check out Profit.co's leading software which combines OKR, performance, strategy, and task management to help you achieve more, more efficiently. Get started for free today!
Project manager job description
The project manager job description consists of a wide spectrum of responsibilities, since the project manager is ultimately responsible for the whole project. The roles and responsibilities specified in the job description usually include:
Planning the project with inputs from all important stakeholders
Defining the scope and the objectives of the project
Budgeting and resource allocation
Defining goals for various teams and aligning them to the corporate goals
Developing mechanisms to track the progress and managing the project throughout its life cycle
Overseeing the project from initiation, planning, execution and all the way to closure
Guiding the employees in the right direction and keeping them motivated

Prioritizing tasks and setting targets for various teams
Reviewing performance of teams
Forging business relationships
Managing resources and re-allocating resources wherever necessary
Recruiting suitable personnel
Looking after the procurement duties
Sticking to the timelines and the budget
Periodically reviewing the project status
Problem-solving when challenges arise during the implementation of the project
Documenting the progress of the project
Communicating with all the stakeholders and providing detailed mission-critical information to their teams
Performance management using relevant tools and software
Organizing trainings and skill development
Proactively assessing and addressing risks
Getting customer feedback and using that for improvement
Leading by example
Ensuring quality
Ensuring the project meets all its objectives on time
What are the preferred educational qualifications of a project manager?
As with every career, learning is a never-ending process. A good project manager should constantly learn. But to begin with, they are usually expected to have a degree in business management, though there can be exceptions. It is possible to gain experience through the years from various management positions and develop the skills necessary to become a project manager. However, suitable educational qualifications can make it easy and straightforward to kickstart your career in a managerial role and become a project manager at a relatively earlier stage of your career.
That being said, not everyone with a management degree can lead a project. The nature of the projects may vary depending on the organization's strategic goals, industry, OKRs, as well as the type of project being managed. For instance, a project undertaken by a marketing agency would be completely different from a project implemented by a software company. So, depending on the organization and the nature of the project, the candidate may be expected to have certifications and experience in relevant fields in addition to the management degree.
Regardless of educational qualification, an entry-level employee may need to learn and develop themselves for a few years in their chosen industry in smaller roles in order to gain the necessary skills to become a project manager.
Project management skills and essential qualities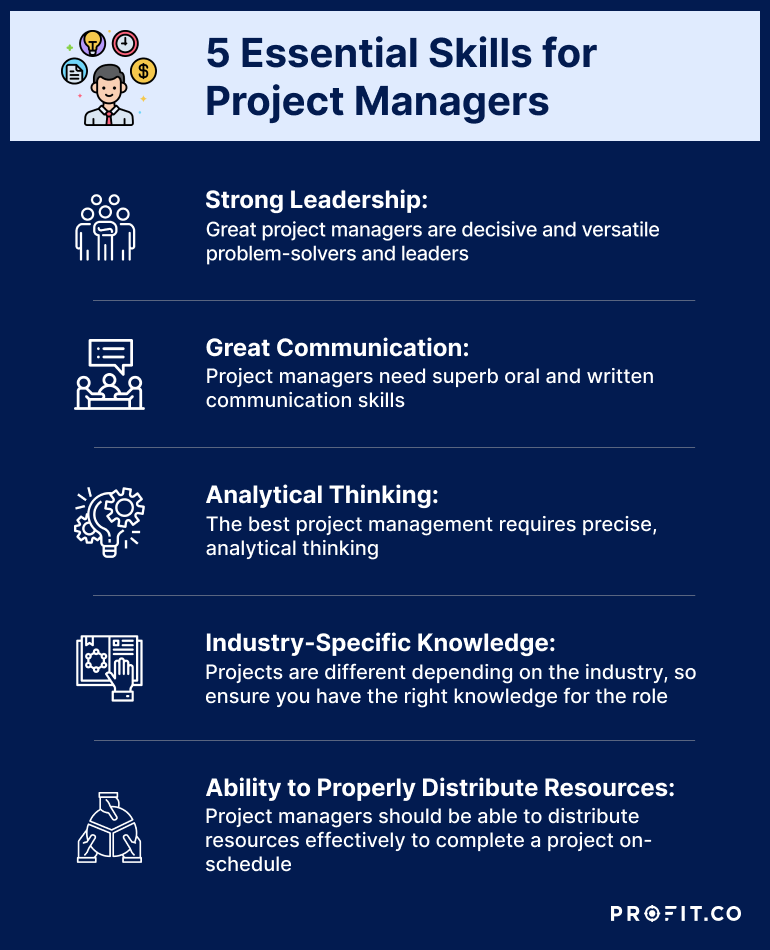 The project managers should be highly capable and possess a great deal of skill and tact with regard to dealing with different aspects of the project. So, in addition to the educational qualifications and experience, a project manager should also have a few special project management skills and qualities that need to be carefully honed right from the beginning of the career. A good project manager:
1. Has strong leadership qualities
A project manager is the leader and the decision-maker for a project. So, he/she should be able to lead the project in a clear and decisive manner. Managing a project may involve numerous challenges every day. The project manager should be able to withstand a great amount of stress and be able to think clearly in any condition in order to overcome the challenges and lead their team in the right direction. While a project manager does not need to adhere to a certain leadership style, they should be a person that other team members trust and look up to and be able to lead by example. If a project manager expects strong organizational skills, multitasking abilities and flawless work ethic from their team, they should also exhibit these qualities. The project manager should be self-motivated and stand as an example for self management, accountability and time management.
2. Is a good communicator
Managing a project involves communicating with various stakeholders, suppliers, partners and various teams at any given time. So, the project manager should have good oral and written communication skills so they can communicate with everyone clearly without any ambiguity. Negotiation skills are indispensable for a project manager as he or she needs to constantly negotiate with various stakeholders in order to get things done in the most efficient manner.
3. Possesses an alert and analytical mind
Throughout various phases of the project, right from the initiation and planning, there could be unexpected challenges that may require making a lot of changes. So, there is always a possibility for scope creep in a project.
A good project manager always analyzes everything in advance, foresees impending challenges before a project could run into them, and predicts the potential for changing conditions halfway through the project. The project manager needs to take all these into account and make room for them while planning the project, so that during the implementation, it will be easy to make changes, adapt to changing conditions and weather serious challenges to complete the project successfully.
A good project manager is capable of doing a comprehensive risk analysis and using his/her excellent problem solving skills to make a fail-safe contingency plan to avoid catastrophic failures.
In order to achieve all this, a project manager should have an analytical mind and problem-solving abilities to find creative solutions for complex problems. He/she should always stay alert to sense any new developments that can impact the project during implementation.
4. Should be knowledgeable
The project manager should primarily be knowledgeable about the business aspect of a project to produce the best outcomes and results. He/she should also know a little bit of everything, since a project usually encompasses managing teams with different skill sets and tasks that produce vastly different outcomes. However, it is not essential to know all the technical skills required for the project. In order for a project manager to properly get through the project planning phase and the process of managing the project, it is enough that he/she knows how to allocate specific tasks to the right people with the right skill sets and technical skills, and provide the information required to get the best out of everyone.
The project manager should also be able to adapt the most suitable project management method and framework depending on various factors such as the sector and the nature of the project. Following are some of the popular project management methods.
Scrum: Scrum is suitable for projects involving a product owner directing the course of a product development with small cross functional teams working towards it. It is a preferred method for software development.
Kanban: Kanban is a method suitable for projects involving a large number of teams working together to create collective outcomes. It simplifies the workflow with a visual representation of tasks.
Agile: The agile project management approach is useful in situations where change management is of great importance due to the necessity to adapt to rapidly changing conditions. It is characterized by short delivery cycles and strong collaboration amongst teams.
Waterfall: The waterfall approach is suitable for the manufacturing sector. It is suitable for applications that require clear planning and not many changes during the implementation. It is characterized by the execution of small tasks in a sequential manner.
Similarly there are other project management methods such as Six Sigma, Critical Path, PRiSM, etc. A project manager needs to have expertise in these approaches, as he/she may have to adopt a different approach for different projects in his/her career path.
Project management these days requires special software tools to streamline the process. A project manager should be proficient in popular project management tools and adaptable to the new technologies.
There are various project management software and tools that make creating work schedules, managing tasks, building collaborations and monitoring the progress of the project, capturing feedback from teams, conducting reviews and reporting easy and streamlined. These tools are constantly updated with new features and require continuous learning. A project manager should be capable of learning continuously and updating his/her knowledge in project management software.
5. Be capable of allocating and managing resources and budget effectively
Even if it achieves its objectives, a project cannot be deemed successful if it exceeds the budget and the deadline, consuming more resources than expected. So it is extremely important for a project manager to take everything into account when creating a budget and allocate resources judiciously in order to complete the project successfully within available budget and resources.
When there is change in the scope of the project during the implementation of the project due to change in client demands or market conditions, he/she should be able to quickly re-allocate the resources to the right focus areas efficiently in order to limit the damage and overcome setbacks.
Resources also include a very crucial aspect of the project: the human resources. Without giving the right people the right job, it is impossible to implement the project according to the plan effectively. So, the project manager should be capable of hiring professionals with the right skill sets and relevant experience to fulfill their roles and responsibilities without any difficulty. People management is a key aspect of achieving project success.
The project manager should also monitor the spending of the budget on an ongoing basis to ensure that expenses are under control and the budget is being spent on the right things according to the plan.
How to become a project manager
As mentioned before, there is no single way to become a project manager. An ideal project manager resumé lists good educational qualifications (preferably a management degree), experience in managing similar projects, and additional certifications relevant to project management.
Alternatively, anyone with demonstrated potential for leadership and the above-mentioned required skill sets and qualities can, in due course, gain experience and develop themselves into a suitable candidate for the project management job.
When you look for your first project management job, you need to carefully assess the nature of the project and the organization and ensure that they won't pose challenges that you can't overcome. There must also be scope for learning from team members and higher-level managers. In addition, the projects the company takes on should provide you with growth opportunities that expand your skill set and expertise as a project manager.
Once you take up your first project management job, you can look up to inspiring people whom you can emulate to become successful in your career. It is essential to master project management methods, processes, and best practices as you progress through your first job as a project manager.
You can learn from mistakes and develop yourself. You can also connect with other project managers and learn about their experiences, challenges, and how they tackled them. You can take a page or two out of their books if you find a strategy or skill that you would like to use in your own project management role.
When you move up in your career, it is essential to keep in mind that your previous experience plays a great role in deciding the future of your career. So, it is crucial to develop yourself in the areas of your specialization. For instance, if you are managing a project related to product development and manufacturing, you can get yourself certified in project management methods, frameworks, tools and software related to it, so that when you go up to the next level you can build on this knowledge.
But if you are moving to a project management role in an entirely different sector to manage projects of a different nature, you may have to start from scratch in terms of learning the appropriate software and tools for that industry. If you take up your next project in your previous area of specialization, the project management tools and methods would have already evolved, and you may not have updated yourself in the meantime. Lack of such continuity can hinder your career development and growth, so ensure that you stay on top of the latest developments in project management.
To learn how Profit.co's OKR and task management software can help you meet your project management goals, book a free demo with our experts today!