Did you know that 41% of to-do list tasks never get done?
Yes, that's right. Despite their simplicity, many people make to-do lists or online to-do lists, but never get to the tasks they put on them.
Until we can manage time, we can manage nothing else.
Now, this can be for a variety of reasons. For one, many people put way too many things to do on their to do lists. This causes conflicting goals and lower productivity because they constantly think about all the things on the to-do list. Another reason, surprisingly, is that most people just don't know how to make a good to-do list. They fill the list with tasks and then worry about the tasks being done instead of getting to it, finishing the tasks, and meeting the goals they set for themselves.
So, it's vital that, if you make a to-do list, you keep to it. After all, if more people could succeed with their to-do lists, they'll feel better about themselves and reduce stress, they'll save time, and it will help them become more reliable. Most of all, though, is that it will help them to achieve big goals.
So, now the question is how do you make a to-do list that actually works? Well, luckily, we've prepared this short guide to give you some tips on how to make an effective to-do list for anything that needs to be done.
Making the perfect to do list
Here, we'll go through the steps to make a to-do list that actually works. By following these simple steps, you'll have to-do lists that let you achieve your goals in no time.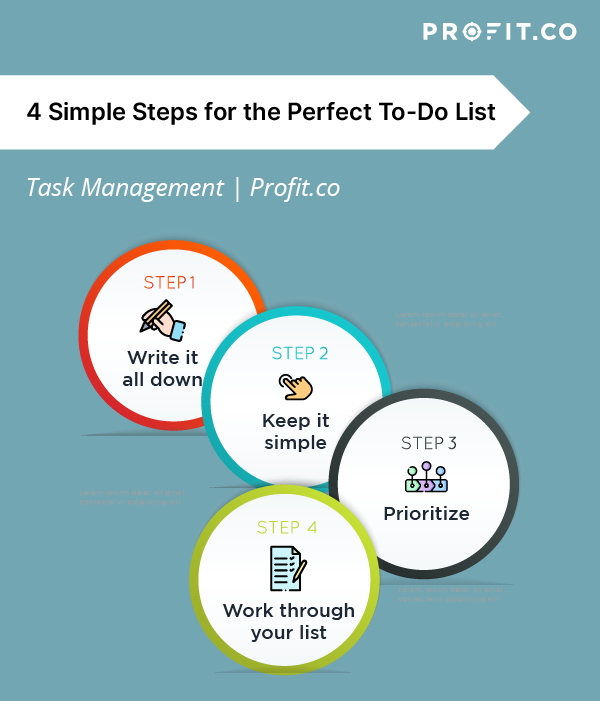 Step 1: Write it all down
This may sound really simple, but if you want a to-do list that works, you'll have to write all your planned tasks down.
If a task is complicated or complex, you can even divide that task into various subtasks for you to complete. You should keep in mind, though, that the tasks you set out on your to do list should take no longer than one or two hours to complete.
So, if a task will take longer than that, let's say a day, you can break that task into smaller tasks that fall within the 1-to-2-hour time range. You can even consider making multiple to-do lists for various things you want to do. This means you can have one list that sets out all the tasks you want to complete, and then various other to-do lists that elaborate on these tasks and divide them into subtasks.
Step 2: Keep it simple
You should also remember to keep it simple. As mentioned above, one of the reasons that to-do lists fail is because people make them too complicated with too many items. So, keep it short, keep it simple and you'll improve your chances of reaching your goals and managing your time better.
Step 3: Prioritize
It's vital that you prioritize your tasks according to their importance. So, in effect rewrite the list and sort the items on the list from the most important to the least important. It is, however, advisable to put a few simple items on the list that you can complete first before moving on to the bigger tasks.
Despite keeping it simple, you should try to include as much information as possible relating to every task on your list. This means you'll easily be able to see what you need to do to complete the task.
Step 4: Work through your list
So, now you have your list prepared and sorted in order of importance and ready for you to begin. From here, you'll work through the items on your list in order.
In this way, you obviously deal with the most important tasks first and then move on to the less important tasks. The important thing to keep in mind here is that you focus on the task at hand without worrying about the tasks that come later on in the list. Remember, you've dealt with all this when you prioritize your tasks when making the list. This will go a long way in reducing your stress and will make you more productive.
Consider software
One of the benefits of living in the technological age is that our to-do lists are no longer confined to notebooks and pens or pencils. There is now a variety of to-do list apps available that can make the process of making a to-do list and managing the items on it much easier than using the manual way. Considering this, let's look at some of the options available that you can consider using when you want to prepare your next to do list.
Todoist
Todoist lets you keep track of everything in one place, whether you have one list, two lists, or even more. It can help you get everything done and has features like the ability to create, organize, and prioritize tasks, label tasks, add due dates, and color-code tasks. You're even able to get notifications of your tasks.
Google tasks
Google Tasks is the latest product by Google and, quite obviously, it integrates with all their other services like Gmail, Google Calendar, and others. It features the ability to create and organize to-do lists, organize tasks into lists, drag-and-drop functionality to organize tasks, and the ability to drag Gmail emails into Google tasks to schedule them.
TickTick
TickTick is a to-do list, checklist, and task manager that lets you make schedules, manage time, and reminds you about deadlines to make your to-do lists so much more effective. With it, you're able to set reminders for all your schedules, share lists, and receive location-based alerts when on the go.
Any.do
Any.do a simple and flexible to-do list app that lets you stay more organized and get more done. You're able to set reminders to make sure important things don't slip your mind, and you're able to create and organize tasks, lists, and reminders in one app that syncs seamlessly across all of your devices.
Microsoft To-Do
If you're looking for a free to-do list app that has all the basic functionality you need, you don't have to look any further than Microsoft's To-Do app. It's totally free and allows you to set subtasks for every parent task, each with its own due dates and notes. Its innovative "My Day" feature automatically organizes your to-dos for a specific day into one place and allows you to manually add tasks to the list.
Profit.co
While the above to-do list apps are great for general organization and keeping track of all the responsibilities you must complete, you can also upgrade to a task management software, which allows you to keep track of your tasks and projects in a more sophisticated way.
Profit.co task management gives individuals and teams the power to create and organize tasks, specify due dates, priority, and attach documents, and even to create project or department-specific task boards to help you collaborate with team members. Additionally, you can associate your daily tasks with your important quarterly OKRs so you always know how your work is affecting overall company priorities.
Profit.co's task management software gives you the capabilities of a sophisticated software, but maintains easy usability. All edits and additions to tasks are updated in real time, so your colleagues always have an up-to-the-minute account of what progress you have made, and where certain items stand. You can also leave comments and responses directly in your tasks, so that unnecessary communication via email or meetings can be quickly condensed, and nothing falls through the cracks!
For more information about Profit.co's task management software that helps your teams focus, collaborate, and achieve more, check out our product and schedule a demo today!
Final thoughts
Hopefully, this short post was helpful in showing you how to make a to-do list that actually works and helps you get things done. By following the tips in this post, and by using any one of the to-do list apps, you'll be well on your way to complete all of the tasks you set for yourself!