Passion is arguably the most important intangible element that drives an entrepreneur to remain focused on product development during peaks and troughs. If you aren't passionate about the product you want to introduce in the market, the product is bound to fail even before it is introduced. And if you lose passion at any moment throughout the development process, the product risks failure as well.
Stop chasing the money and start chasing the passion.
So instead of concentrating on the profit side of a product, one needs to devotedly work with passion while creating a product, at the same time the product. The entrepreneurs of once called startup business companies had small business ideas and worked passionately on product development which initiated the evolution of some of the great products we have today.
So whenever you see a pitfall in your business, start working with passion and confidence and you can definitely ace your next product. The main criteria behind producing an awesome product is to have a smart mind and a passionate attitude. Try culling out success stories from various parts of the world and look at it from the perspective of product creation with passion. By doing this you can definitely achieve developing amazing products which would help you to own the market. While talking about success stories let's take a look at Apple, a brand forged with creativity and passion.
CASE STUDY: APPLE INC
We all know how great Apple products are, from the iPhone, iPad, and Macbook computers – they are the trendiest and most expensive electronic devices on the market today.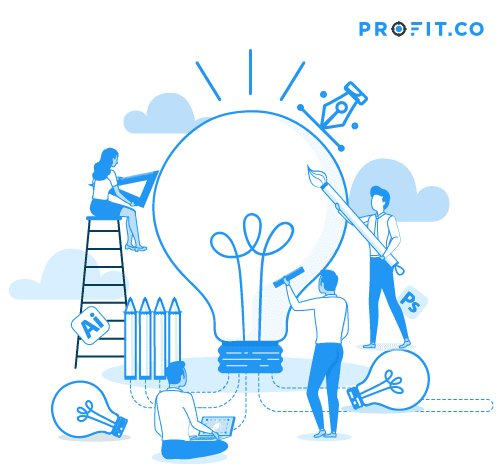 Steve Jobs and Steve Wozniak were avid tech lovers who spent most of their time trying new things. For example, they used their tech skills to build blue boxes that were used to make long distance phone calls for free. Wozniak built his first computer with a typewriter-like Keyboard and used a regular TV set as a screen. This device was later called the Apple 1. Steve Jobs was in the same Homebrew Computer Club as Steve Wozniak. He saw the Apple 1 and recognized its brilliance and potential. This prompted him to sell his VW microbus in order to fund the production of his friend's device. Wozniak sold his one-of-a-kind HP calculator, and together, they founded Apple Computer Inc. on April 1, 1976.
Steve Wozniak fervently built each Apple 1 by hand. He wanted to sell the computers at a slightly higher price to cover production and material costs. However, Jobs had another idea. He secured a deal with the Byte Shop in Mountain View for the supply of 50 computers which would cost $500 each. The store was retailing the computers at $666.66.
True passion attracts. If you have passion in your business, the right people will be attracted to your team.
So when the passion is kindled you tend to achieve the mighty force that drives you to hit the jackpot. Speaking of which, it is essential to follow a strategy to stay tuned to your passions. There are various goal management software in the market that allows you to manage the performance of your team and the entire organization. OKRs are of great help to various world's leading companies who have aligned their goals and strategy to the objective and with right key results that would keep their performance monitored and tracked. Look for some of the best OKR software in the industry and try making the best out of your dream and passion.