Change is essential for your team to succeed and grow. Organizational change management consists of many models your team can choose from. With this blog, learn about the McKinsey 7-S Framework and how it can lead your business to success with organizational effectiveness and implementing change.
History of the McKinsey 7-S Framework
Two business consultants established the McKinsey 7-S Framework in the 1980s. The project was first assigned to Tom Peters, who had just graduated with a Ph.D. from Stanford. McKinsey's Director gave Peters the task of looking into organizational effectiveness and implementation issues for the company.
After a few years into the study and development of this idea, Robert Waterman Jr. joined Peters to solidify the framework. The McKinsey 7-S Framework was established at a two-day retreat in San Francisco. The framework was then published and shared through In Search of Excellence.
It is not the strongest or the most intelligent who will survive but those who can best manage change.
Start on Profit.co completely free today to help you on your change management journey
How it Works?
The premise of Peter and Waterman's idea is pinned on seven key points — all of which start with the letter "S".
They concluded that all these seven key points should work together harmoniously for an organization to work well. Companies and organizations' leaders should work to align all these seven critical points aligned and usually reinforcing.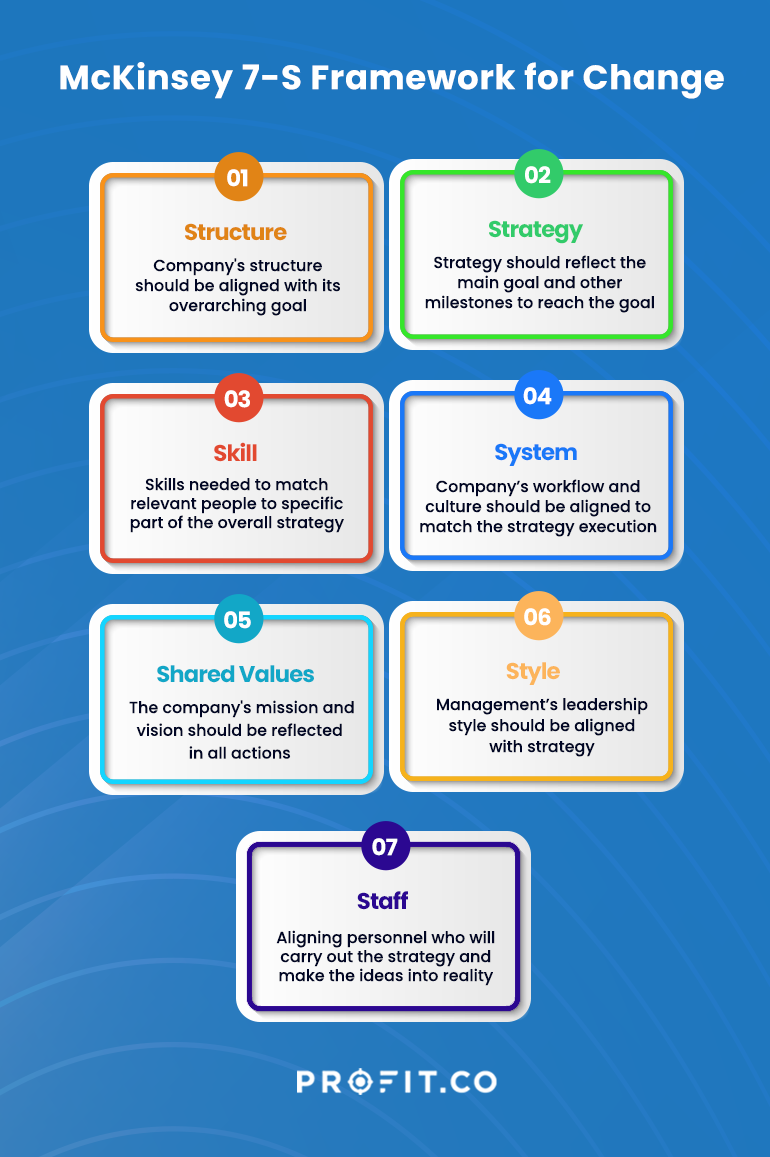 This model's seven key elements are the following.
Structure

This structure refers to how authority and leadership in the company are organized. Some organizations call it the chain of command, while others call it the corporate hierarchy.

To implement this model, the company's structure should be aligned with its overarching goal. The structure should also foster an environment for the company to achieve the goal or changes needed.

For example, if one of the key changes that need to be implemented includes inter-departmental coordination and collaboration, the company's structure should allow it. There must be a bridge or link between one department and the other. Knowing your structure will also help you, in this case, identify the right people for collaboration and coordination.

Strategy

The second one is strategy. It refers to an elaborate, carefully-thought master plan for implementing certain things or changes in an organization. This strategy should reflect the main goal and other milestones to reach the goal, specific plans of action, and the long-term effects of the movement at hand.

The strategy should also include plans for distributing the workload and properly communicating orders and demands to various levels of networks within the company. Plans should also include internal and external parts: what the company should do within its walls and what the company should do outside its employees' network.

Skill

To carry out your strategy correctly, you must ensure that your company has the appropriate skillset. First, you must identify the company's capabilities, administration, and companies. You have to determine its strengths as well as its limits.

Once these are determined, you must align them with the task. Match the skills needed to relevant people in your organization and assign them a specific part of the overall strategy for implementation.

System

If you are implementing something big and new, testing the waters first is essential. What may be good on paper may not work in real life, so systems are necessary.

Systems in this framework refer to the company's workflow and culture. It encompasses the daily traffic of decisions and how they are made, including standards by which the entire company operates. Once you know how systems work, you can easily integrate these into your overall strategy.

Shared values

Shared values are often reflected in the company's mission and vision. These are the foundations of your company's overall goal. It is the heart and soul of why the company is established and operates in the first place. They are like the barometer of the staff's behavior, management, and the company to the outside world.

These shared values are essential because they are the foundations of the purpose of the entire organization. All efforts must be aligned and under these shared values

Style

Style in this framework refers to "leadership style". This includes how the management interacts with its constituents and how they lead the company to greater heights. This also includes the management's definition of important concepts like productivity and success.

The management's leadership style is crucial as it should be aligned with the strategy that is agreed upon. If there is a disconnect between this leadership style and the overall strategy, implementing commands and changes will not be effective and will not translate into results.

Staff

Staff, of course, are integral to any company. These are the personnel who will carry out the strategy and make the ideas into reality. Knowing your staff by name, individually, and as a group is important.
What motivates them?
What keeps them happy?
What makes them mad?
Overall, you should be wary of the number of staff and how much they can take before blindly assigning a part of the overall strategy to ensure that these people, who will make or break the company, are fulfilled with what they are doing.
The Two Categories of the McKinsey 7-S Framework
These 7-S key points are also classified into hard and soft categories.
The hard elements include strategy structure and systems. They are called hard elements because they are often concrete and are easy to identify.
The soft systemsinclude shared values, skills, style, and staff. These are more intangible and thereby ingrained in the company and harder to identify.
How it Can Be Applied in the Real World?
Because this change management model requires seven aspects of the organization to be synced together and work in symbiosis, the McKinsey 7-S Framework is best applied to large organizations with various departments and branches. This framework will allow different parts of the company to work as one and act coherently under one goal.
Organizations can also apply when undertaking mergers or collaborative efforts with one organization. This framework is effective for those kinds of organizational situations as it will force people to synchronize the various aspects of making an overall plan work.
FAQs
1. What is the McKinsey 7-S Framework?
The McKinsey 7-S Framework is a management model created by Tom Peters and Robert Waterman Jr. that consists of seven key elements.
2. What are the seven key elements of the McKinsey 7-S Framework?
The model's seven key elements include Structure, Strategy, Skill, System, Shared Values, Style, and Staff.
3. What are the two categories in the McKinsey 7-S Framework?
The hard elements include strategy structure and systems. They are called hard elements because they are often concrete and are easy to identify. The soft systems include shared values, skills, style, and staff. These are more intangible and thereby ingrained in the company and harder to identify.
Conclusion
Taking steps to assess and improve your team is essential to creating meaningful change. Utilizing change management models such as the McKinsey 7-S Framework allows guidance to achieve this change. By aligning all seven elements, your team can achieve higher levels of performance and success, taking your business to the next level.