What is Employee Engagement?
Definition: Employee engagement is essentially the nature of the relationship between an organization and its employees.
Employee engagement is an important workplace principle that, when encouraged correctly, motivates employees to put their best efforts towards their jobs. When companies find creative ways to engage employees, they are passionate and committed to the organization that they work for.
Employee engagement happens when both the employee and the organization have a mutual respect and commitment. If companies can make employees feel acknowledged, appreciated and seen, they can increase performance and productivity, and as a result, benefit the organization.
Employee engagement matters a lot, for work is a huge part of our lives, and everyone seeks happiness at work.
A leader is someone who creates infectious enthusiasm.
Why is Employee Engagement important?
Which organization wouldn't want their employees to be happy at work? They want them to look forward to coming to work everyday, and to love their jobs. But this 'want' doesn't come easy. It takes work.
With so many job opportunities out there, employees are no longer tied down to one job for the rest of their career. If they do not feel appreciated and acknowledged, they will definitely go seeking a place that will recognize their efforts. Therefore, it's very important to cultivate a workplace culture that can retain the best performers.
That's where Employee Engagement comes into the picture. Employee Engagement has a direct impact on the organization's success.
Top 10 employee engagement ideas that work and can help an organization succeed: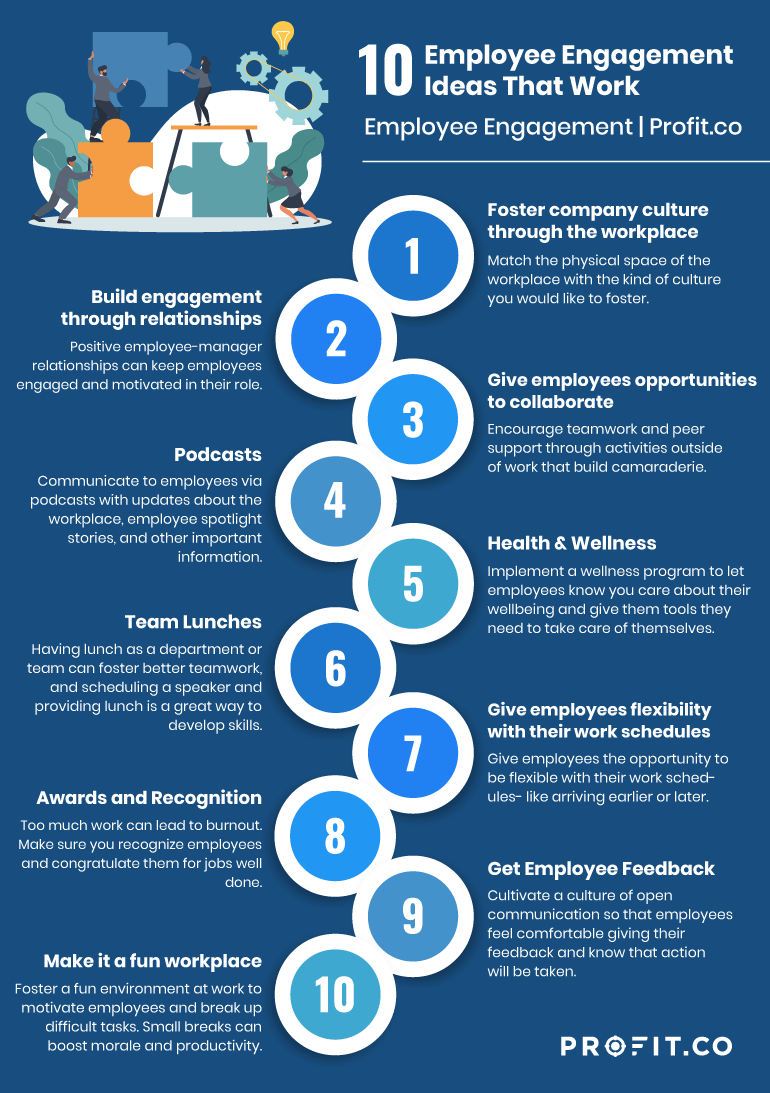 1. Foster company culture through the workplace
The environment where people are, the physical space that they occupy, can have a huge impact on their state of mind. This space can be used to foster the culture, the values and the beliefs of the organization. A positive culture can be cultivated in the form of decor, the colors and lighting, the kind of furniture and machines used, the floorplan. Everything that's used to create an office plan has the potential to communicate the company culture to its employees.
2. Building engagement through relationships
Employees leave bad bosses, not bad jobs.
This goes on to explain how much of an impact relationships can have on engagement.
A bad boss or bad leadership results in a high turnover rate, and employees find it hard to find motivation to be at the workplace for the long run.
It is, however, possible to create an environment where employees can form relationships. Find creative ways to foster engagement, for example:
A Hobbies and Interests Club
In an organization, there would be employees across departments who share similar interests. Creating Interests and Hobbies Clubs gives them the opportunity to explore those interests together, that helps build friendships and strong bonds that will help the employees and the organization alike, in the long run. It could be in the form of a Chess Club, Sports Club, Book Club— it can be anything that aligns with the interests of the employees and values of the organization.
A Scavenger Hunt is an employee engagement idea that can help newly hired employees get familiar with the office and act as an ice breaker to initiate a conversation with the other employees and get to know and forge relationships and connections.
3. Give employees opportunities to collaborate
Speaking of fun clubs and Scavenger Hunts, team events are a great way to liven up the workplace. Leaders should create plenty of opportunities for the employees to get to know each other and work together. Team events can provide opportunities for different departments to interact and collaborate with each other to achieve a common goal, which can help encourage productivity.
Some fun employee engagement ideas include:
Escape rooms
Murder mysteries
Quizzes
White river rafting
Bowling
Karaoke
These activities build a sense of camaraderie and make it possible for employees from different departments, or different cities, to interact with each other. Employees who bond well with their co-workers are more engaged with their workplace. It helps them come out of their silos and see how their work can impact other departments and can be beneficial to the organization. It also helps break the monotony of a regular workday.
Workshops are yet another way of employees collaborating with each other.
An interactive workshop helps forge relationships between the members. Here are a few things that employees can gain from a workshop:
Share industry insights with each other and learn more
Learn from each other's experiences — what works at the workplace and what doesn't.
Brainstorm ideas and strategies that can be executed on various projects
When team events are introduced in every department, the company's employee experiences are sure to bring about a positive change. Workshops are a great avenue, especially to the newly appointed employees, to show how they can contribute and 'showcase' their skills.
4. Podcasts
Podcasts being so accessible are a great medium for internal communications. They can help with the following:
Reaching remote workers
Communicating company culture
Narrating employee stories
Do bear in mind that creating podcasts requires some work beforehand: pre-production, production, post-production and execution of material. Make sure that it's not a repetition of the information that has already been conveyed through other channels (like newsletters or through emails). It just will end up being a waste of time and money for everyone involved.
Have a clear calendar in place for all the processes involved and the release of content.
5. Health and Wellness
When an employee is cared for, there is so much gratitude and commitment that the organization gets in return. A program centered around health and wellness can prove great for boosting productivity and morale. A free internal gym for the employees to use, a discounted gym membership elsewhere, or yoga are some good ideas.
If there's a cafeteria, take into consideration dietary restrictions when deciding on the cafeteria menu and make sure quality ingredients are used.
6. Team Lunches
Food has always been a good way to bond. Team lunches can be a great platform for people of the same department, or different departments to interact.
There's also the concept of lunch and learn, where the organization invites a speaker to talk about a certain topic, or get employees to talk about a topic, while sharing a meal and discussing the learnings afterwards. It's a great way to build relationships, and a good way to improve employee engagement.
7. Give employees flexibility with their work schedules
Give employees the flexibility to work that works for them best. Whether it is coming in to work a little earlier to leave earlier, letting them come in later if they worked late the previous day, or giving them the option of working from home. Make remote working an option. There have been enough technological advancements that can make working remotely a breeze.
The option to work remotely makes it less stressful for employees and they can also save on time they spend commuting. The past year during the pandemic is evidence that working remotely is possible.
Employees don't need to always be at the workplace— that doesn't necessarily guarantee high productivity. Giving employees the freedom of flexibility at the workplace makes them happier, more productive and engaged. They get to decide their work schedules or location that suit their needs better.
When employees are given the freedom to choose what works best for them, as long as deadlines are met and quality of work doesn't suffer, it goes a long way in keeping them engaged and winning their trust.
The management and employees can together decide what works well and what needs to change.
8. Awards and Recognition
Be sure to appreciate employees for all the hard work they do. No matter how small or big, every contribution matters. Irrespective of how diligent or committed they are, too much work can lead to burn out. Refill their energy levels with recognition and appreciation and celebrate their hard work. Make sure to do this publicly.
A great way to do this is in the form of awards. Organize a night out for an awards ceremony for all employees to get together and recognize the winners. It can be a fun award ceremony with awards for 'The Most Punctual Employee of the month', or 'The Most Creative Employee of the month' or 'The Best Department'. Make it a fun night with dinner, music and entertainment. These can also feature on the company newsletter or the noticeboards.
Digital platforms and softwares can help with the distribution of awards. Software such as Profit.co's employee engagement module allows users to award one another with specific points or accolades, and keeps a line of communication and appreciation open within any organization.
9. Get Employee Feedback
An organization needs constructive feedback on what is working well and what isn't, so make sure you get feedback from employees. The management might think something is working well, but the employees might not agree with it. Therefore, it's very important to regularly seek feedback. And for that to happen, the organization needs to cultivate a culture of open communication so that employees always feel comfortable giving their honest feedback and know that action will be taken.
An organization that fosters an environment where employees are welcome to share their ideas and opinions is an organization that's on the path to success; because employees who are encouraged to express their ideas are employees who are more productive. They feel heard and acknowledged and therefore are motivated to work.
Getting employee feedback through an employee engagement activity like surveys is also a way of showing that the organization takes them seriously and values their opinions. Pulse surveys are a great way to determine the best way to drive employee engagement.
Therefore, they work harder for the organization to succeed and meet its objectives, thus making them more engaged with the organization. Overall, a win-win situation for all.
10. Make it a fun workplace
With so much time spent at work, it's very important that the place of work is a place that employees want to go. Foster a fun environment at work so that employees feel motivated to go to work everyday. Fun activities help increase engagement and productivity levels and also helps break the monotony of work.
There are a lot of ways to add some fun to the workplace. Some examples are:
A short informational documentary movie session
A movie night once a month every Friday evening
Game night every now and then
A potluck or catered lunch once a month
A Halloween party on Halloween
In Conclusion
Employee engagement is very important to an organization's success and therefore something that needs a lot of attention. Work can be a lot about chasing targets and deadlines, but it doesn't have to always be just that. It doesn't always have to be so serious. Practice employee engagement strategies to help boost morale at the workplace.