It can be hard to think of staff appreciation ideas that are good enough to show your team just how much you value them. But with 69% of employees saying that they'd work harder if their efforts were better recognized, it's essential you get it right.
To give you some food for thought, here are 15 ideas to use in recognizing your employees.
Clients do not come first. Employees come first. If you take care of your employees, they will take care of the clients.
Why Is Staff Appreciation Important?
Employees who feel valued and appreciated are more productive in their work. Not only that, but it also helps to boost morale and lower turnover rates.
In the business of the workday, however, it can be easy to forget to show them your appreciation when they've done a good job. It may also not come as a surprise that your employees want to be recognized for their hard work, too.
In fact, nearly 60% of employees surveyed said that their leaders could improve engagement by giving recognition.
What does this mean for you as an employer?
It means that you need to have a staff appreciation system in place. Staff appreciation can also be achieved with the help of intuitive and agile software. You can try Profit.co's employee engagement module free for 30 days.
The Right Way To Appreciate And Motivate Staff
The right way to appreciate and motivate your staff will often depend on what your business does and how it operates.
Some of the key things to remember are:
The timing needs to be right. It's important to recognize good work regularly and make it the norm. Waiting too long may mean it doesn't feel genuine and can lead to unmotivated staff who feel their efforts aren't valued.
Be specific and meaningful with your appreciation. Make sure employees know what work you're recognizing and why you are so grateful for it.
Make sure your employee recognition system aligns with the company's mission and values.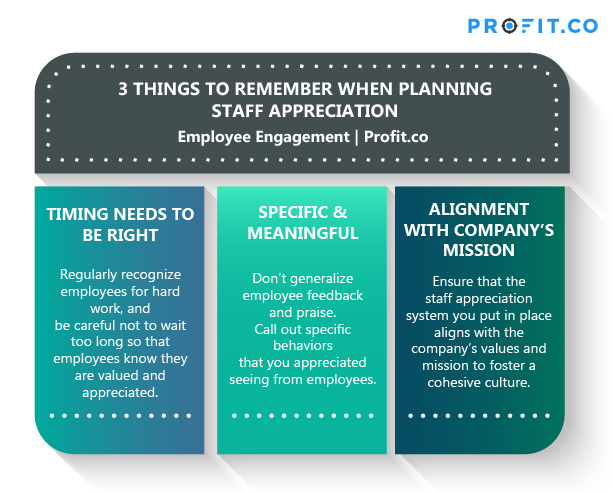 15 Ideas For Staff Appreciation
1. A simple thank you
Don't underestimate the power of simply saying "thank you" for a job well done.
How you do this is up to you. You could send an email, mention the employee in a meeting, or even leave a hand-written note on their desk. It really does go a long way.
2. A monetary gesture
As part of your employee recognition program, you can give small bonuses or gift cards to employees. This practice is a great addition to any employee incentive program.
This works really well when used as peer recognition. Ask employees to nominate their colleagues for an award when they feel like they've done something really well or they've helped them out.
3. Make it personal
Taking staff appreciation ideas that one step further is to reward your employees in a way that is specific to their own personal interests. Find out what they like, i.e. their hobbies and interests, and then use that when choosing the right way to show them they're valued.
4. Time off
Who doesn't love some extra time off?
Some ways you can give your employees the gift of time are:
An extra day of annual leave
A long lunch break
An early finish or a late start
A work-from-home day
Time out to volunteer
5. Treat the team to lunch
Sometimes you may want to show the whole team that you appreciate them. Lunch is a great way to do that. Staff lunches are not only a great way to show your appreciation, but they're also a good opportunity for the team to bond away from work. Find a great local spot or even order food into the office for everyone. This is a great opportunity to foster a great work environment and company culture.
6. Team Trophy
This creative employee engagement idea is just for fun! Having a team trophy that you can pass around monthly or give out on special occasions is a great way of symbolizing that employee's success while also making them feel special at the same time. You can even ask that employee to nominate the next person who should get it.
7. Recognize achievements outside of work
Your employees may work for you, but they also have a life outside of the office. For example, they may volunteer or have a hobby that they devote a lot of time to. Recognizing these achievements helps employees to know that you see how amazing they are.
8. Surprise!
Sometimes the best recognition is when you don't know that it's coming! A little surprise treat of cakes or cookies can really cheer everyone up when they need a little boost while also showing them that you care.
9. Celebrate different holidays
Doing a little something for holidays like Valentine's Day, Christmas, Halloween, and St. Patrick's Day as a "thank you" is a great staff appreciation idea. It gives the whole team something to look forward to and shows that you appreciate everything they do.
10. National Employee Appreciation Day
The first Friday of every March is National Employee Appreciation Day. What better opportunity is there to show your employees you care about them? You can use the day to put on training and learning lunches, while also handing out gifts and food.
11. Values awards
When you notice an employee exemplifying your company's values, giving them an award in recognition of this will help them to feel engaged more with the mission and purpose.
12. Company branded gifts
Everybody loves a freebie. Handing out mugs, tote bags, pens, or notebooks are gifts that are fun and practical at the same time. They also help you to show off your company, too so make sure they're excellent quality.
13. Prioritize wellness
There's a real focus on making sure employees are happy and healthy in their roles; both physically and
mentally. Show your team that you care about their wellbeing by organizing some activities for the office. Some good ideas are lunchtime yoga, mindfulness, and fitness classes.
14. Give them a "shout out" on social media
You probably have a social media page for your company. If one of your employees has gone above and beyond, why not give them a mention? Compliments from followers will also help to give them a well-deserved confidence boost.
15. Make rewards career-specific
Aside from the treats and freebies, one great way you can show your employees you appreciate them is by helping them to achieve their career goals. Give them the opportunity to take a class, pitch their ideas, or learn from someone in leadership.
Conclusion
Your team works hard for you every day. They deserve to feel like their efforts are recognized. Implementing some of these staff appreciation ideas in your business can help you to make sure your employees feel valued for all their hard work. In turn, you can have a happy, productive workforce. For an OKR software that helps you reach your goals and recognize your employees' efforts, look no further than Profit.co. Book a free demo with our experts today!