If there's one thing that the Covid-19 pandemic has done, it has completely transformed our work environments.
Remote work is the new normal, and here are some interesting statistics to prove it: 61% of employees prefer to work entirely remotely. Even when offices open again as before, only 3% of employees want to return to that style of work. In fact, companies now draw the best talent if they offer optional remote work. It's clear that in order to survive, businesses need to offer the flexibility employees now expect from their workplace.
Success in a hybrid work environment requires employers to move beyond viewing remote or hybrid environments as a temporary or short-term strategy and to treat it as an opportunity.
The challenge for most businesses in this new normal is cultivating a positive, inclusive workplace that adheres to the new expectations and restrictions on in-office work. This article teaches you how to create and nurture an inclusive hybrid workplace today.
Key Takeaways:
A hybrid workplace utilizes the power of remote teams and in-office workers to achieve business outcomes.
An inclusive hybrid working environment must be flexible, tech-savvy, and performance-oriented.
Businesses in various industries can enjoy increased productivity, better collaboration, and continuous learning from an inclusive hybrid working policy.
Good communication is at the heart of inclusive hybrid workplaces, from scheduling meetings to planning virtual team-building activities.
What is a Hybrid Workplace?
A hybrid workplace combines on-site or in-office teams with remote teams. Though remote work began as a temporary solution to the Covid-19 pandemic is becoming the new normal in workplaces today.
A hybrid workplace relies on technology to support remote onboarding, collaboration, and engagement functions. In addition to policy changes, a hybrid workplace also encourages older employees to upskill and reskill to adapt to digital transformation.
Characteristics of an Inclusive Hybrid Workplace
An inclusive workplace welcomes all employees despite their differences, whether in race, religion, gender, or disabilities. In today's hybrid workplace context, this also means allowing team members to choose to work remotely instead of returning to the office.
A successful inclusive hybrid workplace considers both on-site and remote teams in their communications, work schedules, benefits, and rewards. An inclusive hybrid workplace is:
Flexible:

Employees can build their schedules and pick on-site vs. remote days. Working parents can also better manage their childcare tasks to balance their job obligations. Adopting this approach brings higher job satisfaction and retention in an inclusive team.

Low cost:

Hybrid workplaces save on overhead when their teams work remotely. Large organizations can opt to downsize their premises to cater to a smaller on-site team, and then connect with their remote teams online.

Safe:

With Covid-19 requirements still in place, hybrid workplaces can easily enforce sanitizing and social distancing regulations. Remote workers can also safely quarantine at home.

Performance-oriented:

Managers in hybrid workplaces reward performance according to individual and team contributions, no matter where they are. This is a shift from placing greater value on in-office teams who are more visible and easier to monitor.

Successful inclusive hybrid workplaces use collaboration and communication tools to engage on-site and remote teams. It is an opportunity for IT leaders to work with HR leaders to help the entire business become more productive.
The best technology enables your team to work seamlessly and transparently no matter where they are in the world. Profit.co's all-in-one OKR software empowers employees to transparently track their ambitious goals, enabling them to collaborate efficiently and get an at-a-glance progress report of any team in the organization. You can get started on Profit.co for free today!
Benefits of an Inclusive Hybrid Workplace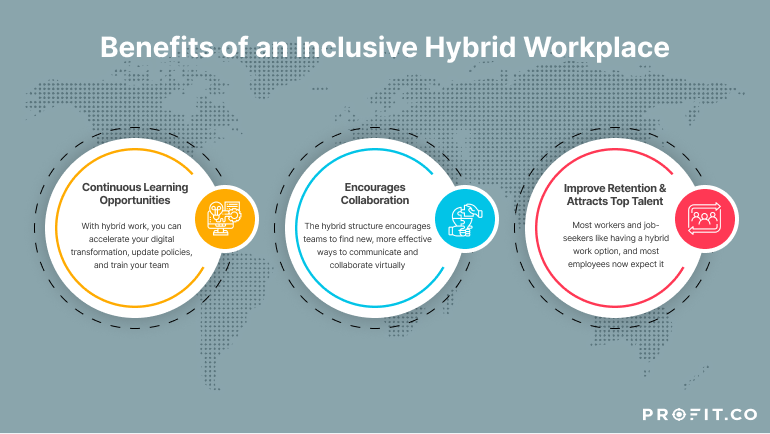 Companies that prioritize an inclusive policy in their hybrid workplace can enjoy several key benefits, including:
1. Continuous learning opportunities:
A hybrid working environment presents numerous opportunities to accelerate your digital transformation, update your policies and train your team to adapt to change.
2. Encourage collaboration:
A mix of in-office and remote teams automatically means that your communications skills will transform for the better.
3. Retain and attract the best talent:
Inclusive hybrid environments open up a business to untapped talent. Current employees become more productive with the flexibility of remote work. There's also a wider pool of talent to choose from because applicants from all backgrounds and abilities can apply.
Top 5 Tips on How to Make Your Hybrid Workplace Inclusive
An inclusive hybrid workplace is not without its challenges. Businesses need to integrate new software, develop new compensation models, and become more open and flexible in their communication.
That said, here are the top 5 practical ways to show you how to make your hybrid workplace inclusive.
1. Use Inclusive Meeting Strategies
A hybrid working environment must engage all team members during meetings, especially those connecting virtually. Even in a typical in-office boardroom, we can still feel uncomfortable or hesitate to share our observations.
Hybrid meetings need a more deliberate approach to engaging every member.
Begin every meeting with a clearly outlined agenda distributed in advance
Establish protocols around chiming in, either through voice calls or chat boxes in your hybrid meetings
Purposely ask for everyone's input and ensure everyone's voice gets a chance
2. Embrace Virtual Team Building Activities
Team building is certainly not limited to on-site teams alone. Here are some great virtual team building ideas that will take your hybrid team to the next level:
Online games:

Find highly engaging trivia and scavenger hunting games that everyone on your team can play.

Play virtual bingo:

Distribute digital bingo cards to your team, and award different prizes from bragging rights to gift cards. Spread out the playing time over a week or so to help your team learn more about each other.

Play Truth or Dare:

The virtual version of this classic game gives players the option to keep their cameras on to reply or turn them off to opt out. Generate interesting truth-or-dare prompts and give everyone a chance to participate.

Virtual improv games:

Suggest a scene, and each team member contributes a line of the story–as long as it rhymes. Or play Two Truths, One Lie to learn new and exciting things about your team members.
3. Use Digital Documents
If files or reports are a requirement for your projects, make them all digitally accessible. Ensure that all team members have the proper access in terms of passwords and permissions. Print-only documents will exclude your remote workers and even cost you more in terms of mailing or delivery costs.
4. Accommodate Working Parents
As you schedule your meetings and deadlines, remember that remote work helps parents manage their family time. Be mindful of school pickup and drop-off times or other childcare activities for the remote working parents on your team.
5. Adjust For Time Zones
Remote working opportunities have encouraged many employees to relocate, often from the main office to a different time zone. Be aware of East Coast, West Coast, and international time zones when making calls and setting deadlines.
In the best inclusive hybrid working environment, schedule the most critical meetings when all team members are available. If this is not possible, run separate sessions for their time zone, with updated minutes from the on-site team meeting that they missed. No matter what your style is, maintain an open line of communication with your team and institute a culture of collaboration no matter where you team is.
Conclusion
Businesses understand that inclusive hybrid work is here to stay, and the sooner we adapt to it, the more productive our teams will be.
A hybrid working environment is flexible enough to suit organizations in various industries. It opens up the chance to attract talent, reduce overheads, and improve productivity. Today, managers only need an open and creative mind to build an inclusive hybrid workplace.
To learn how Profit.co can help improve the efficiency of your hybrid team, schedule a demo with our experts at Profit.co!