Introduction
In order to produce anything, including services, businesses of all shapes and sizes need raw materials and equipment. The process through which these businesses acquire their various needs is called the supply chain.
If you're a business owner, you know that supply chain operations go beyond simply buying raw materials; this process involves figuring out what you need, when you need it, how much you currently need or will need in the future, how long your current stock will last, when you should begin to make a new batch, how long it will take the needed materials to get to you, how long in advance you should place an order, who offers the highest quality of what you need, what is the cheapest possible price and if there any suitable alternatives.
What is Supply Chain Operations?
Simply put, supply chain operations includes every process that aids in either the management of the flow of goods and services, or the transformation of raw materials into finished goods. Ideal supply chain operations help you to maintain efficiency in your business, lower costs, improve product quality, strengthen customer and supplier relationships, enable you to keep up with demand, and so much more.
Supply chain operations can be broken down into six phases, the first of which is procurement. We covered this phase of supply chain operations in our article series on improving procurement. Next comes the material management phase.
What is Material Management?
Material management is a core supply chain function that is concerned with planning, organizing and controlling the flow of materials from their initial purchase through internal operations to their introduction into the manufacturing process.
The fundamental objective of the material management functions is the acquisition of materials and services of the right quality, in the right quantity, at the right time, from the right source and at the right price. It begins with the receiving and inspection of materials and ends with the issuance of the material to production to meet up with the customer's demand as scheduled and at the lowest cost.
Inventory management and control goes hand in hand with material management because it helps keep track of raw material and specific products, which in turn minimizes costs to the organization and ensures maximum return on working capital.
Don't lower your expectations to meet your performance. Raise your level of performance to meet your expectations.
In this article, we'll discuss warehouse operations and how you can optimize the receiving process to improve the material management phase of your business's supply chain operations.
Warehouse Operations: Optimizing the Receiving Process
While maintaining a high quality and efficiency level in the production process is the general goal, in order to maintain something you must first reach it. Optimizing the receiving process is the first step in getting there.
The receiving process is the stage of production where raw materials and other commodities are received from suppliers or vendors. It is also the stage that ensures the exact quality, quantity, type and specification of shipments ordered is what is received through actions such as labeling, documenting, unloading, inspecting and more to create a fast and reliable process.
Arguably the most important part of warehouse operations, the receiving process comes first and influences all that come after it. It creates a path and sets a template all other operations follow.
If the receiving process is botched or inefficient, then everything else suffers the consequences. For example, receiving damaged shipments and failing to spot them immediately can have damaging effects on the rest of the business and hinder the production process. Regardless of whether these shipments are raw materials or finished goods, the effects of such inefficiency will be felt and it will be destructive. Thus, the importance of ensuring the receiving process runs at optimal efficiency at all times cannot be overemphasized. Its benefits include a low Distribution Expense as a Percentage of COGS metric, which is the total distribution expense, divided by the total cost of goods sold (COGS) over the same time period, and this would mean that distribution and transportation costs are minimized. Everything from personnel training and technology used, to documentation and inspection techniques are all vital to the process.
5 Steps to Optimize your warehouse receiving process
Here are five steps to help optimize your warehouse receiving process and achieve maximum efficiency.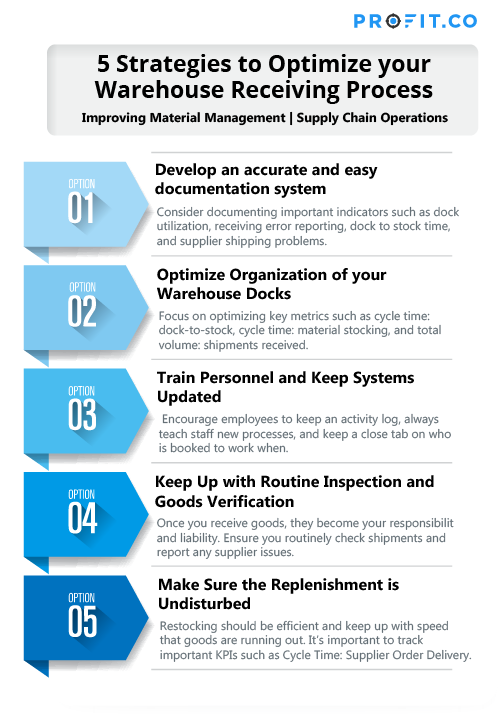 1. Develop an accurate and easy documentation system
Misplaced cargo, defective goods, undetected and incorrect item count are just a few of the things that may cause havoc in a warehouse. To avoid these, the right thing to do is to create a system that ensures all new shipments are accurately and efficiently documented. This includes labeling containers with adequate information, counting arrivals to record the exact number of items received, and documenting defective items so they can be replaced immediately and not get mixed with and lost with the other items.
Labeling should include important information about the item that will aid identification. It should contain information such as the name of the supplier, the associated purchase order number, the pallet label and quantity, the case label and quantity, the product number, the description, the package count and the SKU.
An effective documentation system should be thorough, yet easy enough for warehouse personnel to learn quickly and implement quickly as well. The secret to good documenting is figuring the right metrics to use. While you might want to record every piece of data, documenting irrelevant data will be time consuming and might cost you efficiency. A few metrics you should consider compiling are:
Dock Utilization: Tracking of the utilization of dock doors, as well as space to ensure maximum efficiency
Receiving Error Reporting: Systems should be in place to double check the system through label scans to alert to errors during the warehousing process
Dock to Stock Time: The total time needed to move materials through the system to usability
Supplier Shipping Problems: Recording errors by the shipper, such as incorrect qualities, the wrong product or paperwork mistakes, so shippers can be alerted to problems
This will reduce the time it takes to clear shipments. Also if orders are documented as soon as they are received and don't need to wait a long time, it will also ensure a more accurate On-time Supplier Delivery rate, and this will help better examine and determine the reliability of suppliers and patronize the best.
2. Optimize Organization of your Warehouse Docks
Again, a system tailored to your warehouse has to be designed in a way that enables quick and efficient loading and unloading of goods. What dock should raw materials be offloaded? What dock should perishables be unloaded? What route should personnel moving goods from dock 3 to storage take in order to avoid a jam? All these questions have to be considered and answered. Two such ways to optimize organization are:
Dock Scheduling: This requires shippers to notify the receiving department 24 hours in advance of a delivery. This can help managers of these operations ensure that the appropriate systems are available at the time they are needed.
Cross-docking: This involves the immediate transfer of materials to another dock for shipment, when storage of the item is not required. This method provides another way to implement efficient use of dock and storage space for better efficiency and this may improve the Number of Lines Received and Put Away metric, which is the total number of line items from suppliers received, processed and stored over a certain period of time.
These practices can greatly improve the warehouse metrics such as:
(I) Cycle Time: Dock-to-Stock: which is the number of hours required to store received goods, from the time the goods are received from the supplier until the time the goods are properly stored
(II) Cycle Time: Material Stocking: which is the amount of time (hours) required to properly stop received materials/goods, from the time they are received from the supplier until the time the goods are stored and recorded in inventory management tracking systems
(III) Total Volume: Shipments Received: which is the total number of shipments received from suppliers over a certain period of time, will also increase due to the fast clearing speed.
3. Train Personnel and Keep Systems Updated
Quality and training of staff is also directly linked to performance. Ensure that staff members are adequately trained on how to work machinery, especially new technologies and the warehouse's systems. Here are some pointers:
Make sure that every worker keeps a log of their activities and work times: this will work in tandem with larger documentation and ensure that every step of the journey an item takes is properly documented and every item is accounted for. This way, misconduct and mistakes are greatly reduced, or at the very least are significantly easier to spot, trace and fix when they do occur, even on busy days.
Teach staff about any new technology or process: New technology, be it an exotic new computerized section or a simple labeling change, has to be taught to personnel. Changes in the system have to be exhaustively explained, ensuring they understand exactly who does what at what time and how long processes should take. Once new changes have been taught, they should be stuck to, as deviations or exceptions can cause errors and losses.
Labor and booking: Ensure that you have enough workers to reach maximum efficiency and are not short staffed on hectic days. You can assess your worker's productivity and check if you have enough with the help of certain metrics such as Supplier Orders Received per Hour, which is the total number of supplier orders received divided by the total number of hours worked over the same period, Supplier Orders Processed per Receiving Employee, which is the total number of supplier orders processed over a certain period of time divided by the number of receiving employees and (III) Lines Received and Put Away per Receiving Employee, which is the total number of order lines processed and put away (i.e., stored in company facilities) over a certain period of time divided by the total number of receiving employees.
If these metrics are high, then consider hiring more personnel to even out the workload and improve productivity. Labor is extremely important and often the highest warehouse cost, so do not neglect it and endeavor to see that it works smoothly.
4. Keep Up with Routine Inspection and Goods Verification:
Check every received goods at the docks to make sure they meet up to the quality, quantity and specification ordered, also to ensure none are damaged. Inspection is very important; it is here that most problems with suppliers are found. Note that when goods are received, there is a transfer of credibility, liability or financial responsibility, meaning that you will have to cover the cost of any defective goods you find in your inventory. You can avoid this by checking and detecting these faults as the goods arrive and prevent the collection of faulty goods.
The verification process simply means to record and report any discrepancies between what is expected and what is received. It involves checking of quantity received, description of goods, product code, and condition of cargo – whether damaged or not. It might sometimes require more advanced checks like weight and temperature for special orders.
The inspection process helps provide better rate and choose suppliers with indexes such as the Undamaged Supplier Shipment Rate, which is the total number of orders received from suppliers without any damage divided by the total number of supplier orders received over the same period of time. Inspection may also discover errors from the producers such as mislabeling and inaccurate documentation. And you may again determine the efficiency of your supplier by using that data to determine their Supplier order Documentation Accuracy Rate, which is the total number of supplier orders received with complete and correct documentation divided by the total number of supplier orders received over the same period of time, as a percentage.
5. Make Sure the Replenishment is Undisturbed:
The receiving process has to be connected to an efficient restocking system that ensures the reorder of needed materials at least 2-4 weeks before they're depleted. The key to attaining this is developing a system that accurately accounts for all damaged items and can also find and correct errors such as miscounts or mislabeling that may skew the records of needed items and disturb the replenishment process.
This requires keeping and tracking data such as Cycle Time: Supplier Order Delivery, which is the number of business days required to complete a delivery of materials from company suppliers or vendors, from the time the order is placed until the materials are delivered. An efficient warehouse system will eliminate miscounts and warehousing of defective items that disrupt the ability to keep a sufficient amount of suitable materials on hand. In this way, your warehouse receiving system works hand-in-hand with your purchasing department to increase the efficient operation of your business.
Final Thoughts
The optimization of the receiving process in warehouse operations will always be fundamental to a good business, implement these steps and methods in your business and reap the rewards.
Regardless of how big or small your warehouse is, or even the number of warehouses you have, an optimal receiving process will always be key to successful operations, inventory levels and quality. Factors assessed during these audits can include actual versus perceived inventory levels, quality of storage methods and compliance to storage facility regulations– both internals, and external.
Taking steps to improve the material management phase of your supply chain operations can have major benefits for you and for your business in the long run. To find out more about supply chain operations, be sure to visit our blog. To learn more about how you can focus your priorities, measure your progress, and achieve your goals, be sure to visit Profit.co and try our product free today!