Conducting webinars is a great strategy to connect to your audience, but only if you have an audience that registers.
Event registration is a crucial aspect of event planning. It's the best way to ensure the target audience signs up for your webinar.
Event registration ensures attendance through incentives and increases satisfaction levels. It creates the first impression in the target audience and allows you to make solid financial plans.
If the registration process is too challenging, it's easy for attendees to forego the webinar altogether to spend time on other platforms.
How can you increase your webinar registration and attendance?
Read on for five practical tips to get you the right numbers for increasing webinar registration and attendance.
With these tips, you can boost your overall webinar engagement and develop meaningful connections with your audience.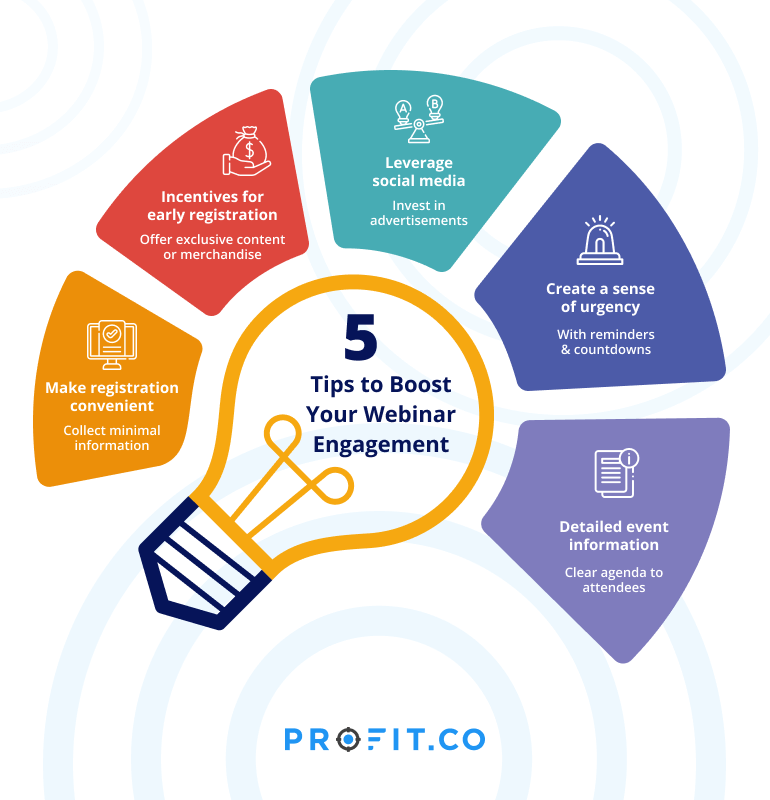 Tip 1: Make Registration Easy and Convenient
Let's say someone is contemplating attending your webinar; they naturally expect the registration process to be simple and effective. If you or your team members find the process challenging, attendees will likely have similar difficulties. Few people will have the patience or willingness to keep trying.
You can simplify registration by having as few forms or pages as possible. Consider the key information you need during registration and forego what you can collect later.
The registration fields should be pre-loadable so that returning webinar registrants can type their name or email address and the rest of the basic information auto-fills.
Ensure you only have relevant questions for your audience and customize them based on the type of attendee, such as basic, sponsor, or speaker, to streamline and enhance the process.
you've got to start with the customer experience and work backwards for the technology – not the other way around.
Tip 2: Offer Incentives for Early Registration
Incentives can make a significant impact on early registration and attendance. You can make your webinar a must-attend event by offering attendees content exclusively on your webinar.
Captivate your target audience by creating visually enticing and vivid registration forms that align with the webinar's promotional material and brand.
You can also offer incentives for early registration, such as swag bag giveaways, draw prizes, and discounts on registration fees
If you plan on hosting other webinars, you can implement a credit system that allows attendees to accumulate or win something for additional motivation to sign-up for future webinars.
Tip 3: Leverage Social Media and Email Marketing
Social media platforms allow you to reach your target audience on a personal level on platforms they frequently visit.
Ashley Monk, CEO of Onya, highlights that social media allows you to create a lasting brand impression or image, which is an excellent way to keep your webinar on the attendees' minds.
You can leverage your social media pages by investing in ads and creating branded hashtags to increase exposure. Have a recurring series of hashtags you constantly use, and add other trending hashtags to reach a broader audience.
You can also boost exposure and capture passive scrollers' attention by holding contests related to your webinar. Your social media posts should go hand-in-hand with your email campaign.
Event registration allows you to collect the attendee's data. Social media KPIs can be easily tracked and this data can be used to send personalized confirmation of attendance emails to usher the attendees to the webinar.
Sending follow-up email reminders can help engage your audience and increase the chances of attendance. The email design should be consistent, so ensure you include brand colors, logo, and the webinar title or teaser. Shortening the registration page's URL link through platforms such as bit.ly is also best.
The best part about online registration is that it automatically collects data you can analyze. For instance, evaluating ticket sales and comparing them with your benchmarks becomes easy. These analytics help you measure progress, allowing you to adjust your strategies as necessary.
Profit.co's intuitive platform seamlessly integrates with various applications and platforms, simplifying data collection and analysis. The easy-to-use dashboard allows you to track registrations and monitor the progress.
Tip 4: Create a Sense of Urgency
Communicating a sense of urgency in your webinar invitations or promotional messages can increase early registration and attendance. Naturally, most of us procrastinate things until the very last minute. If you remind attendees, they are more likely to register for an event.
You can boost registration by creating urgent messages with phrases like "last chance," "register soon," or "register, limited spots left." These taglines will alert your attendees to register because the window of opportunity appears scarce. Email marketing KPIs can be used in this instance to track the interests of the ideal customer profile.
Another strategy is sending countdowns until a webinar with a reminder to register. Sometimes, organizations will have pop-up reminders appear on their website.
Tip 5: Provide Clear and Detailed Event Information
It's essential to provide detailed yet clear information about your webinar to motivate attendees to register. Ensure you outline the agenda and highlight the key topics.
Consider leveraging your speakers to boost event attendance. Your guests may have large followers, so you can encourage them to share the webinar's promotional materials and registration details. This is a time-tested strategy to increase referral traffic.
Expound on each guest's profile to help your attendees understand why they need to attend the webinar while creating a feeling of fear of missing out (FOMO).
If you provide attendees with information in a clear way, they will feel more inclined to attend the webinar.
FAQs
1. What is a webinar?
A webinar is an educational seminar conducted online.
2. Why is event registration important for webinars?
Event registration is a crucial aspect of event planning. It's the best way to ensure the target audience signs up for your webinar.
Event registration ensures attendance through incentives and increases satisfaction levels. It creates the first impression in the target audience and allows you to make solid financial plans. It is also an indicative brand awareness metric that helps to gauge the effectiveness of your branding strategy.
3. What are five tips to boost webinar registration and attendance?
Make registration easy and convenient
Offer incentives for early registration
Leverage social media and email marketing
Create a sense of urgency
Provide clear and detailed event information
Conclusion
Event registration is the key to a successful webinar because it lays the foundation for connecting with your audience. Life is fast-paced, and simplifying the registration process will accommodate your attendees. By simplifying the registration process, you can collect and analyze data to help deliver a seamless experience that resonates with your guests, sponsors, and webinar registrants.
Implementing these insightful tips is even easier with Profit.co's innovative platform. As an all-rounded solution, the customizable dashboard empowers you with robust tools to enhance your planning process.
You can utilize the goal-setting framework to plan and achieve anything, including webinars that will boost your organization's audience.
Profit.co's dynamic capabilities, like real-time data reporting and collection, are available on one intuitive dashboard to enhance your process.